It took me nearly two years before I plucked up the courage to start my blog (and I started with zero experience, zero followers, and zero traffic), but less than three months later I hit one MILLION monthly views on Pinterest! Holy guacamole, Batman (yes, I am bruised from all the pinching). It's no secret Pinterest is a valuable resource that can help you drive massive traffic to your blog.
The reason that is important? More traffic = more readers = more eyes on your stuff = higher profits.
(Update! Read about how I DOUBLED my Pinterest traffic and pageviews quickly.)
How to get more views on Pinterest
Today I am going to share with you the methods I used to hit 1 million monthly views on Pinterest — fast — so you can replicate my results.
First, here are my stats.
I started my blog on the last day of February and was concerned with the day-to-day maintenance of my blog and creating new content for a more than a week; it also took some time for me to become "Pinterest official" and enable my Rich Pins (more on that to come).
Around March 13th, I had about 18k views. Nothing to write home about!
However, after I started implementing these strategies my monthly views took off! Within three months I had reached nearly 1.2 million viewers on Pinterest!


(The number of average monthly viewers lags behind the high because it is the number of views averaged out over a 30 day period.)
(These statistics represent my personal results, but Tailwind also publishes the Typical Results of Tailwind for Pinterest Members every year, so you can see exactly what the average growth rate looks like for their members. I HIGHLY encourage you to check it out…it has some absolutely fascinating statistics and graphics!)
Here is how I got more Pinterest views.
Set up a business account with rich pins
If your goal is to start making money from your blog, you need to treat it like a real business.
Luckily, Pinterest makes this easy by giving you all the tools you need to convert your personal account to a business account.
The benefit of this is that you will most likely already have people following you rather than having to start with a brand new account with zero followers (convert to a business account by clicking here.)
When you convert to a business account, you want to make sure that you apply to have Rich Pins.
Rich Pins make your Pinterest account will look more "official" and give viewers scrolling through additional information that non-Rich pins will not (find out more by reading Simple Pin Media's fantastic post on Rich Pins here.)
Enabling Rich Pins is simple with the Yoast Plug-in; if you don't have it GET IT. You need it for SEO anyway.
After you have it, head here to validate your blog to update to Rich Pins.
Notice! DO NOT FREAK OUT if you don't see Rich Pins right away on your account. Pinterest is a slow-moving leviathan and it takes a while to roll-out the rich pins.
Mine took 2-3 days, and even then not all of them went "rich" at the same time.
Patience, young dragonfly.
Curate an epic Pinterest profile
Your Pinterest profile is a reflection of you and your blog. You need to be on-brand at all times. If you do it right, your Pinterest profile itself can drive traffic to your blog.
How?
Search engine optimization, my friend!
Let's take a look at my Pinterest profile.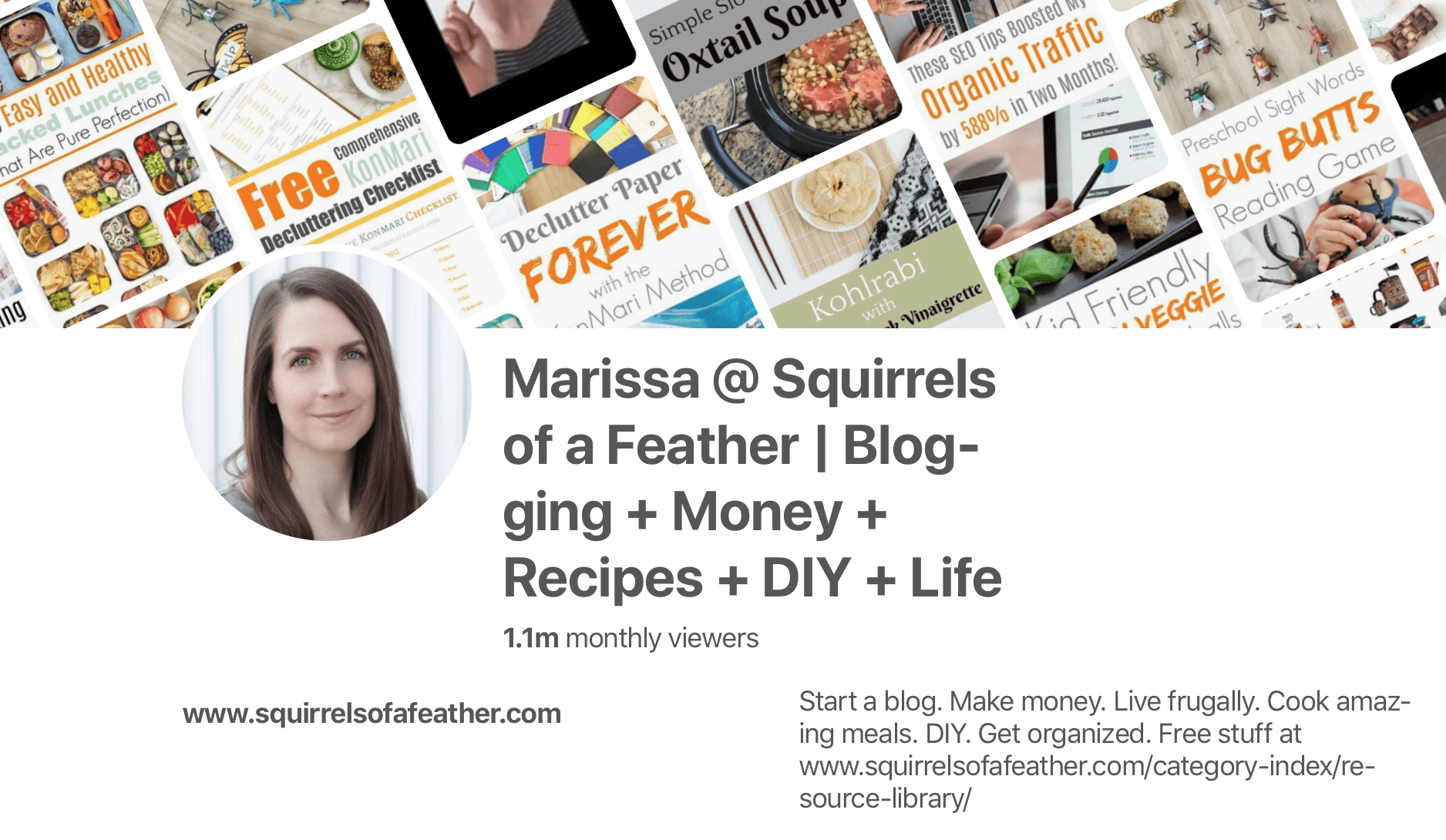 This post may contain affiliate links for your convenience. That means that if you make a purchase, I will receive a small commission at no extra cost to you. I only recommend products or services that I fully believe in and use myself. Read more here.
Your profile should include the following:
Your name
The name of your blog
A nice profile picture
A link to your blog
Keywords related to your niche in your title
Keywords related to your niche in your description
Another link to a freebie signup
My profile shows as "Marissa @ Squirrels of a Feather | Blogging + Money + Recipes +DIY + Life."
If someone searches for "blogging", my profile has a higher likelihood of being shown in the Pinterest search box suggestions because I added these keywords related to my niche (I have a pretty broad niche, thus more keywords).
The description reads:
Start a blog. Make money. Live frugally. Cook amazing meals. DIY. Get organized. Free stuff at www.squirrelsofafeather.com/category-index/resource-library/.
Same idea, if someone runs a Pinterest search for "start a blog", I have a better chance of being ranked in their search results than if my description just had something like:
I am passionate about frugal living, I love ramen noodles and hate everything banana flavored.
All of which is true! But not useful to someone searching for a guide to blogging and certainly not information that is going to help me rank in their results.
(Note: right before this post went live my monthly views decreased to 600k or so. That's because I gave the manual pinning method a try to see if it was superior to my current method; I would say the results are an emphatic NO!!! Pinterest giveth and Pinterest taketh away…I am returning now to the methods discussed here to get my views back up.)
(Update: after returning to these methods, my account has hit 2 million monthly views. See image below)

Organize your Pinterest boards
If your niche is home decor, you are going to lose potential followers if your top board is about horses.
People like order. They want to know what to expect.
They don't want to be looking at tasteful decor and suddenly see a pin for "Your Horse's Mane Can Look Like Giselle Bündchen's Hair If You Do This" (I totally made that up but it sounds legit, doesn't it?)
Once you have a business Pinterest account, you need to set about organizing your boards.
Here are some ways to keep your Pinterest boards nice and tidy.
Rename boards to be more SEO friendly and searchable (don't get cutesy; "Blogging" is more searchable than "Master of the Internets")
Have your first board named "

Your Blog Name

" at the very top of your boards
Drag and drop the rest of your boards in an order that makes sense
Change your boards by season and holiday if necessary (my Father's Day board is near the top as Father's Day was around the time of this post)
Place group boards at the bottom
Here is a screenshot of my boards. I have 68 boards, including group boards (I wasn't able to fit them all in the screenshot, but you can click here to see all my boards in order if you need inspiration.)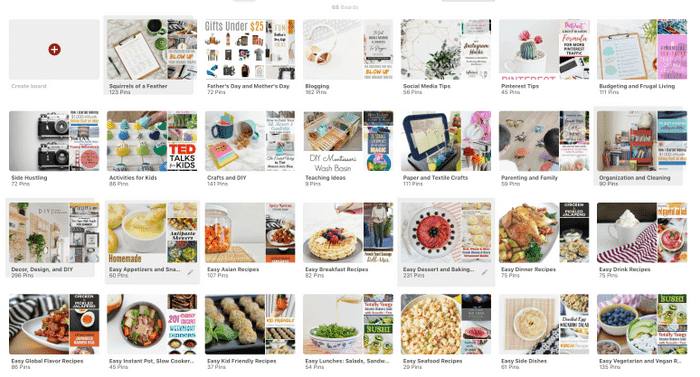 (For more information check out this post about how to go about cleaning up your boards.)
Create pin-worthy images
Pinterest is a visual search engine. That means that the quality of your images matters a lot.
If you have crappy, blurry images with hard-to-read text, the Pinterest algorithm is not going to play nice with you.
I heard one expert in a lecture say that Pinterest cycles through 1 billion pins per day.
Ain't nobody got time for your bad pins, let alone Pinterest.
You need to convince Pinterest that your images are worthy of being shown to your followers and potentially others in their Smart Feed.
And that means creating awesome images like the one below.
Here is one of my Easter pins that went viral on Pinterest and sent a huge amount of traffic to my blog!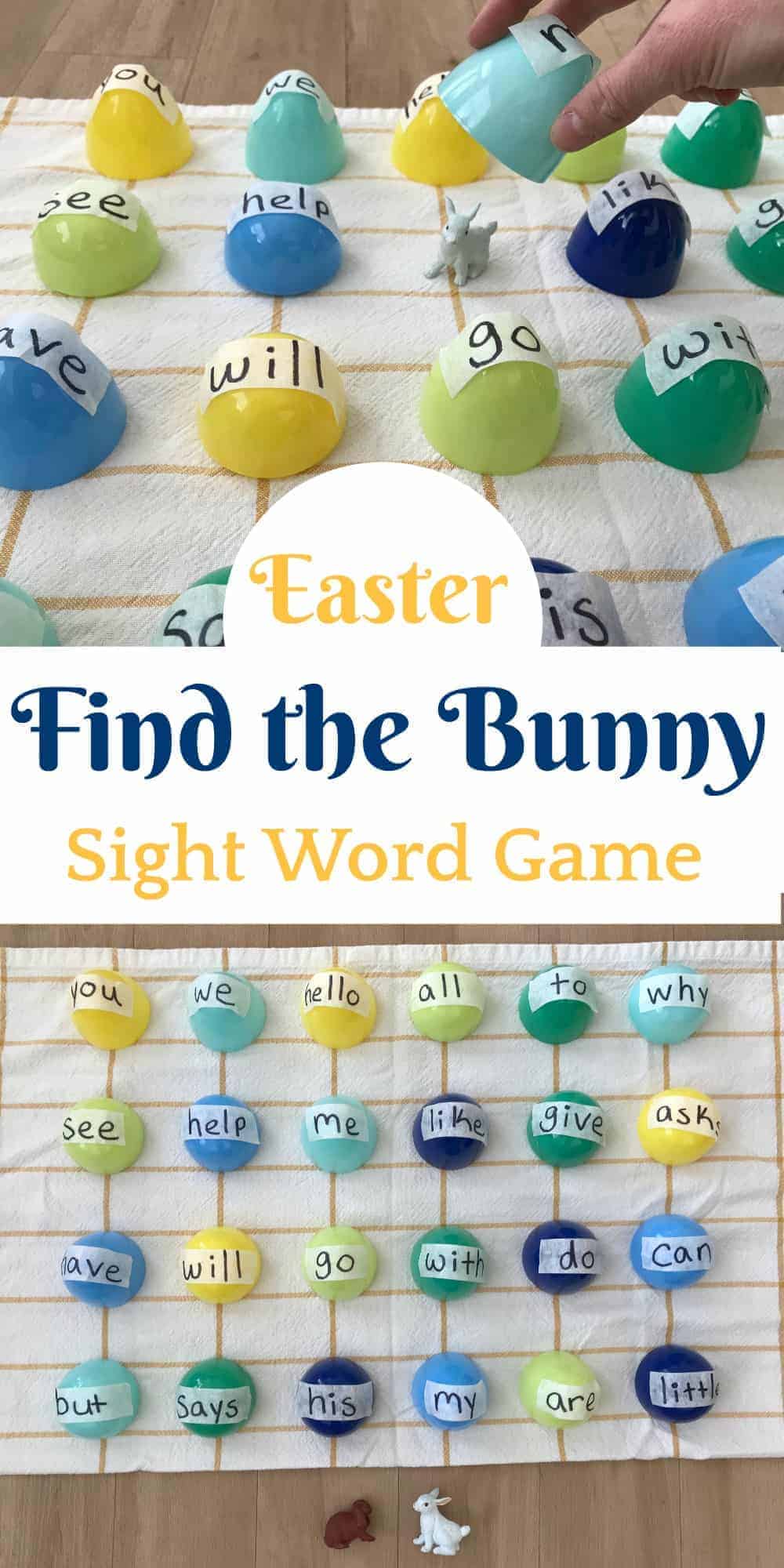 I use PicMonkey to create my Pinterest optimized images, which is super affordable and always exceeds my expectations (pretty much all the images you see here have been touched up in some way via PicMonkey.)
(If you want to know more about how to create amazing images, check out my post detailing how I was able to get a viral pin in my very first month blogging.)
Hack Pinterest SEO
Creating an epic profile is certainly part of the equation to gaining more followers, more views, and more traffic from Pinterest.
But it's not the the only part.
I told you before, Pinterest is a search engine.
Big deal, so is Google, right? But guess what? They read and use data in different ways.
When you optimize for Google, your Pinterest-optimized pins may suffer. Visa versa, if you optimize for Pinterest, you might not rank as highly in Google's search engine.
If you want to get more pageviews from Pinterst without losing out on that sweet, sweet Google traffic, you have to get Tasty Pins.
Tasty Pins was the brainchild of the bloggers over at Pinch of Yum, who created a plugin that allows you to input information in a way that optimizes it for both Google and Pinterest, maximizing the traffic potential of both.
(You can read more about the total amazingness that is Tasty Pins by checking out my post on how I increased organic traffic to my blog by 588% in two months!)
Pin for your audience
Always pin for your readers!
You need to remember that you are curating your content for your readers and not yourself anymore.
Like I said before, if you are in the home decor niche, don't pin about horses.
If your niche is horse grooming, don't pin about recipes.
(If you want to keep irrelevant boards, you can always make them Secret Boards and hide them from your viewers for your own, personal use.)
Pin the right way
Did you know there was a right way and a wrong to pin?
Well there is!
First of all, you should never pin only your own pins.
Pinterest sees this as spammy and will ding you in terms of your Smart Feed rankings.
You could even end up in Pinterest jail and get your account shut down (if that does happen, luckily you are able to appeal and usually get it fixed fairly quickly.)
There are different schools of thought when it comes to the ratios of how much of your own versus other peoples pins you should pin.
Some people say to maintain a 2:3 ratio (two of your pins for every three of other peoples) and some say 1:2 ratio (50% are your own and 50% are other peoples).
Start with a 2:3 ratio and see how that works for a few weeks, then switch to 50% and try it on for size if you are not sure how much you want to pin.
If your blog is very new, you probably don't have as many of your own pins and should therefore try to pin at a lower ratio (2:3 or even 1:4 maybe).
(I currently pin 60 pins per day and maintain a 2:3 ratio.)
Spreading your pins throughout the day also helps.
Like I said, I pin about 60 pins a day…but I have friends who pin 100!
Now, who has time to sit at their computer or on their phone all day and pin all those pins, nicely spread out throughout the day? Or even after midnight?
I get an INCREDIBLE amount of traffic from 12-2am (I think that is because while it is 2am for me on the East Coast, it is only 11 pm Pacific Standard Time.)
So how do I pin for the night owls?
I use Tailwind!
(If you were going to take away only one tip from this post, I hope that it will be to get Tailwind!)
Tailwind is a scheduling tool that allows me to spread pin my pins and other people's pins to my own and other people's boards throughout the day.
I literally set it and forget it.
Tailwind has all kind of awesome features, like a "smart schedule" that tracks the times that you get the most repins and uses that to create your optimal schedule.
You also get access to Tailwind Tribes, which is kind of like a group board, but one that operates directly in Tailwind (more on group boards in a minute).
Tailwind also gives you access to all sorts of cool tracking features, so you can see how your pins are performing, which boards get the most traffic, which group boards are worth your time and which to cut, etc.
Here is what my Tailwind account looks like. If it seems overwhelming, don't worry. It is really easy to figure out after some practice.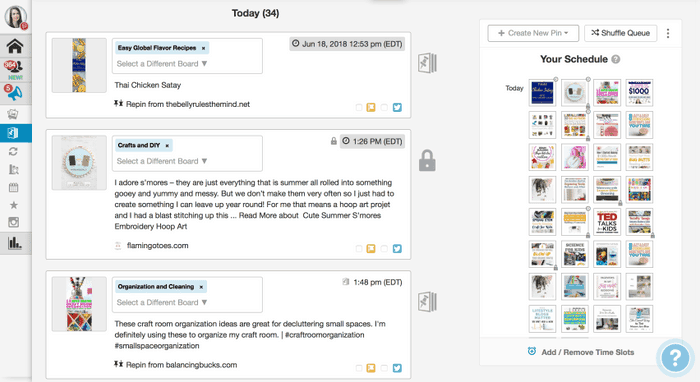 Tailwind is also the only Pinterest-approved scheduler!
Word on the street is a lot of people who use BoardBooster have gotten their account suspended lately.
(UPDATE! Boardbooster has been officially BANNED by Pinterest. I made the right call investing in Tailwind, which is a Pinterest approved scheduling tool.)
(Pssst, I know a secret!!! The best feature of BoardBooster is was the ability to "loop" pins…that is, take your pins from the bottom of your boards and repin them to the top, keeping the one with the most repins and deleting the spare. Tailwind is getting ready to beta test a SmartLoop feature, which would allow similar capabilities. I applied to be a beta, will let you guys know the second I know anything more! Or you could join Tailwind now and sign up to be a beta too!)
Join Pinterest group boards
I have mentioned group boards a couple times now and that is because they are very important.
If you are Joe Schmoe starting out on Pinterest with 15 followers and 1k in views, group boards can help get your pins in front of more people.
How?
Group boards are exclusive places where brands and/or bloggers band together to share and curate awesome content.
Their boards can be followed by thousands or even MILLIONS of people.
Check out the Better Homes and Garden's BHG's Best Home Tips and Tricks group board.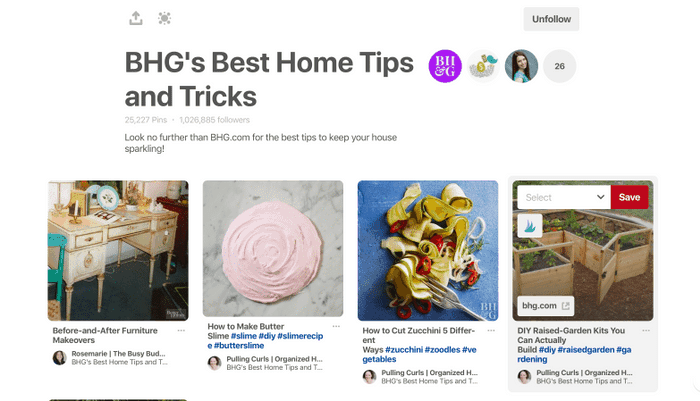 No, your eyes are not deceiving you.
Yes, they have 1,026,000 followers.
That means if you are invited to collaborate on that group board, your pins have the chance to be put in front of all those MILLION+ followers!
You can identify group boards by searching for the little circle picture that shows the profile owner.
If you see multiple people's profiles in the circle, rather than just one person's, it's a group board.
Mr. Joe Schmoe has no chance of getting invited to participate on big group boards like BHG's Group Board…they only accept the crème de la crème.
But Mr. Joe Schmoe can find group boards that are on his (lower) level and still increase the amount of followers who see his pins while he works up to becoming the crème. 😉
There are two great ways to find group boards.
Method one is to go to Pin Groupie and check out their search engine that allows you to search for group boards by niche.
The other is to see what group boards your niche peers and leaders participate in, and then try to join them.
It is NOT EASY to get into group boards.
Collaborators don't want crappy pins and spammy pinners pulling down the quality of their board.
(You don't set up a fantastic tea party for the Queen and then invite pigs to sit at the table. SAME DEAL.)
Your best bet is to craft a nice EMAIL to the lead pinner of the group board (you will know who is the leader because they are the first person pictured in the board).
Visit their Pinterest profile and get the link to their blog. Then, find their email and send your request.
It helps if you follow them on social media and if you are sincere and polite.
Don't feel bad if you don't hear back.
Just send a follow-up email after two weeks if you haven't heard anything. If you don't hear back after that, try again when you get so amazing they can't refuse you. 🙂
If you can't locate an email, the second choice to to message them using the Pinterest message feature. Remain polite and sincere.
Follow the leaders
Part of blogging is building relationships.
You need to know who is BIG in your niche…and you need to follow them on Pinterest.
Once you do, you will start seeing the content that they pin and that others like.
Pin their stuff; click through and comment if you have time!
You can even leave a comment on the pin itself…bloggers love comments.
Every day you should aim to follow 5-10 new bloggers in your niche.
Start with the bloggers that you know and love. Then see who they follow and follow a few of them. And then a few more the next day. And so on and so forth.
Don't forget brands! Start with brands that you dream of working with and follow them, then see who they follow.
(If you do this at night during peak pinning times you are almost guaranteed to collect a few dozen followers of your own.)
There you have it!
All of my best tips for getting up to a million views on Pinterest and driving traffic to your blog.
If you have a great strategy you would like to share, leave a comment in the comment section below and share with the world!
Pin it for Later!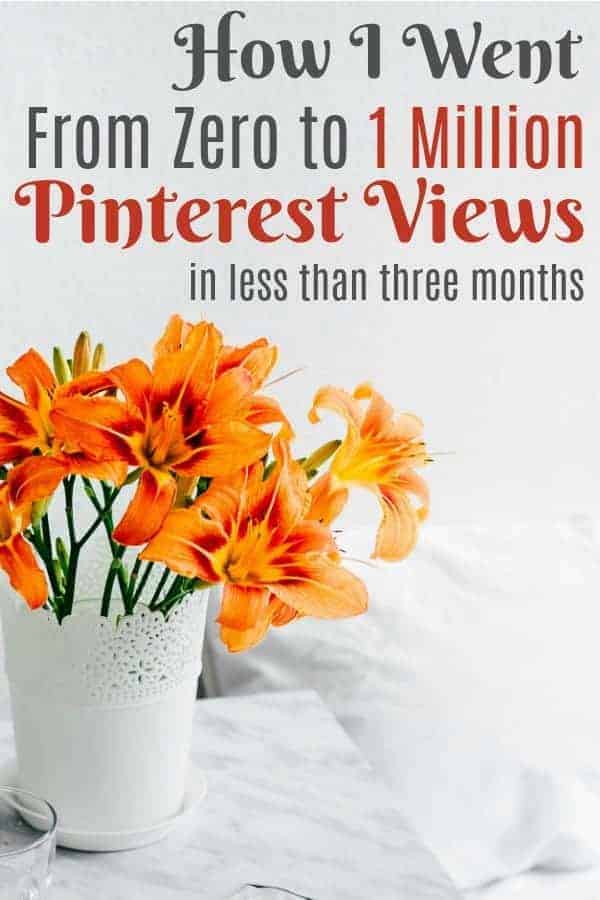 SaveSave
SaveSave
SaveSave
SaveSave
SaveSave
SaveSave
SaveSave
SaveSave
SaveSave
SaveSave
SaveSave
SaveSave
SaveSave
SaveSave
SaveSave
SaveSave
SaveSave