Lucky you, you made a delicious batch of homemade waffles and you have some leftovers! Now you are asking yourself, how do you go about freezing waffles, anyway? Also, what is the best way to reheat frozen waffles?
Read on to find out how to freeze waffles and find out if it's better to reheat your waffles in the toaster or the microwave!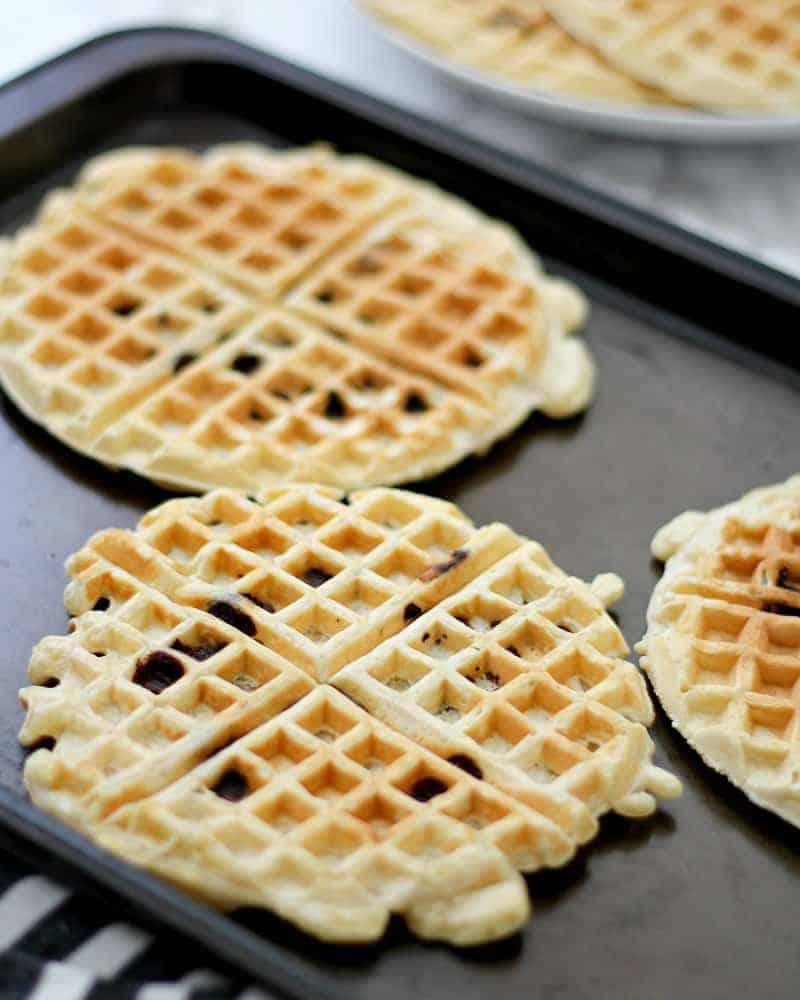 This post may contain affiliate links for your convenience. That means that if you make a purchase, I will receive a small commission at no extra cost to you. Read more here.
Freezing Waffles
Before you go about freezing waffles, you first have to go about making waffles in the first place!
If you are looking for a basic waffle recipe that yields extra fluffy waffles you can try this recipe; if you want something a little bit more chocolatey and exciting, these waffles are tons of fun!
Now that you have your waffles, let's move on to freezing the waffles.
How to freeze waffles?
Here are all the steps to freezing waffles so you can reheat them later.
1. Cool waffles completely before freezing
Before you freeze your waffles, you want to make sure they are cool before trying to place them in the freezer.
This step is essential for making sure that the waffles do not form and collect excess ice in the freezer when you are trying to store them.
Simply place the waffles on a plate and allow them to fully cool.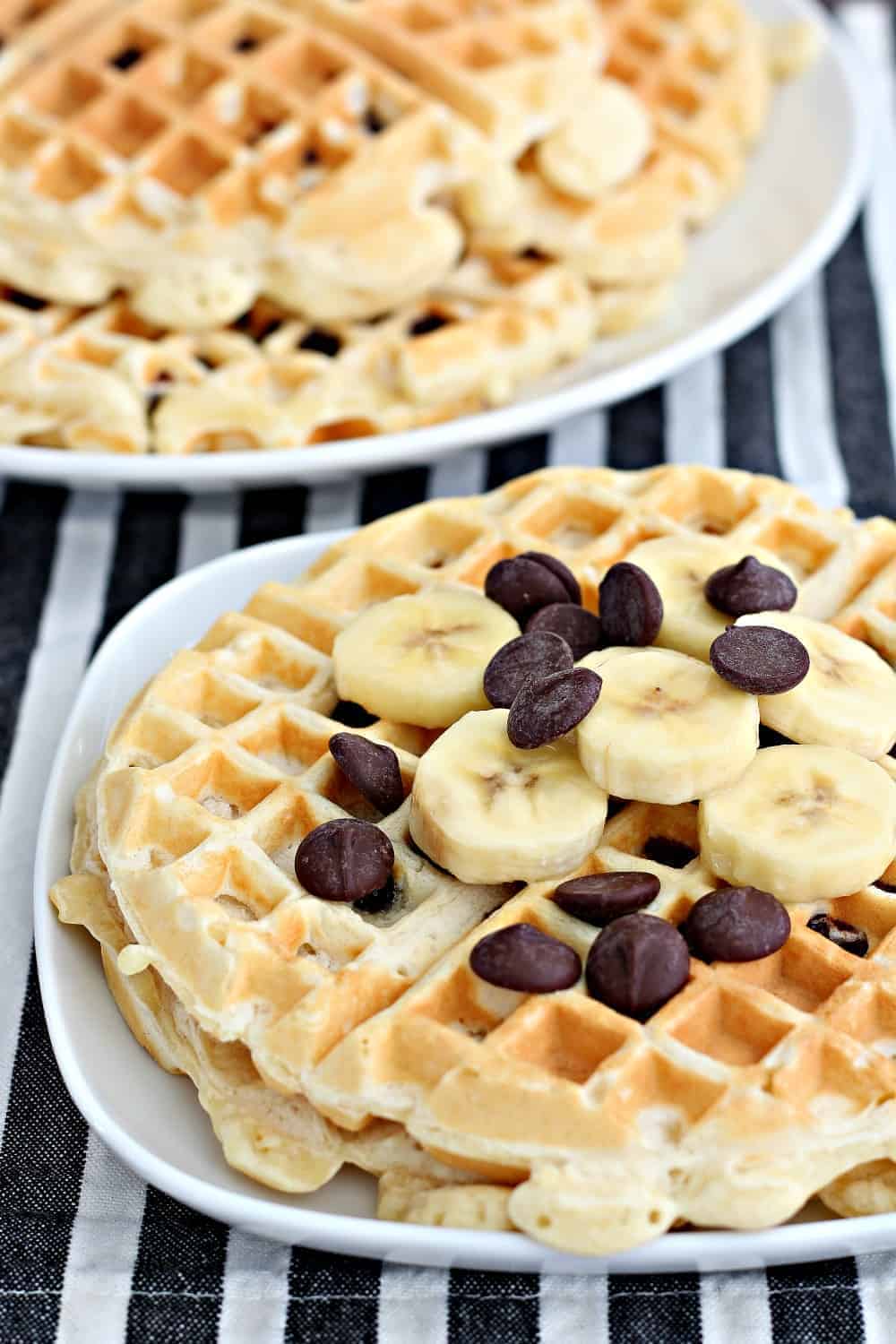 2. Place waffles on a cookie sheet
Once your waffles are fully cool, take them and place them flat upon a cookie sheet or baking sheet. You can use multiple at a time.
Space the waffles so that they are not touching; if they touch, they might end up getting frozen together and you will have to break them apart.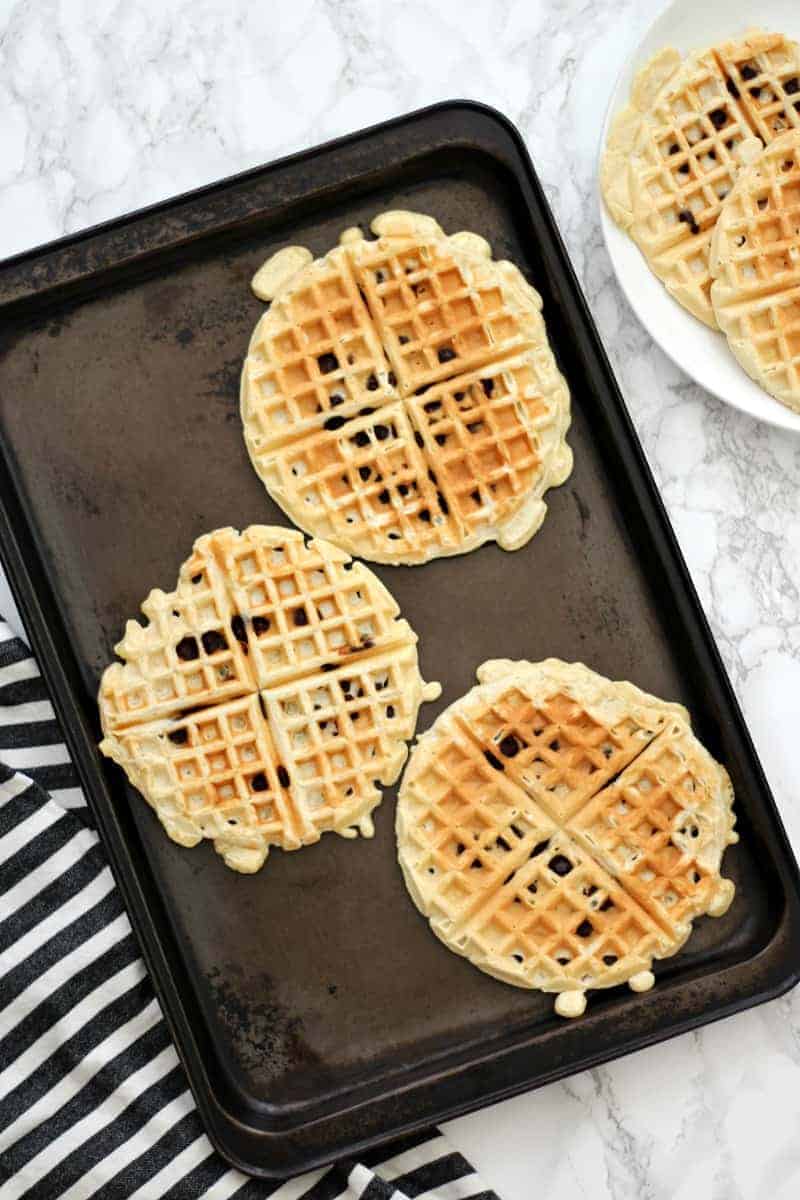 3. Place waffles in the freezer
Place the trays with the waffles in the freezer; stack the trays on top of each other if you are freezing multiple trays at a time.
Here is how my waffles look when placed in my freezer.
I put the smaller tray underneath so that the large tray would sit on top of it, without touching the waffle layer below it!
Now close the freezer and allow the waffles to fully freeze (give them a few hours). You want the waffles to be completely frozen before moving on to the next step.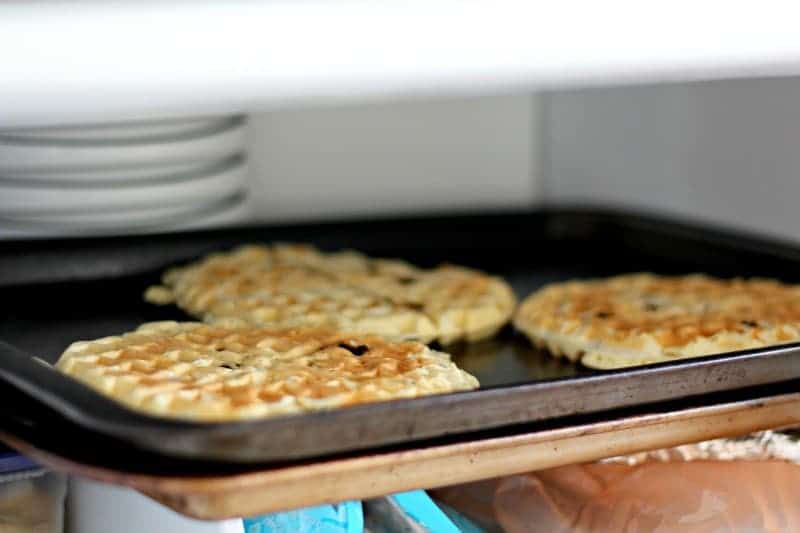 4. Remove and store frozen waffles
Once your waffles are fully frozen you can now take them off the cookie sheet and place them in a container or bag for storage.
You storage method may vary depending on the size and shape of your waffles (i.e., are your waffles square or round?)
I have a round Cuisinart round waffle iron which yields waffles that are approximately 7 inches in diameter. Personally, I am a huge fan of one-gallon freezer bags like these for storing frozen waffles. I just reuse the same bag over and over to cut down on waste.
Here is how my waffles look like once stored in the Ziploc bag; they don't stick together, because they were completely frozen before placing them in the bag!
(If you want a completely zero waste method for freezing your waffles, you can instead use something like this 12-inch Tupperware pie container. You could stack and store many waffles inside and the shape will fit nicely in the freezer. Obviously, it is a good multi-purpose container since it's actually made for storing pies!)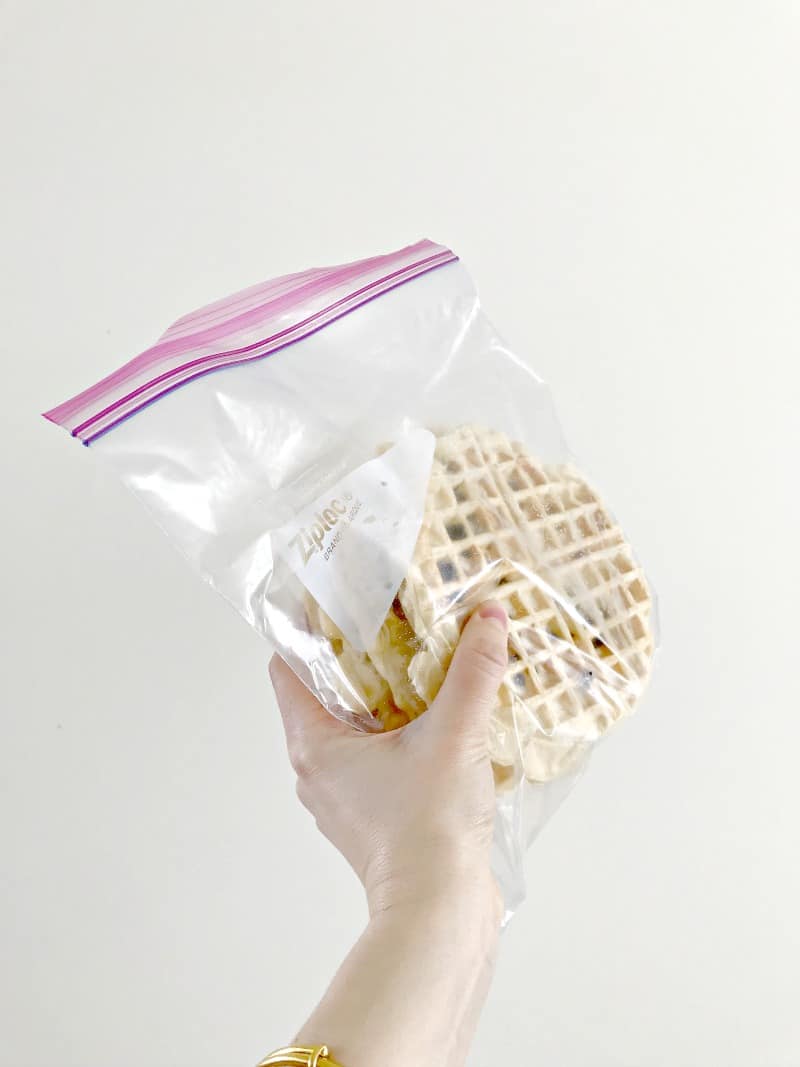 How to reheat frozen waffles
Let's explore the best way to reheat frozen waffles.
When it comes to reheating waffles that have been frozen, most people will have two options:
Microwaving frozen waffles
Reheating frozen waffles in a toaster
I tested both methods to reheat my chocolate chip waffles which had been frozen. For this test, the waffles were reheated straight from the freezer, without thawing.
I took one waffle and broke it precisely in half so that the initial consistency, coloration, and flavor would be identical; the only difference would be the method of reheating.
Here are the results.
Microwaving frozen waffles
To microwave the first 1/2 waffle, I wrapped it loosely in a paper towel and placed it in the microwave for 30 seconds, then flipped and microwaved for an additional 10 seconds on the other side. This method was faster than toasting to get a fully cooked waffle.
The waffle re-heated in the microwave was very soft, loose, and floppy, and cooked fully through. However, upon sitting a few minutes it did have a tendency to take on a more rubbery consistency. There was no crispness whatsoever on either the outside or inside of the waffle.
Verdict: use if you like a very soft, floppy waffle and don't mind a bit of rubberiness. Faster than toaster.
Putting frozen waffles in the toaster
The second 1/2 of the waffle was placed in my toaster.
Because of the size of my toaster and the fact that the waffle is 1/2 of a circle and slightly longer than my toaster is deep, I had to toast one side of the waffle and then flip to the other side to fully cook the waffle (I used setting "2" on this Oster toaster, in case you are interested.) However, if I was to go back and purchase another toaster in the future, I might select one like this which has extra long slots for wider slices of bread — I could see this being ideal for toasting waffles!
I toasted first one side, then flipped and toasted the other side of my waffle in the Oster toaster.
The result was a waffle that was crispy on the outside, soft on the inside, with the chocolate melted and gooey in all the right ways.
CAUTION is advised, however, because it is quite easy to overcook the waffle using this method, which can result in a very hard and burnt waffle. You will definitely need to keep your eye on the waffle as it is reheating and learn what setting and time works best for your waffle in your particular waffle iron! This method is slower thank microwaving waffles.
Verdict: use if you like waffles that are more on the crispy side and you don't mind keeping an eye on them while they are cooking. Slower than microwave.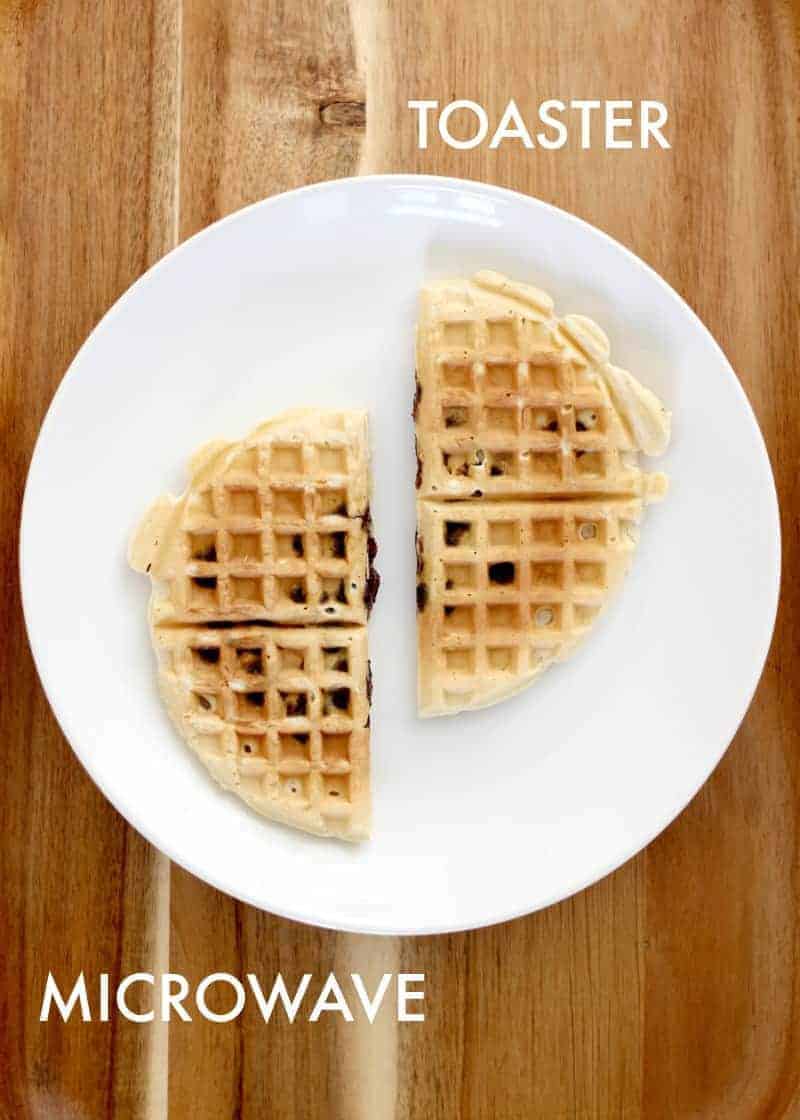 Now get out there and start freezing waffles!
I hope that you enjoyed this guide on freezing waffles and how to reheat waffles after freezing! Let me know if you have any questions and I will try and get back to you ASAP. 🙂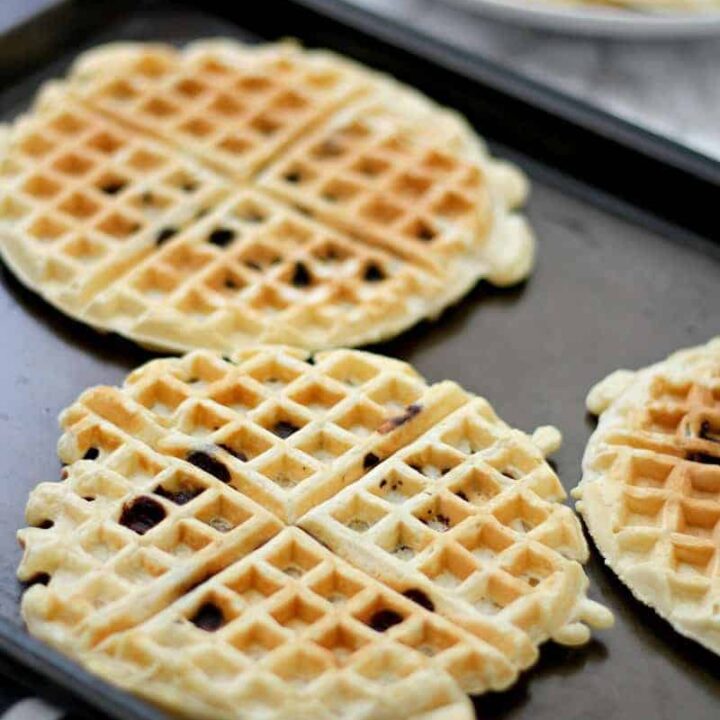 Freezing Waffles: How to Freeze and Reheat Waffles
Total Time:
4 hours
30 minutes
Lucky you, you made a delicious batch of homemade waffles and you have leftovers! Read on to find out how to freeze waffles and see find out if it's better to reheat your waffles in the toaster or the microwave!
Materials
Leftover waffles
Baking sheet
Freezer bag OR pie container
Instructions
Cool waffles completely before freezing.
Place waffles on a flat 13x9 baking sheet.
Freeze for 4 hours; stack baking sheets if freezing multiple trays.
Remove and store.
To reheat use the microwave or toaster according to the notes in the post above.
Recommended Products
As an Amazon Associate and member of other affiliate programs, I earn from qualifying purchases.
Pin this!