If you are one of the 78% of people living paycheck to paycheck every day, week after week, being able to make $100 a day might sound like a dream to you – sweet and tempting, but completely out of reach! When you need extra money fast there are plenty of options that can generate $100 a day or more.
You might be asking if it is really possible to make $100 a day with side hustles?
Take it from veteran side hustler who has explored the options, even while being a stay-at-home mom caring for two toddlers – you can definitely make money with side hustles!
In fact, wealthy people will probably tell you that when you start making money it becomes even easier to make more money – you start to get in the habit of finding new and creative ways to make money that you never thought of before!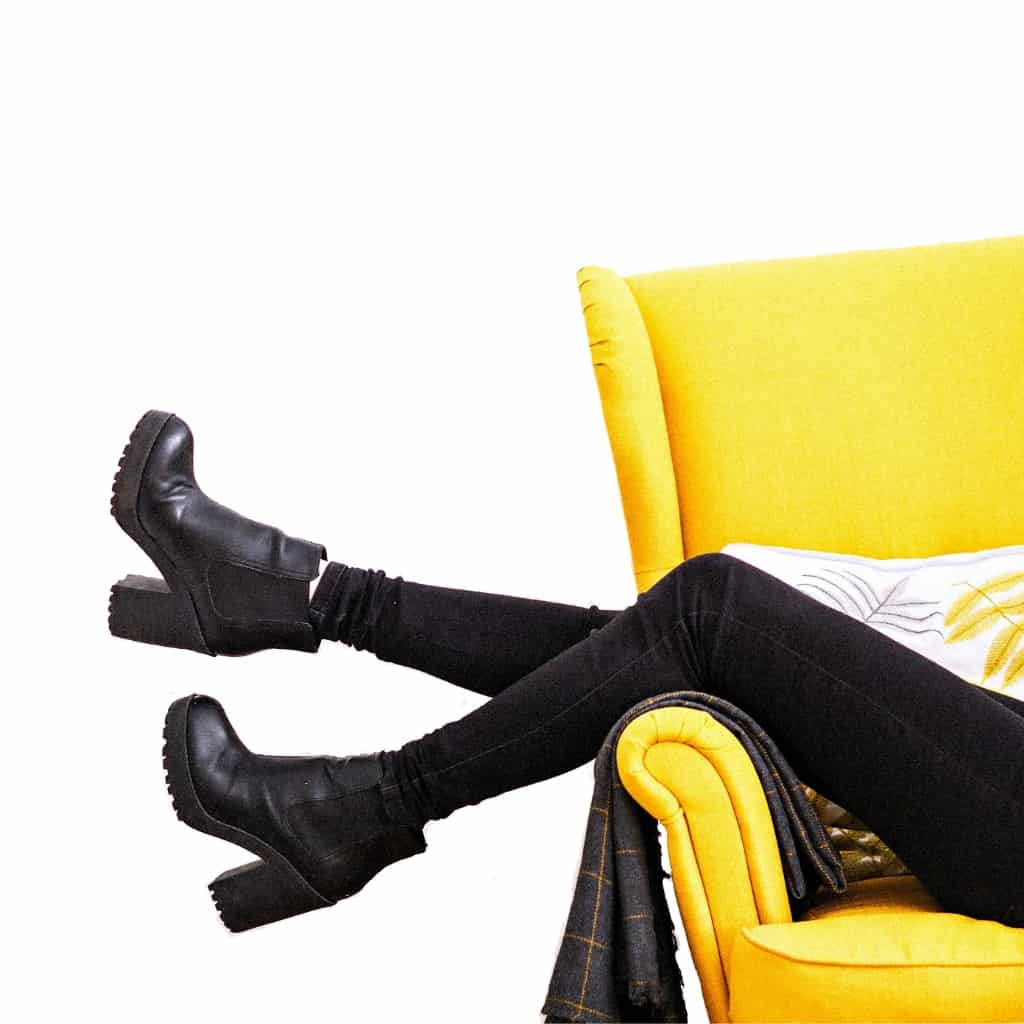 This post may contain affiliate links for your convenience. That means that if you make a purchase, I will receive a small commission at no extra cost to you. Read more here.
How to make $100 a day fast: 21 genius ways to make extra money
When you need money fast, even one day can seem like a lot of time.
While there are tons of great money-making ideas on this list, some of these ideas will generate cash faster than others; often you will find the slower ways to make money can make you more money over time, whereas the fast ways to make money don't yield huge results.
You might have to experiment a bit and pick and choose between the different methods while working towards your goal.
When combined with a frugal lifestyle these money-making ideas will help you stash cash fast.
When looking for ways to make extra money, you need to consider:
How fast do you need the money?
How much money can you make with a particular side hustle?
Does one side hustle pay more than another that takes less time?
Do you actually have the skills and/or requirements needed to perform the side hustle?
The great thing about these money-making ideas is that the more you work on them, the more cash they generate – over time, you might even strike it rich!
Just think of all the things you could do with that extra money. That extra $100 a day adds up to $3,000 a month of income.
With that kind of money you could:
save up for your kid's education
have the wedding of your dreams paid in cash
put a down payment on your first home
and so much more…
#1. Work as a freelancer
There are an endless amount of freelance gigs and many ways to get hired; the freelancer paradise Fiverr is a great place to start
You could work as a freelance writer, charging anywhere from $0.10 to $0.25 per word for established magazines or websites.
In-demand writers can charge $0.25 per word or more – that means you could earn $375 for a single 1,500-word article, which would be considered relatively short.
A longer or more technical article could earn you $400-$625 or more!
Just for reference, this article you are reading is over 4,000 words – that means this one blog post would be worth at least $1,000!
Here are other high-demand freelancer gigs:
Logo design and branding
Voiceovers
Video editing
Tattoo design
Data entry
Medical transcription
Foreign translation services
and more…
How much money can you make by freelancing?
There isn't a set rate for freelancers; most start out by pricing their services low in order to gain experience and build their portfolio.
As they establish a system and the positive reviews start rolling in, they begin to raise their rates – word of mouth alone can bring in tons of clients every single month!
HOW TO GET STARTED: Go browse on Fiverr and see if you any of your hobbies could start making you $100 a day or more! BONUS – use this special link to sign up and you can refer YOUR friends and make up to $100 for each one that signs up as well.
---
#2. Drive for Uber or Lyft
Driving for Uber or Lyft is another easy way to earn extra money – it's also one of the fastest and easiest side hustles on this list.
On busy days, you could earn much more than $100; smart drivers know that the busiest areas near hotels and airports in major cities are often the best places to score high-profit fares.
Keep in mind that this job is a lot like the service industry; similar to being a waiter in a restaurant, catering to your client can pay off.
If you can read your rider — are they the strong and silent type or do they seem extra-chatty? — and go the extra mile by keeping your car clean and offering fast and reliable service, you can almost ensure better tipping and a positive review, which will increase the likelihood more people want to ride with you!
Just remember that you need to consider the cost of gas mileage and car depreciation when you are considering taking on driving as a side hustle!
---
#3. Make money on YouTube
Ready to have your mind blown?
You can start making money on YouTube without spending a single dime!
Turns out you don't even need a blog or website to make money on YouTube – that's right, you can make money on YouTube without a blog!
Having tons of followers is not the end all be all either – I have less than 300 followers and yet I am making passive income from sales and traffic that I drive from YouTube!
Here's how to do it (the easy way):
Pick a topic: look around your home and see what kind of products you have a lot of, such as kitchen appliances, baby products, camera equipment, etc. and make a YouTube channel based on reviewing those products! Or you could simply watch other people's YouTube videos and react to them – these popular videos are called reaction videos. Or share videos discussing trending topics. There are so many possibilities!
Start a YouTube channel – chose an epic name that will tell the watcher what your channel is about – you want to collect super fans that keep coming back for more!
Create videos + get traffic – start shooting and editing amazing YouTube videos – you don't even need super fancy equipment. Most people have a smartphone and a laptop or computer. This video about how much money we spend as ex-pats in Berlin was shot entirely from my iPhone and edited in the free editing program on my MacBook Pro, which is called iMovie. It has all sorts of cool overlays, graphics, and sound effects built into the program!
Monetize your YouTube traffic – once you start getting traffic to your channel you can apply to be an Amazon Affiliate; after you are approved as an Amazon affiliate you can go back and add affiliate links to all of those products you reviewed and start making passive income from them! Once you get to a certain point, YouTube will even start paying you per view — you need 4,000 watch hours and 1,000 subscribers to qualify to monetize your YouTube channel.
How to make even more money on YouTube
So far the methods that I have shared with you are totally free.
If you decide you love creating content for YouTube and potentially even build a full-time business, you should consider getting TubeBuddy. 
WARNING: This YouTube tool is for serious money-makers and data-nerds only! TubeBuddy is an advanced analytics tool that allows you do a deep dive into the mind of your competitors and customers alike — right now you can sign up for a free trial of TubeBuddy to test and see just how powerful it is – if you like it, they offer HUGE discounts for smaller accounts that qualify. 
---
#4. Sell your clutter for cash
I am a HUGE fan of selling clutter for cash!
At one point I was making more than $1,000 a month as a stay-at-home mom selling on eBay – literally just making bank selling our old junk between my kids' naptimes!
When you have literal stacks of cash lying around your home in the form of clutter, here are some great places to get started selling!
---
#5. Get paid to take surveys
It would be tough to earn $100 a day just by taking surveys, but taking surveys is a fun and super-easy way to supplement your other side hustles and can help push you above that $100 a day mark.
My favorite site is SurveyJunkie because they are established, reliable, pay on-time, and deliver legit surveys.
TIP: SurveyJunkie is rated 4.5/5 stars on TrustPilot, which makes it one of the top-rated and top-paying survey websites. Click here to sign up at SurveyJunkie for free and start earning cash right away – you can make up to $45 per survey!
---
#6. Earn money by doing things you need to do anyway
Making money online has never been easier in this day and age!
There are so many great sites that will literally PAY YOU to do stuff you love to do on the daily. How crazy is it that you can get paid just to do stuff you were going to do anyway?
Here are some great ways to cash in on your interests and hobbies:
---
#7. Start a blog
I have tried many side hustles over the past few decades (yes, I'm old) and nothing has compared to blogging.
The $1,000 a month I was earning by selling my clutter on eBay is peanuts compared to what I make now – even better, it's at the point where it's mostly passive!
You don't need much money to start blogging – I invested less than $5 to pay for hosting when I first started and I committed to staying on a low budget until I made enough money to start buying other things I needed for my blog.
Even during the six months, I barely touched my blog because I was decluttering our home to move to Europe my blog was still generating full-time income.
Here are all the ways a blog can make you money:
Ad income – growing your blog's traffic is important if you want to make money from ads. When your blog reaches a certain level of traffic, you can apply to ad companies, such as MediaVine (they require 25k sessions to apply) or AdThrive (they require 100k monthly pageviews). I grew my blog traffic to over 180,000 monthly pageviews in my 8th-month blogging by focusing on Pinterest while also optimizing for Google organic search traffic.
Affiliate marketing – any time you recommend a product or service that you love you can place an affiliate link – this works for YouTube, blogs, on Instagram, and many other social media websites! When you find a product that you want to recommend you apply to become an affiliate of that product. The company will then give you a special code that you can share with your followers; if they chose to make a purchase, you receive a small commission at no extra cost to them. It's a win-win scenario – your followers get cool products and tools and you make a little money if they chose to buy (at NO EXTRA cost to them, btw.)
Sponsored posts – after you start a blog and start attracting loyal fans, brands will take notice – they may offer you free products, services, or even pay you cash to have you promote their products.
Are you ready to start making money blogging? Click here to grab your domain name at the cheapest price possible before someone else does! I thought of so many great names that were already taken *cries*. 
---
#8. Clean or declutter other people's homes for money
Really enjoy clearing or decluttering?
Why not turn that into a full career?
Home cleaning services make a lot of money, and your reputation can get you far by word of mouth alone — chances are if you someone is happy with your services they will tell their friends and neighbors.
You could make tons of money just by getting a few referrals within one townhome community.
Heck, going back to making money on YouTube, people literally make entire CHANNELS revolving around helping people clean up or declutter their homes.
That's right, huge, massive, MONETIZED YouTube channels that just show videos of people cleaning at top speed.
Just imagine — you get paid to help clean up then you get paid again to share the video and make money on YouTube – is there a downside to this?
---
#9. Deliver food or packages
DoorDash, PostMates, and GrubHub are all delivery apps that pay drivers.
While the starting pay isn't amazing, if you work in a busy area, you could earn $100 on some days. How much you earn depends on how many orders you fulfill and how large those orders are.
All three of these will deliver food; PostMates couriers will deliver anything, you just need to apply and download the app on your smartphone to get started.
As a delivery driver, you might be asked to deliver alcohol, groceries, or takeout; experienced couriers can earn up to $25/hour.
To be hired by PostMates, you have to pass a background check.
---
#10. Become a Virtual Assistant
A virtual assistant is a type of administrative/office assistant, except they work remotely.
Many virtual assistants charge $20 per hour or more, so after working just 5 hours you already have $100, and it's been a relatively short and easy day's work too.
Virtual assistants typically do a variety of things for website owners/small business owners, including:
Responding to and organizing email
Updating websites
Managing freelancers
Calendar management
Scheduling meetings
Making travel arrangements
---
#11. Become a tutor
Another way to earn money from home is by teaching online.
Many school-age parents want to hire tutors for their children, and if you have a passion for teaching this could be perfect.
You can tutor in any area – math, reading, coding, history, or even SAT prep.
Some parents want tutors to come to their homes. Others prefer hiring tutors online only.
Depending on your skill level, you could even charge up to $50 per hour; at that price, you would only need two students a day to earn $100.
As a former speech-language pathologist, the tutoring referral website that intrigued me the most and had all the SLPs buzzing was VIPKid.
VIPKid was recently ranked on the Forbes in the top 5 on a list of best remote teaching companies. It is an online education company that connects students and teachers globally through one-to-one personalized English language classes; you will teach English to Chinese children aged 5-12 years old.
(And no, luckily you don't need to know Chinese to do this!)
However, you do need at least a Bachelor's degree and some kind of teaching experience to qualify – you can read more about how to become a VIPKid teacher here.
---
#12. Teach an Online Course
Everyone is an expert in something!
Think about what you love to do, are an expert in, and have a passion for — could you make money sharing that passion with other people?
Maybe you homeschool your kids and found a really great way to keep your homeschool program organized or perhaps you love yoga and are always trying to encourage your friends to explore their flexibility.
The top websites for teaching online courses to students all over the world are:
HUGE PRO-TIP: search for classes that fall under your skillset and then see if they have lots of reviews and how much people are willing to pay!
Reading customer reviews on existing courses that are similar to the ones that you want to create can be very valuable.
You can find out what courses people like, don't like, and more importantly why they did/didn't like that course.
Sourdough breadmaking – so hot right now! Seriously, I'm not even joking; that sourdough bread baking course has over 2,000 reviews and a 4.7/5-star rating!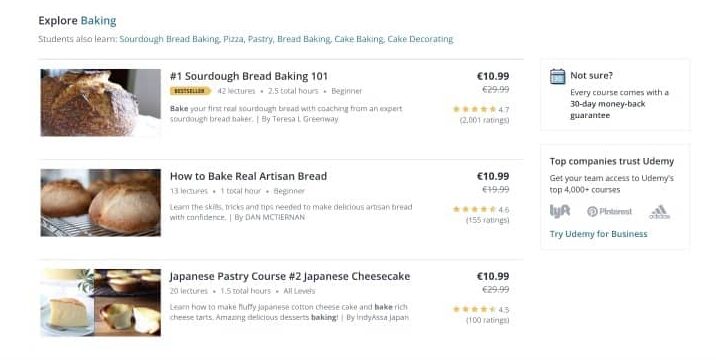 ---
#13. Rent out your pad on Airbnb
Do you have extra space just begging to make you money?
Airbnb is a website that lets you rent out your home or even just a room in your home
Depending on where you live, you could make lots of money, especially if you are close to city centers, museums, or even baseball stadiums (we used to live next to Wrigley Field in Chicago).
Homes or townhouses in major cities cost much more – it's easy to make $100 a day when you live close to tourist areas or the beach.
---
#14. Watch creatures for cash
Are you good at keeping things well-fed and alive?
Joking aside, caring for creatures can pay pretty well, whether the creatures have two legs, four legs, or feathers!
You can try babysitting (creatures of the human persuasion) or even pet sitting!
There are plenty of websites and apps that help wannabe caregivers connect with clients, such as:
Care.com – Care.com started as a nanny, babysitting, and au pair concierge, but now you can search and list all sorts of jobs, including pet sitting, house sitting, tutoring, and even odd jobs!
Rover – Rover is for creatures of the four-legged or feathered persuasion. While cats and dogs are most common, there are also jobs for animals like guinea pigs and hamsters. If you walk or pet sit once for a client and they are really happy, you have a great chance that they will contact you again if they need pet care in the future. We call that repeat business and we like repeat business!
---
#15. Sell crafts online
Do you love crafting?
There are so many great ways to cash in on your creativity nowadays.
Weaving and knitting are particularly hot right now and many people are using apps and websites to display and sell their products and services.
Here are three of the best places to sell crafts:
On a blog or social media – if you want to sell your crafts royalty-free and avoid middleman fees, starting a blog or using Instagram or YouTube to sell your products can be super lucrative!
Etsy – Etsy is probably the most well-known and popular websites for selling art, crafts, and more.
Teachers Pay Teachers – If you are a teacher who has created worksheets, study cards, or other printables for yourself or your classroom, you can upload it to Teachers Pay Teachers; the more you upload, the more money you make!
---
#16. Start a thrift flipping business
Moving beyond simply selling your clutter, why not start a thrift flipping business?
The reselling market is one of the hottest growing trends of 2020; according to this report, the luxury secondhand resale market is growing four times faster than the primary luxury market and estimates place value at $24 billion!
Of course, while it's amazing to find luxury brands at discount prices – I myself snagged a $2,000 Ralph Lauren Purple Label cashmere jacket for $13 – you don't need to find a little Gucci dress to cash in on thrift selling!
Savvy resellers are finding amazing goods at discount prices and reselling them on Poshmark, eBay, Etsy, or even just on Instagram!
Want to make FREE money?
You can even find gorgeous furniture or electronics that people put out on trash day and sell it for 100% profit – now that's smart money.
LEARN MORE: 53 Killer Thrifting Tips the Pros Use to Score Big at the Thrift Store
---
#17. Get paid to haul away people's junk (then sell it!?)
Junk collection is becoming a booming industry!
Turn other people's trash into your literal cash with junk hauling.
When people move or have large items that break down they don't always have family or friends close to help; that's where you come in.
You can start your own business or just post on places like Facebook Marketplace, Craigslist, or local websites looking for odd hauling jobs.
You can even resell the items that you collect.
Scrap metal, reclaimable hardwood, and easily fixable electronics can be very lucrative!
Just remember you need to take the cost of gas and car maintenance into account; especially if you haul larger items, you will need a truck or moving van.
---
#18. Start a photography side gig
There are so many ways to turn a love for photography into a viable career — you don't even need to know what you are doing or spend a ton of money just to get started!
Jenna Kutcher is a huge Instagram influencer and brainy female entrepreneur who made over $7 million last year with her business – and as she will tell you on her Goaldigger podcast, it all started when she decided to buy a secondhand DSLR camera and start a wedding photography business!
Here are other great side hustles you can start with a camera:
Boudoir photography
Pregnancy photography
Baby photography
Become an Instagram influencer – take beautiful, interesting, or thought-provoking pics and build enough followers – you could get paid by brands and sponsors who want to work with you!
Food photography or videographer – people will pay you to take pictures and videos of their recipes!
Sell pictures online – you can sell pictures that you take to places like Getty and Shutterstock.
---
#19. Ask for a raise or change jobs
Two of the fastest ways to increase your income and get you to your goal to make $100 a day without even having to hustle is to:
Ask for a raise
Look for a new job
Asking for a raise is not easy; most people are really uncomfortable to talk about anything related to money, let alone ask for more at work!
Don't expect to just go in and ask for more money just because you want it – that's a recipe for failure!
Instead, at a meeting with your boss or annual review come prepared with a list of skills that you bring to the table and how your work has benefited your company.
Maybe you got a new license that makes you even more qualified for your job title or you increased company sales and profits by 250% over the last year.
By making a clear case of how valuable you are to the company you can also present the case that you deserve as raise – chances are your boss will see the light, since hiring someone else for that new position might end up costing them more than giving you a raise in the long run.
I have personally used this method to negotiate a 13% raise after only 9 months at a company – if I can do this, you can too!
If they aren't willing to give you more money when you deserve it?
Chances are another company will and you can start looking for a new job.
---
#20. Get paid to listen to music
Music fans, listen up!
Slicethepie is the largest paid review site on the internet and you can earn cash for every review you leave!
The feedback that you provide on tracks, clothing and more will go directly to the people who need to hear it hone their craft; this will help artists, record labels and brands make decisions.
The better and more thorough your reviews the more money you will earn – you can get paid through PayPal immediately once you meet the minimum threshold of $10.
Slicethepie also has a sweet affiliate program. The more friends and family you refer who sign up for Slicethepie, the more money you make!
---
#21. Find more money in your budget
If you have no idea how much money you are spending each month, chances are you are leaving plenty of money on the table.
Often there are several hundred or even several thousands of dollars that you can find just by taking a closer look at your budget – find out how to get started creating your perfect budget today.
READ MORE: 50 Dumb Things We Stopped Buying That Save Us TONS of Money
---
Bottom line: get creative and making $100 a day is easy!
What do you really enjoy doing?
Whatever it is, there's a way to turn that passion into extra cash. You just have to be smart and hungry enough to go for it!
Pin this post to read again!