The struggle is real people! Driving organic traffic to a new blog can be difficult, leaving you feeling like a tiny little amoeba in the enormous ocean that is the Internet. Worry not, little amoeba! I am going to show you the search engine optimization strategies I used to increase organic traffic to my brand new blog by 588% in less than 2 months, so you can start driving more organic traffic to your own blog! Get the best SEO strategies and tips here and will be walking on two legs before you know it 😉
(Update: I hit 140,000 pageviews in my eighth-month blogging — find out how!)
SEO strategies for organic search traffic
Why hello — who might that be on the first page of Google, in the number four spot for KonMari checklists?
Just little old me (highlighted in purple).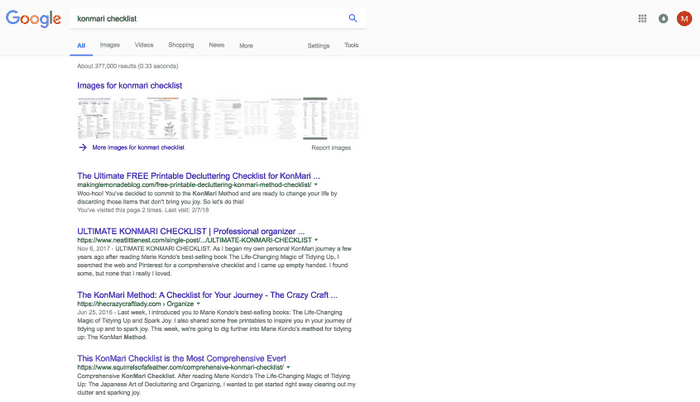 And if you do a search based on images for KonMari checklists?
That's right, my KonMari Checklist is in the first and third row of the Google Image search.
But surely you have been blogging for a long time, right?
The answer is no.
As of the time of this writing, this blog has been "live" for 2.5 months, total.
Did that post go viral? I bet that is how you got ranked higher!
Nope.
I have had modest traffic on my KonMari Checklist, but nothing that could be considered viral.
OK, so it must just be a fluke! After all, there can't be that many KonMari Checklists out there, right?
You might be surprised!
But I can prove that my ranking isn't a fluke.
Check out the search results for my bug reading game that I published only 5 days ago! Here are the search results for "bug reading game"!
There I am! The number five spot on the first page of Google (in purple).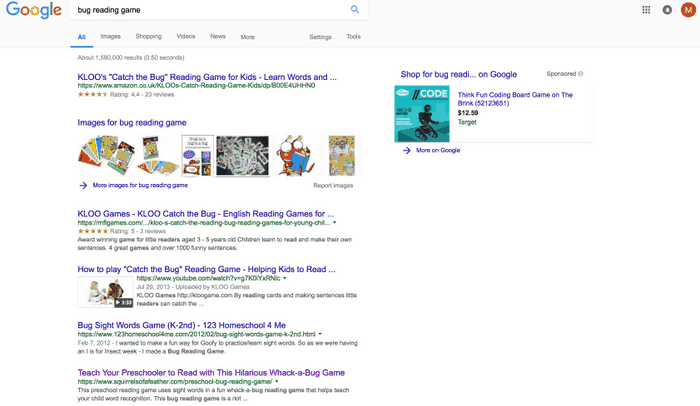 Also! The first two rows of a Google Image Search contain, not one, but THREE of my images.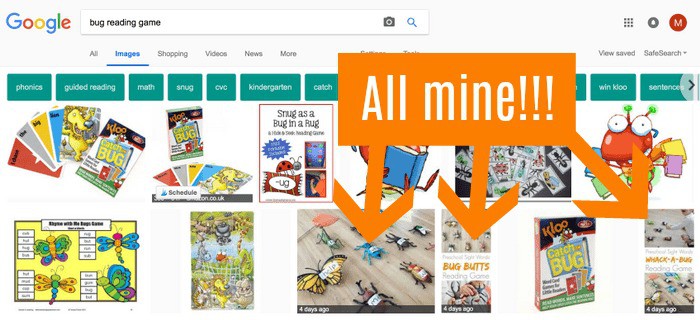 This post may contain affiliate links for your convenience. That means that if you make a purchase, I will receive a small commission at no extra cost to you. I only recommend products or services that I fully believe in and use myself. Read more here.
So how do I improve my Google rankings?
Three words, my friend.
Search engine optimization.
Otherwise known as SEO, search engine optimization is how I am able to convince the "Google gods" that my blog posts are worthy of being on the front page.
Today, I am going to share the SEO strategies that I use to rank highly in Google searches and drive organic traffic to my very new blog.
(Make sure  you stick around for #4…my ultimate secret weapon!)
Use the Yoast plugin to improve SEO
The Yoast plugin makes a blogger's life soooo much easier.
I don't have hard numbers, but I am going to ballpark that it makes life about 1.73 billion times easier (I just pulled that number out of the ether; but seriously, so much easier).
Yoast will allow you to do everything from syncing your social media accounts to giving you a literal green light when your post is SEO optimized.
The best place to read about optimizing for Yoast is on their website, which tells you all the terms and strategies you will need to use Yoast.
Here are some ways that I optimize with Yoast:
Open with keyword-rich language related to the title and topic of my post
Use clear language
Use large, bold headers to clearly divide information into sections
Choose a good focus keyword (should be word/phrase related to the topic and also in the first sentence of post)
Write a good meta description (this is the "blurb" of text that Google will show when your post comes up in a search)
Check my Readability Score and SEO Score to make sure they are green; if not, adjust according to Yoast's suggestions
Take a look at how you fill out the Yoast "snippets" here. You can see that my Readability and SEO scores are green (the little green circles in the tabs), which means that they are superior and should result in optimized search results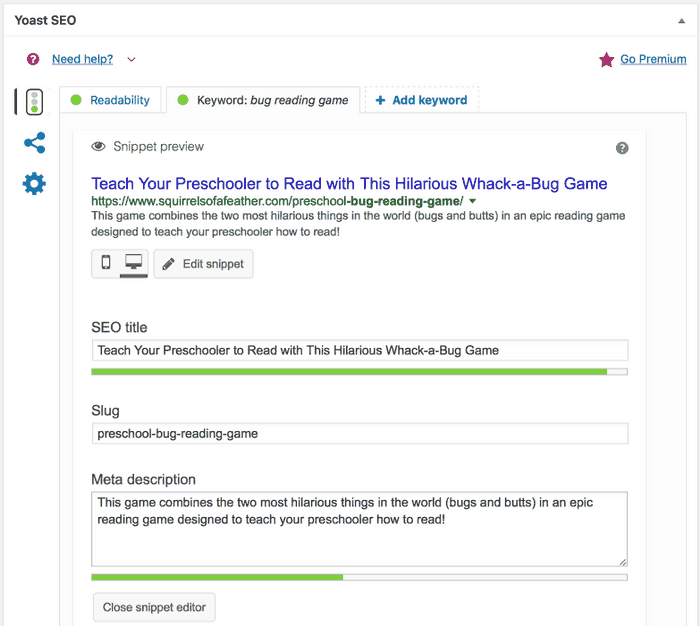 To get Yoast, simply hover over the "Plugin" section of your WP Dashboard, and click "Add New".
Search for Yoast, and install, then activate.
(Make sure that besides using Yoast for SEO, that you also input the URLs for your social media handles in the Yoast "Social" tabs. They have a handy installation wizard to help you along.)
Rename your images to improve SEO
This is a super simple change that has huge benefits.
Before you even think about uploading an image to your blog, you need to rename it in your computer folder, with keywords related to your post.
This is because often people will search for games, recipes, decor, DIYs, etc. through the Google Image Search function.
That way, they are able to quickly see pictures of what they are looking for, rather than having to open and visit fifteen different websites before they find what they want.
And what do you think is going to rank higher in a Google Image Search for "Meatball Recipe"?
IMG_7089
Kid Friendly Meatball recipe
I know you are stumped! 😉
Just kidding, it's obviously the second choice!
By changing your image's name from a random series of numbers. and instead using keywords related to your post, your images will rank higher in the image search!
You can use the same keywords over and over, and just add numbers to differentiate the images (best meatball recipe 1, best meatball recipe 2, etc.) or use related keywords (best meatball recipe, most delicious meatball recipe, etc.).
Use long-tail tags to improve SEO
What the heck is a long tail tag?
Also, know as "long tail keywords", long tail tags are more specific to your niche and post, and help convert and drive more traffic to your blog.
When you input your post tags, you need to put yourself inside the mind of the person who you know will be scouring the Internet for your article.
What are they going to enter into their search engine?
When I went to fill in the "tags" section of my WP Dashboard (the far right and middle of your Dashboard, underneath "categories") for my bug reading game, I knew that there would probably about 500,001 reading games for kids.
So I put myself in the mind of people who would be looking for specific games like mine. Maybe they have kids who love bugs, are boys, who need to learn how to read, etc.
So in addition to generic tags, here are some phrases I used:
Bug reading game
Summer reading game for boys
Reading games for boys
Fun ways to teach a child to read
Good ways to teach boys to read
When someone does a search for phrases like this, your tags will allow you to rank higher than someone else's post containing only very generic, broad tags.
As if worrying about SEO wasn't difficult enough, most bloggers receive significant traffic from Pinterest.
Guess what Google and Pinterest have in common?
They are both search engines!
Guess what they don't have in common?
The way they read and use data.
When you optimize for Google, your Pinterest optimized pins may suffer. Visa versa, if you optimize for Pinterest, you might not rank as highly in Google's search engine.
So what's a blogger to do?
Get Tasty Pins!
Tasty Pins, how do I love thee? Let me count the ways.
This plugin was created by bloggers, for bloggers. 
You see, the smart and totally amazing peeps over at Pinch of Yum realized this quandary:
Optimize for Pinterest, lose out on Google traffic
Optimize for Google, lose out on Pinterest traffic
So not fair!
As any true food blogger would, they wanted to have their cake and eat it too!
So what they did was create a plugin that allows you to input information in a way that optimizes it for both Google and Pinterest, maximizing the traffic potential of both.
The key to this, my friends, is alt text.
What is alt text?
Alt text is that little window that you have probably been totally ignoring when you input media via the Add Media button in WordPress.
Simple Pin Media had this to say about alt text:
For example, if you receive an email and you see a broken link or image icon that has a box around it, the alt-text can be used in place of that image. The alt-text was designed to describe an image that you can't see. This feature is really helpful for screen readers, which read off the text to visually impaired people.

When search engines (like Google) crawl your site, they are look to the alt-text descriptions to learn about the images on a page/post. Using alt text descriptions is an optimization technique to inform search engines what the image is about."
You run into a problem when you optimize the alt text for Google, however.
That is because Pinterest will automatically pull the alt text for that image to put in the description at the bottom of the pin.
So instead of having a great click-worthy description about your chocolate chip cookie recipe, you end up with a phrase like "Chocolate chip cookies on a table with a glass of milk" at the bottom of your beautifully designed long pin.
Not exactly click bait!
Tasty Pins has solved this problem; the creators figured out how to "hook" the information in a way that allows it to give Google the descriptive alt text it needs, while at the same time keeping a visually appealing Pinterest-friendly description at the bottom of your pins.
So your images will be optimized for Pinterest and Google at the same time!
They will also rank higher in Google Image Searches.
(There are many other benefits to Tasty Pins, such as being able to create "hidden pins" easily, rather than having to hide them in the HTML and the ability to make a pin "unpinnable" with the click of a button!)

Make sure you check them out! They are worth every penny.
Now allow me to further prove to you how awesome these strategies are.
Check out this Google Analytics acquisition data comparing the organic search percentages of my first month of blogging and my (not quite complete) third month of blogging, in which I began to use Tasty Pins.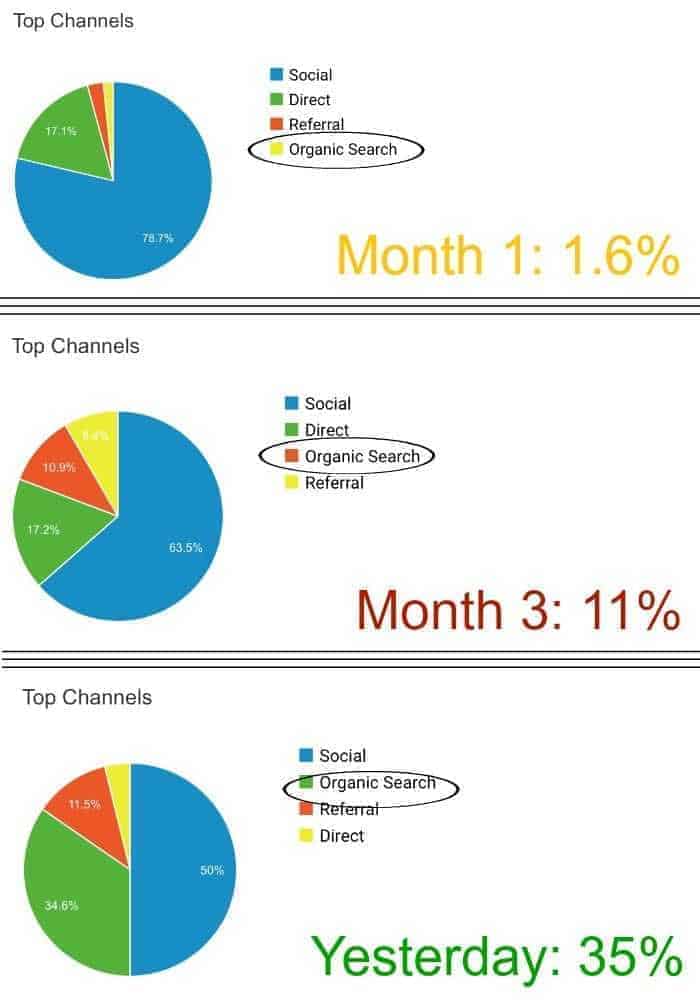 Are you blown away?! I know that I was when I saw that data!
My organic search traffic increased from a piddly 1.6% in Month One to 11% in Month Three! That is an increase of 588%!!!
Even more impressive, now that I am getting the hang of all the cool features that Tasty Pins has to offer, my organic search traffic has blown up even more!
Yesterday, nearly 35% of my overall traffic was acquired through organic searching! Talk about search engine optimization!
Tasty Pins is killin' it over here.
I don't recommend that you get it; I insist that you get it.
This plugin is a game-changer and time saver.
Pin it for Later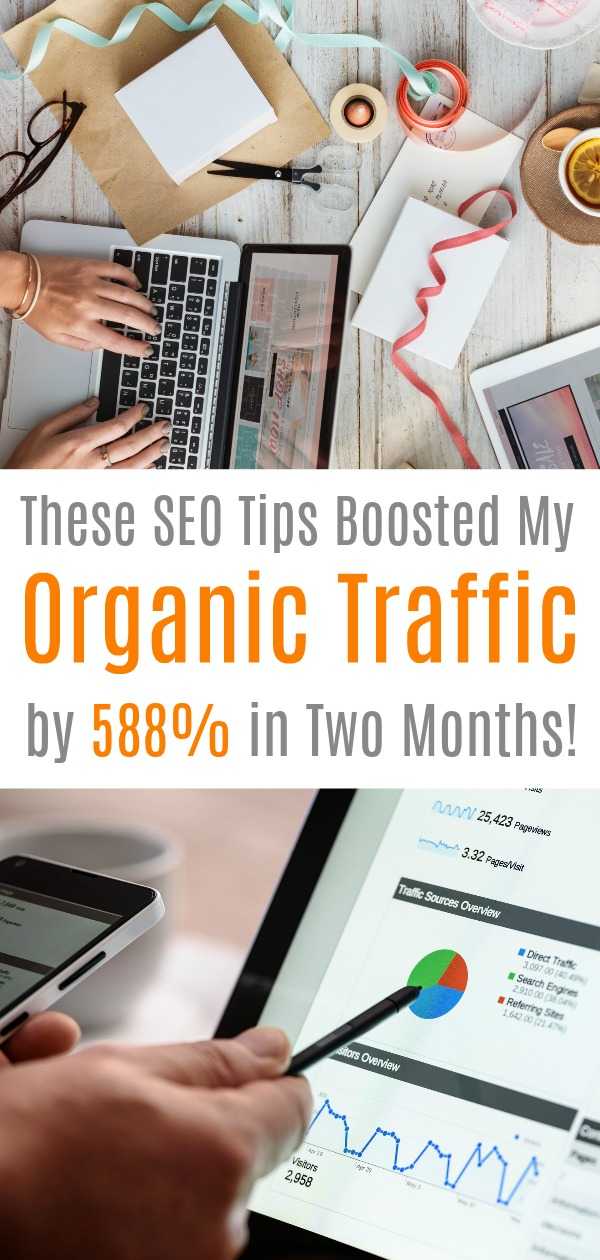 Now that you know these amazing SEO strategies, you can start implementing them and begin driving more organic traffic to your blog to get more and more pageviews!
Let me know what strategies work for you in the comment section below!
SaveSave
SaveSave
SaveSave