Did you know that I am psychic? It's totally true! For instance, I know what you are thinking about RIGHT NOW! You want a salad…with avocado…feta cheese…ripe blueberries…and covered in a tangy balsamic vinaigrette! A delicious balsamic blueberry salad!
See I told you I was psychic 😉
Balsamic Blueberry Salad
Because I know exactly what you want, I created this tangy balsamic blueberry salad, packed with almonds, avocado, and feta cheese. It's a healthy salad that is also rich in flavor.
I'm not really stretching when I say this super salad is also food for your brain!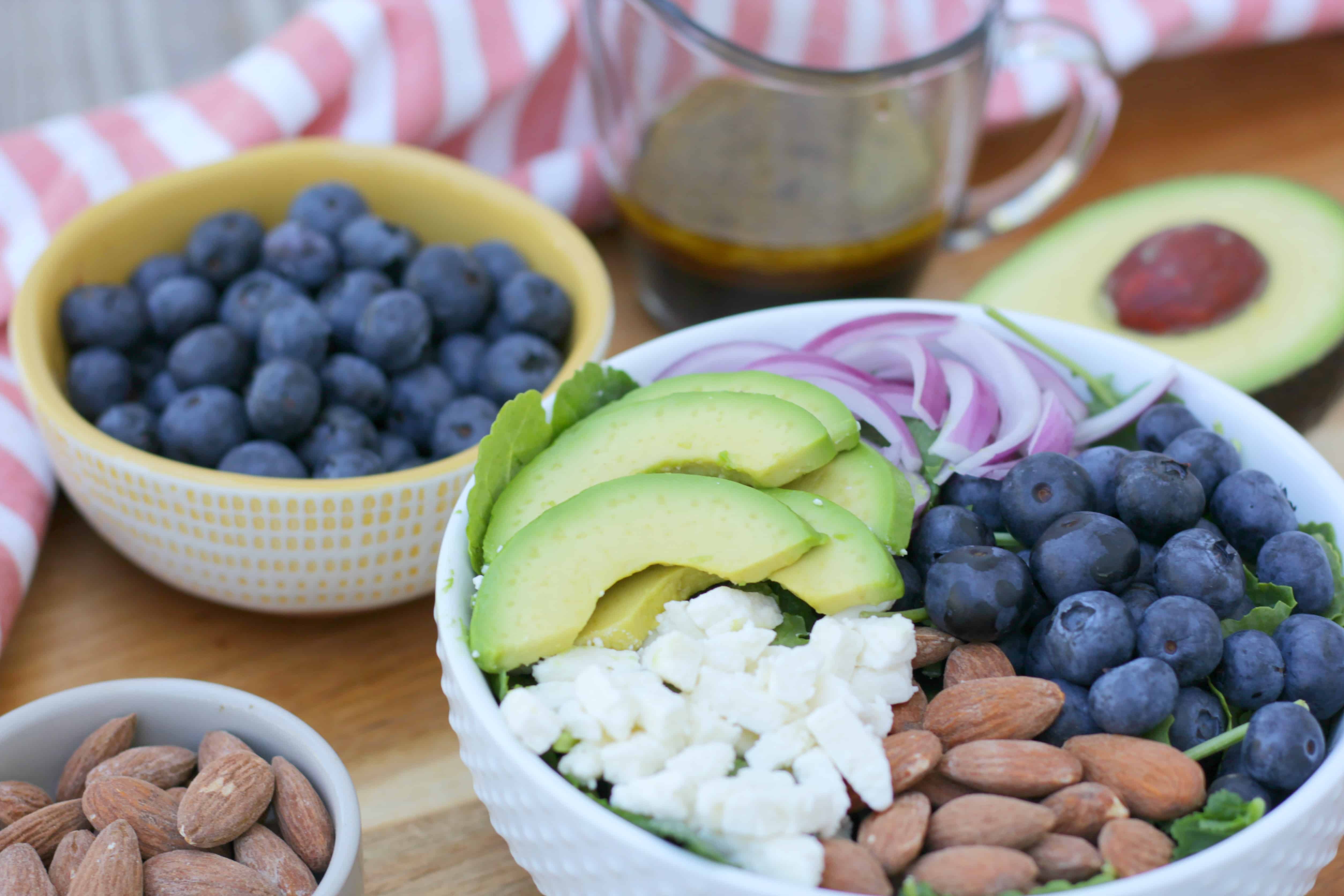 This post may contain affiliate links for your convenience. That means that if you make a purchase, I will receive a small commission at no extra cost to you. Read more here.
This salad is seriously food for your brain!
Check out this list of The 40 Best Foods for Your Brain!
Let's check out what superfoods this blueberry salad includes, shall we?
Blueberries? Check – number four!
Almonds? Check – number five!
Avocados? Check – there they are at number fifteen.
Kale? Check again, there it is, hangin' out at number eighteen.
Man — it's like I was trying to create a salad just to make y'all smarter!
Which, let's face it, must be pretty tough…because if you are here reading my blog, you are definitely a genius!
You know where to come for good stuff. 😉
Seriously though, this salad is not only good for you, it also tastes AMAZING!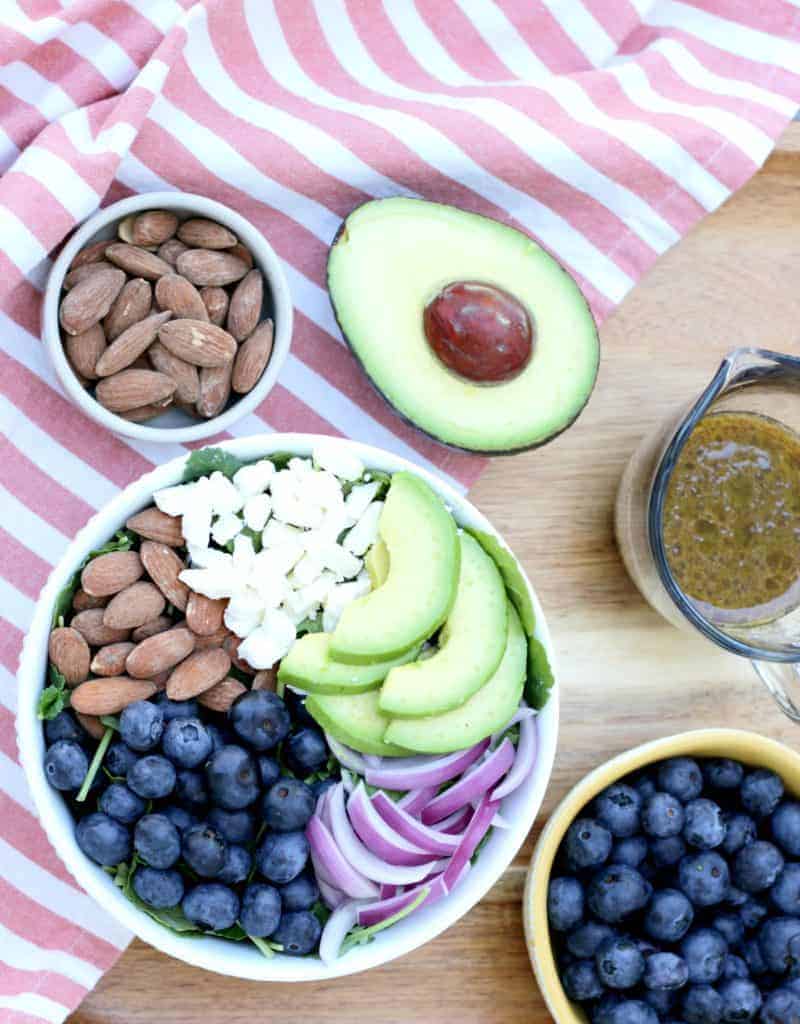 This is a salad for people who don't like salads.
Here is the honest-to-goodness truth; I am not a salad person. I would typically rather have a heaping bowl of ramen noodles or a something meaty than eat a salad.
(Also known as "deer food" in my book.)
But honestly, this salad will hit every pleasure center on your tongue's tastebuds.
The richness of the avocado.
The sweetness of the blueberries.
The crunch of the almonds.
The puckery tang of the balsamic vinaigrette.
So. Good.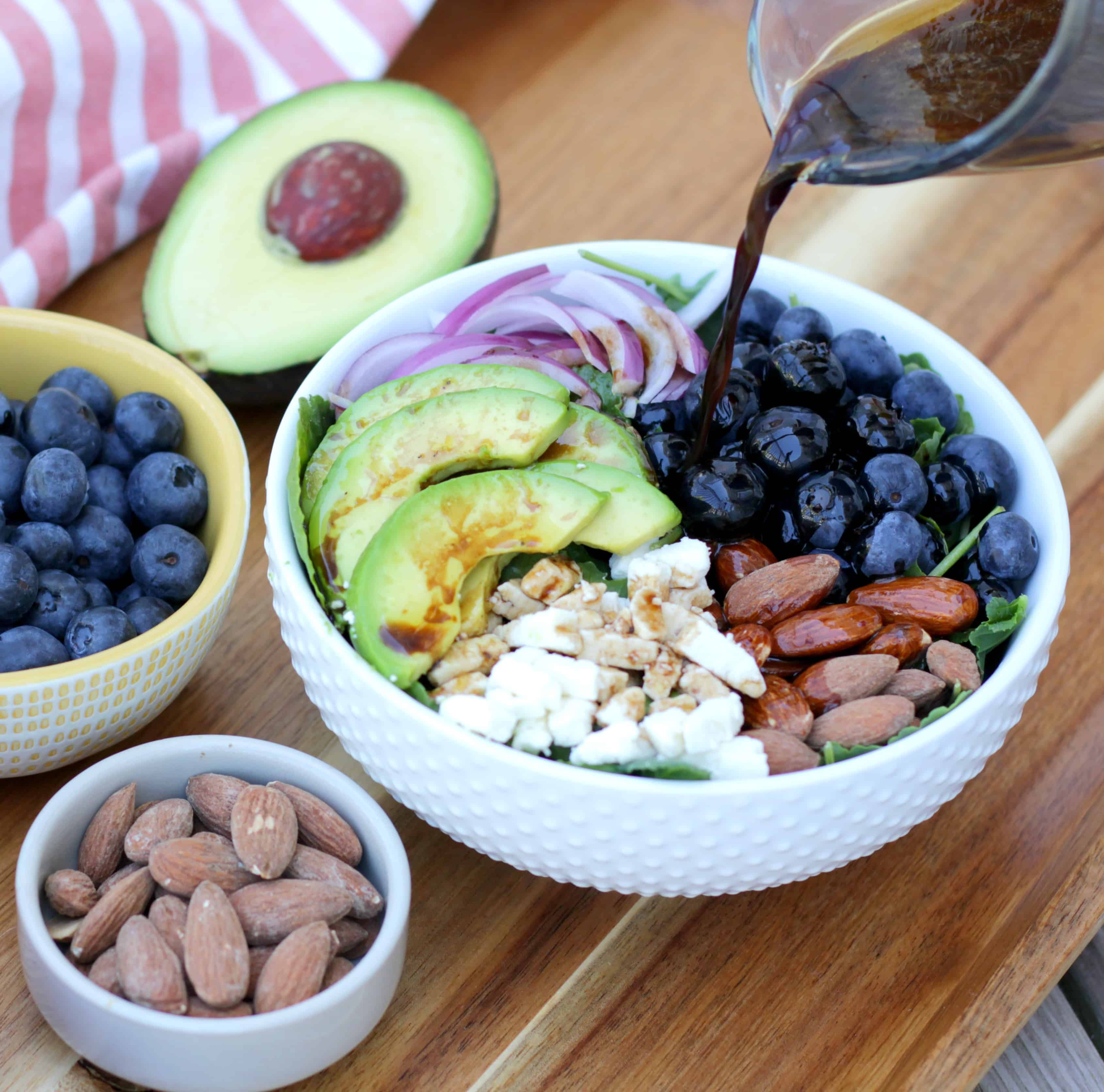 What kinds of greens to use in a blueberry salad?
This salad uses baby kale as its leafy base, but honestly, it tastes just as amazing with any other greens, such as spinach, arugula, even regular lettuce!
If you don't have baby kale on hand, don't let that stop you from trying this amazing salad!
We have experimented with many different leafy veggies for this salad and they all tasted great.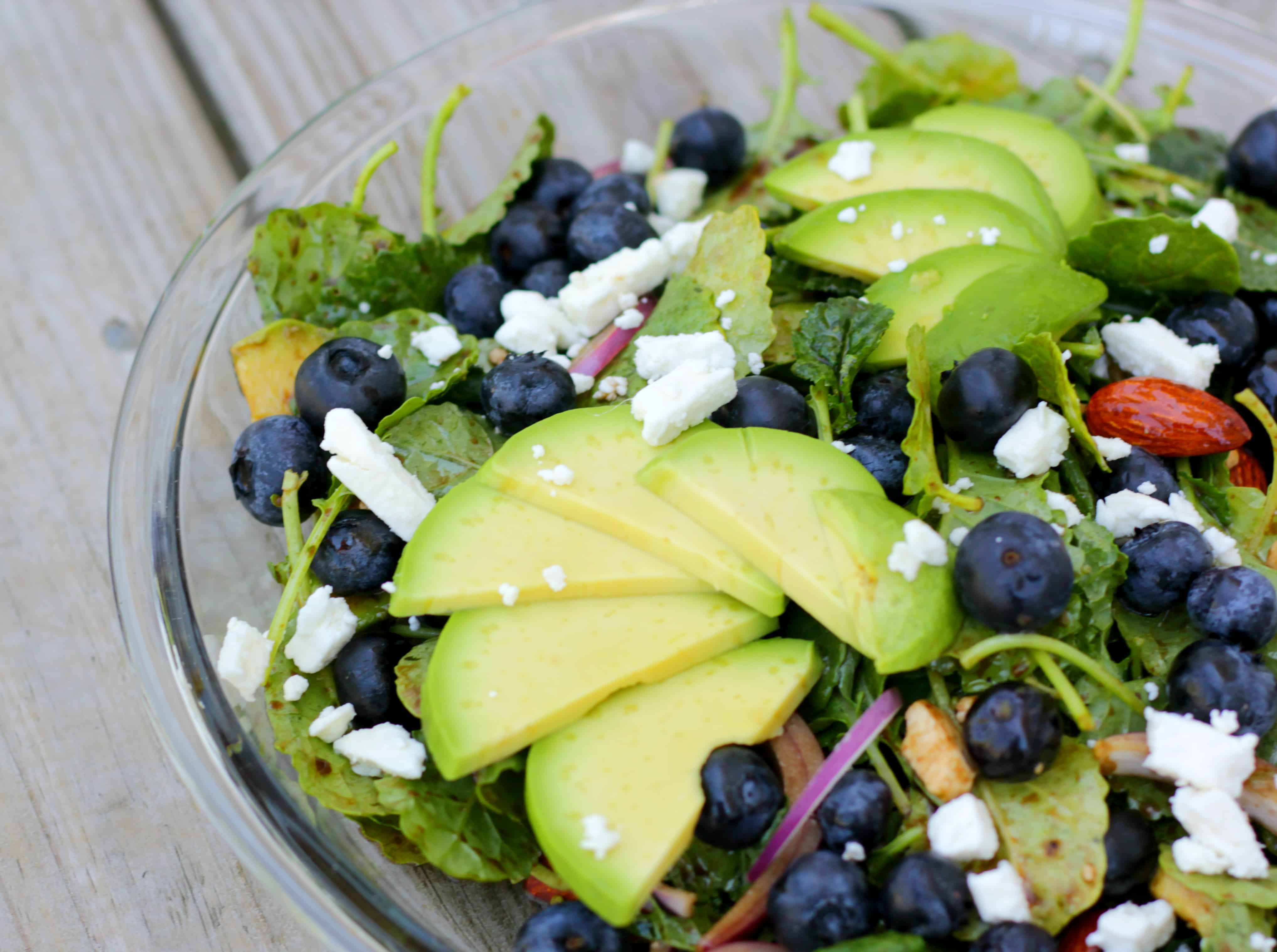 What kind of cheese pairs best with blueberries?
This recipes pairs feta cheese with blueberries. If you like, you could try substituting blue cheese for feta cheese as well!
It's always good to have options.
I personally think feta is betta, but my husband gets blue if I don't use blue cheese — you may think I am being cheesy, but it's totally true.
How to add more protein to this salad
Another excellent way to add more protein to this recipe would be to toss in some leftover grilled chicken or rotisserie chicken!
Some sliced steak or hard-boiled eggs also make a great addition.
Or just stick with this sweet vegetarian version.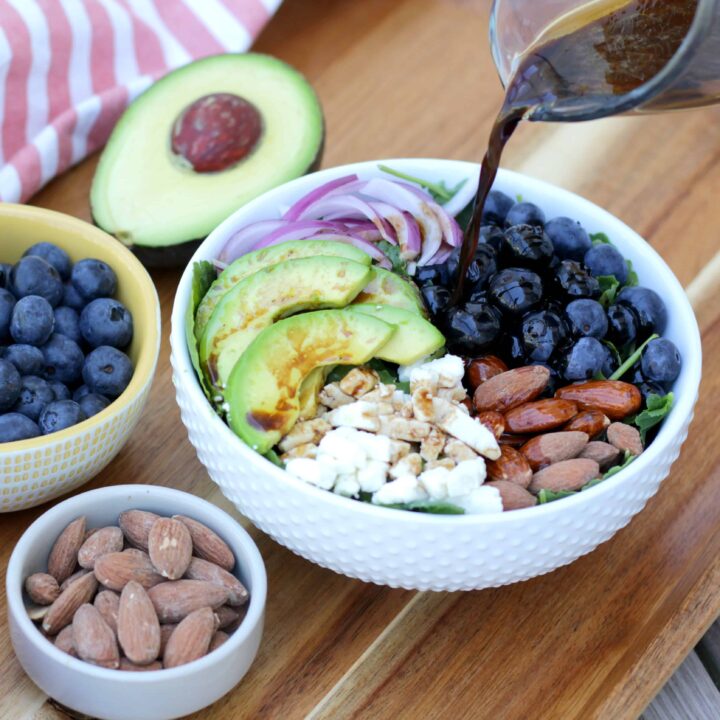 Tangy Balsamic Blueberry Salad with Avocado and Feta Cheese
This healthy blueberry salad is superfood for your brain, loaded with sensuous avocados, crunchy almonds, and yummy feta cheese, topped with a tangy-sweet balsamic vinaigrette!
Ingredients
Salad
8 cups baby kale
1 cup blueberries (washed and drained)
1/2 cup feta cheese
1 large avocado (sliced or chopped)
1/2 cup almonds
1/2 red onion (sliced or diced)
Balsamic Vinaigrette
1/4 cup balsamic vinegar
1/4 cup olive oil
1 Tbsp honey
pinch salt and pepper
Instructions
Place all the ingredients for the vinaigrette (vinegar through salt) in a cup and mix until emulsified.
Place all the salad ingredients in a medium/large mixing bowl and toss to combine.
Drizzle salad with vinaigrette and toss again. Serve.
Nutrition Information:
Yield:

6
Serving Size:

6
Amount Per Serving:
Calories:

336
Total Fat:

24g
Saturated Fat:

5g
Trans Fat:

0g
Unsaturated Fat:

19g
Cholesterol:

11mg
Sodium:

284mg
Carbohydrates:

26g
Fiber:

8g
Sugar:

12g
Protein:

9g
Pin it for Later!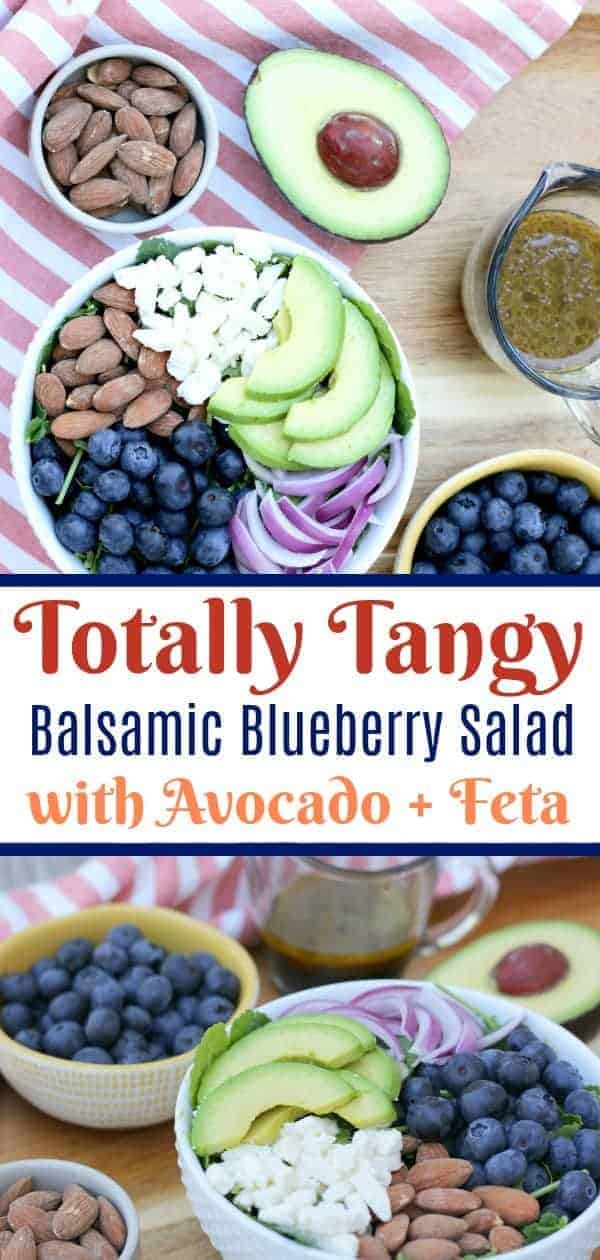 SaveSave
SaveSave
SaveSave
SaveSave
SaveSave