While Chinese New Year is celebrated by over 1 billion people every year, you don't have to be Chinese to enjoy the beauty and fun of this holiday! Chinese New Year (or CNY) is a great time to explore Chinese culture and your child will have a BLAST with this Chinese zodiac game that uses all the animals of the Chinese zodiac!
Read on to find out how to make this Chinese New Year game and maybe even teach your child a few words in Mandarin Chinese along the way!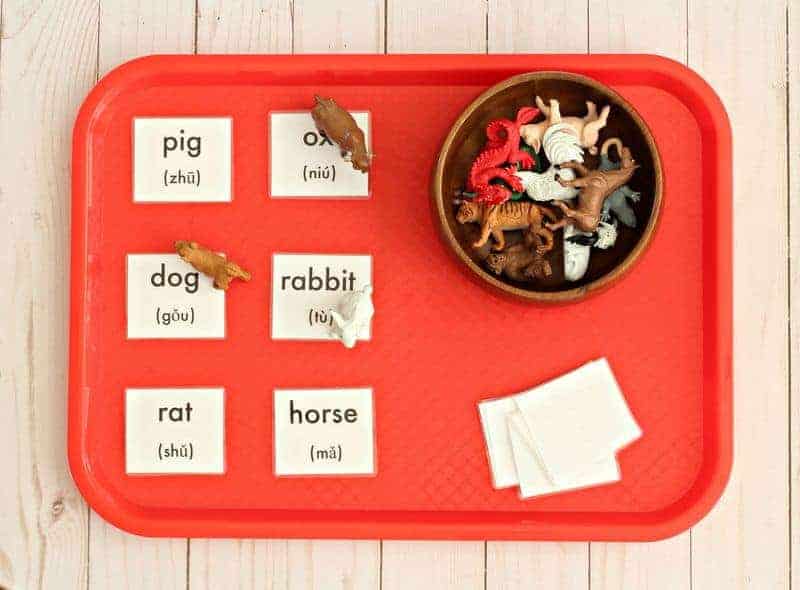 This Chinese zodiac game is so much fun!
Growing up my go-to favorite place to eat on my birthday was the local Chinese restaurant, Mandarin Garden.
My sister and I giggled over cuisine names on the menu (pu-pu platter, anyone?) and my father and I would have a contest to see who could eat the most kung pao chicken without taking a drink of water. While it wasn't the most authentic Chinese cuisine it sure tasted amazing to us!
Ah, good times!
But the very best part was getting to read about the Chinese zodiac animals on our paper placemats.
I found out that I was the Year of the Dog, which meant I was honest and loyal, and a bit of a worrier (true, true, and true — if you aren't sure what your Chinese Zodiac animal is you can check out here.)
The Chinese zodiac is quite a bit different from the horoscopes we are used to!
Chinese New Year is not celebrated on January 1st, because the original Chinese calendar followed the lunar moon calendar rather than the solar calendar (what most Americans are used to.)
Instead of having different zodiac characters every month, the Chinese zodiac instead rotates through 12 animals every year. Each animal has its own set of special traits and characteristics.
The Chinese zodiac animals are, in order:
Rat
Ox
Tiger
Rabbit
Dragon
Snake
Horse
Goat
Monkey
Rooster
Dog
Pig
The year 2019 was the Year of the Pig and now we are moving forward into 2020, the Year of the Rat.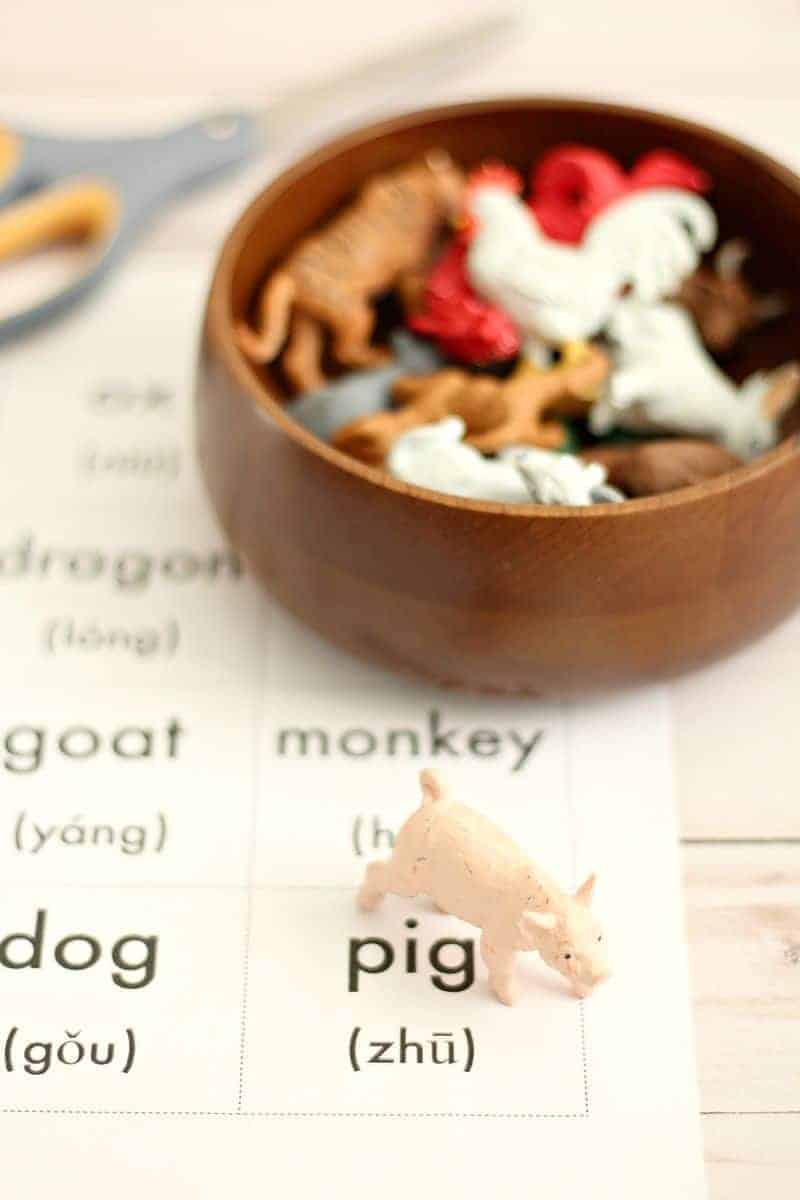 This post may contain affiliate links for your convenience. That means that if you make a purchase, I will receive a small commission at no extra cost to you. Read more here.
What you need to make this Chinese New Year activity
This game is going to target sight word reading for preschool/kindergarten-aged children and work on their ability to problem solve and match a word to its corresponding animal figurine.
The words are written in English, but there is also the Chinese pinyin pronunciation for the word below; advanced learners can impress their friends by learning some words in Mandarin Chinese!
Here is what you will need to make this Chinese New Year activity.
The red plastic tray that is seen here actually comes in a set of six; they are great to have for Montessori-style learning activities and also art projects.
Plastic trays are my secret weapon for keeping mess and toys contained to a limited area — it's great training and prepares them for kindergarten by simulating what it would be like to work at a desk at school!
If your children are wild and unruly animals like mine, you may choose to laminate your Chinese zodiac word cards but this step is optional.
I wanted our zodiac animal matching cards to last a long time, so I went with laminated.
Below is your free printable for this Chinese zodiac game with the names of the zodiac animals for this Chinese New Year activity, simply click on the pink link and it will take you to your free printable!
Get your free printable for this Chinese zodiac game by signing up in the subscription box below!
How to make this Chinese New Year preschool activity
Here are the steps for making this CNY game.
#1. Gather your supplies
Gather everything you need to make this Chinese New Year activity. Have your printable ready.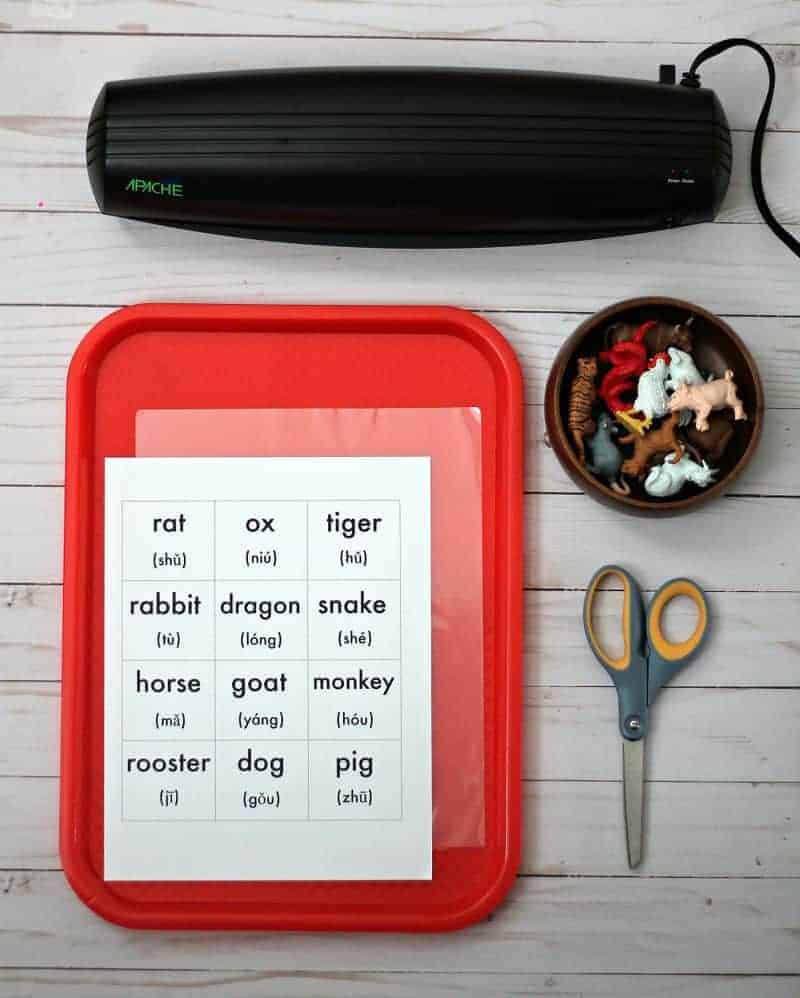 #2. Cut out the Chinese zodiac animal cards
Taking the scissors, cut out all of the Chinese zodiac animal cards along the dotted lines. Try and keep the lines straight and even.
Continue until all the cards have been cut into individual squares.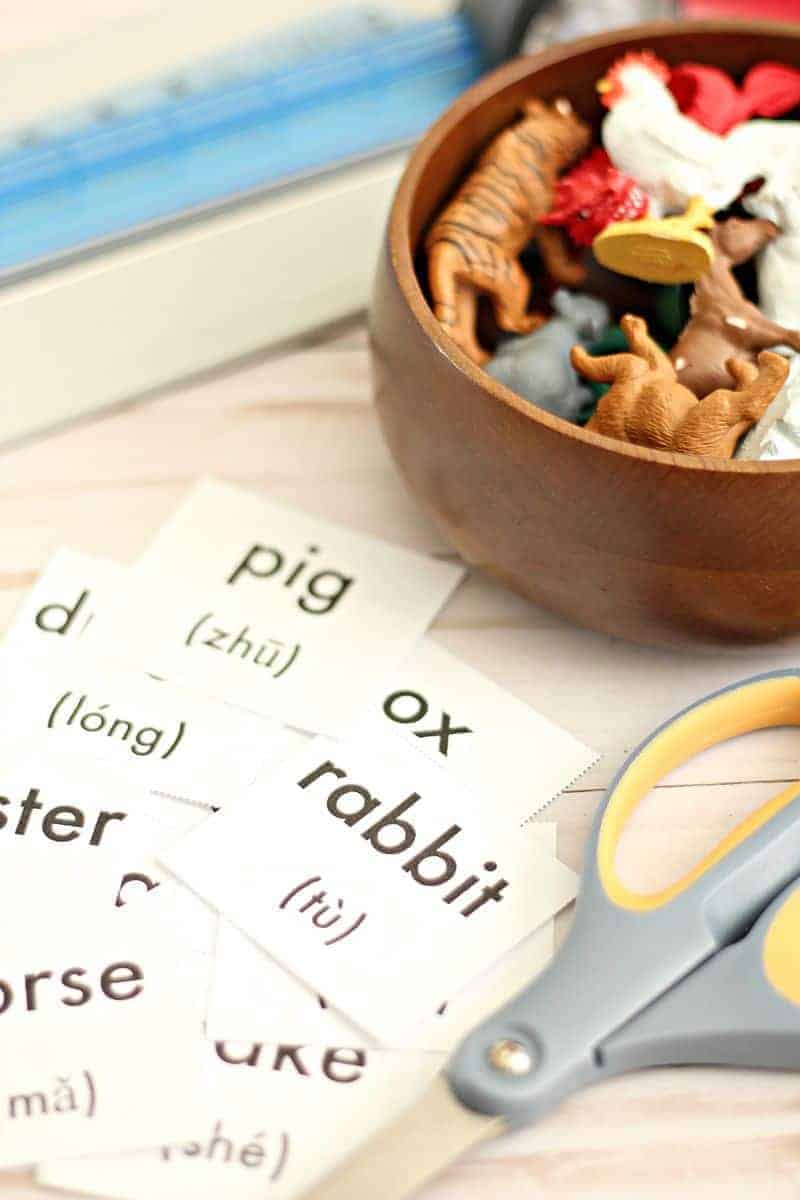 #3. Laminate the cards
If you have chosen to laminate your cards, place the cards inside the laminator pouch.
When placing the cards, leave enough space in between each so that the laminator can heat and seal the laminator pouch well (see image below to view my spacing method).
Laminate according to your laminator instructions.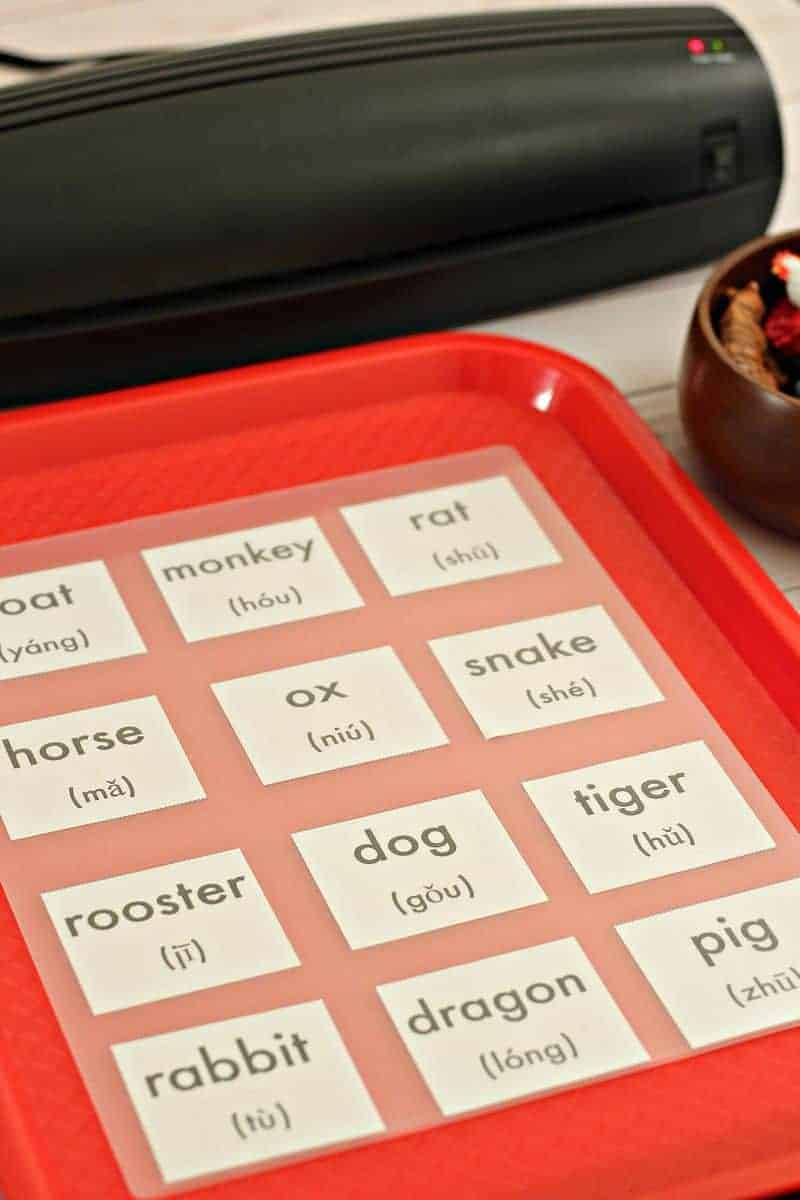 #4. Cut out the laminated cards
Now that your cards have been laminated, cut them out leaving a little bit of the clear edges extending past the paper so that the laminator doesn't come undone.
I also like to trim the corners because those suckers get SHARP!
Protect your little ones tiny fingers and round the corners of the laminated cards a bit.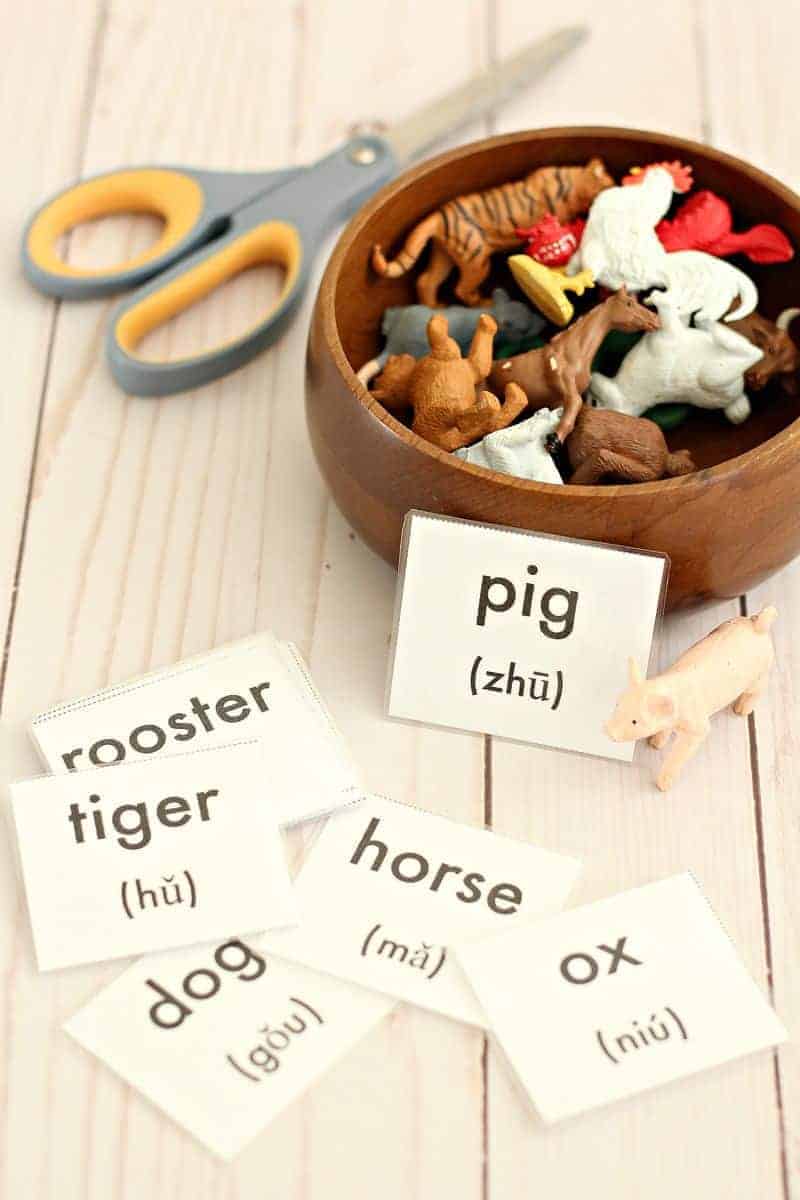 How to play this Chinese zodiac animal matching game
Now that you have all of your items ready here is how to play this Chinese New Year learning activity!
1. Arrange the tray
Set the tray on your chosen workspace and fill the bowl with the Chinese Zodiac Toob animals.
2. Lay out the zodiac cards
How many cards you use depends on your child's reading level. If they are beginning readers, start with one card.
If they can read well, you may choose to start with three cards.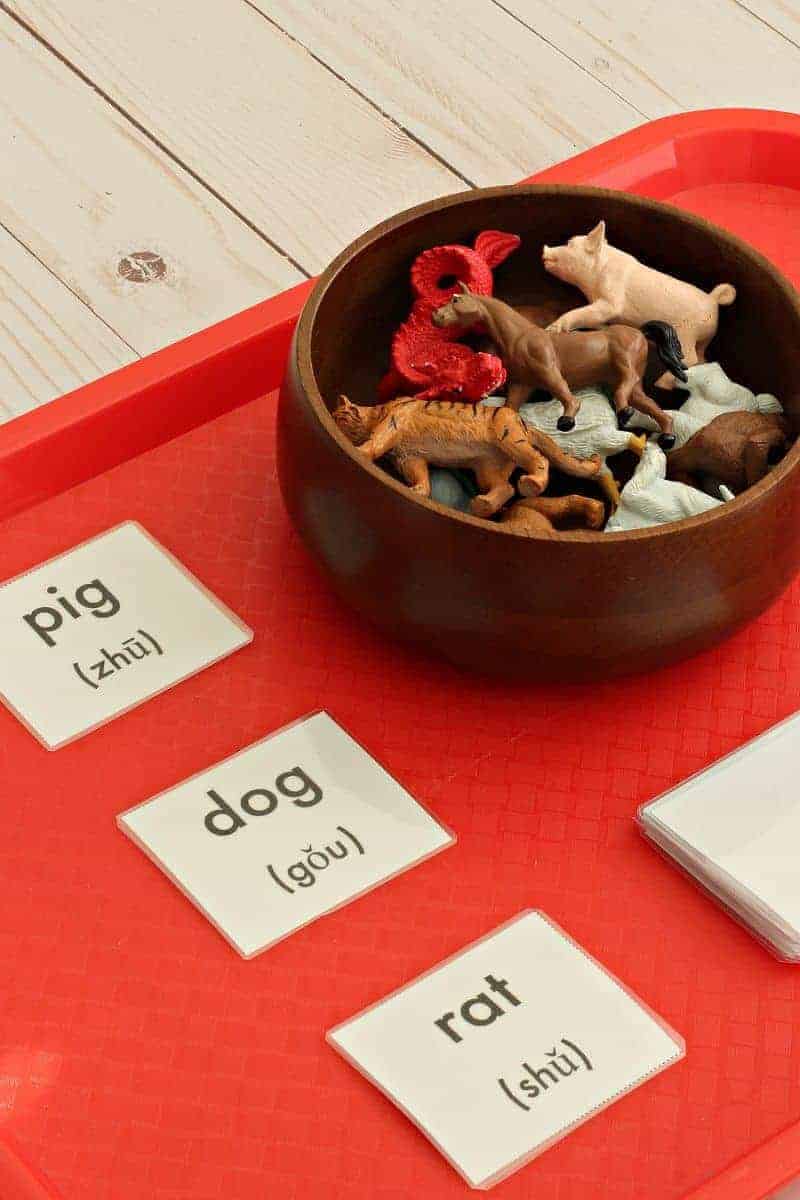 3. Matching
Have your child try and select the right animals shown on the card and place them on the correct card.
You can also ask them to read the words aloud as they go.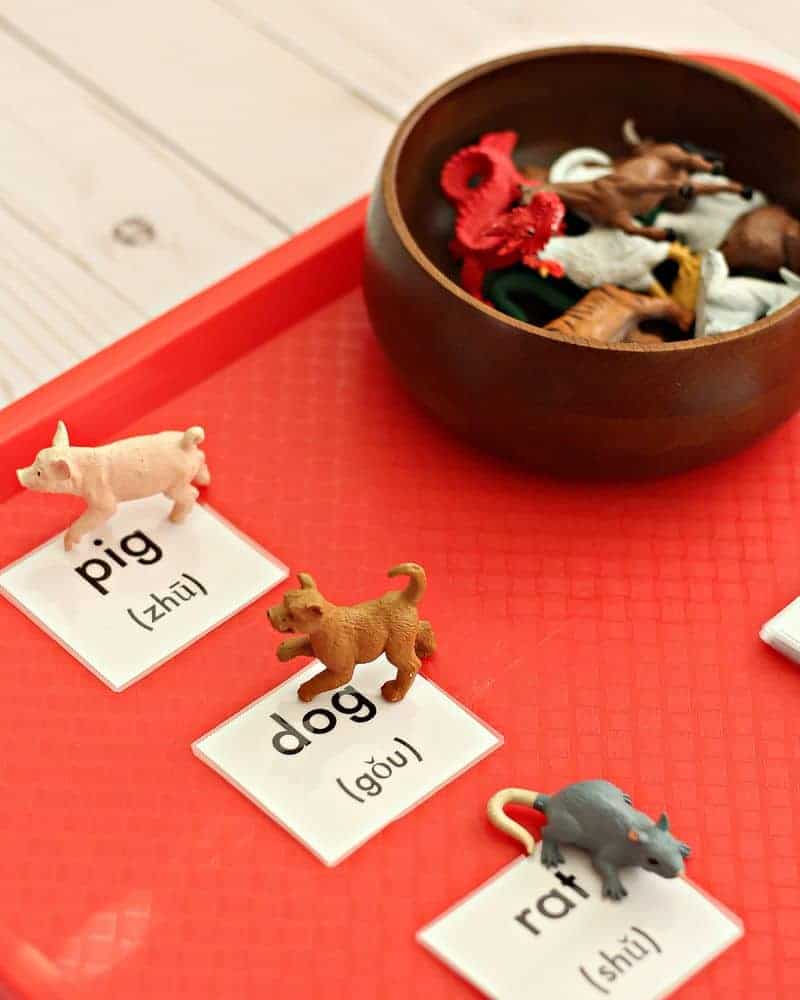 4. Make it harder
If three cards are too easy, up the number of cards on the tray to six or even all twelve!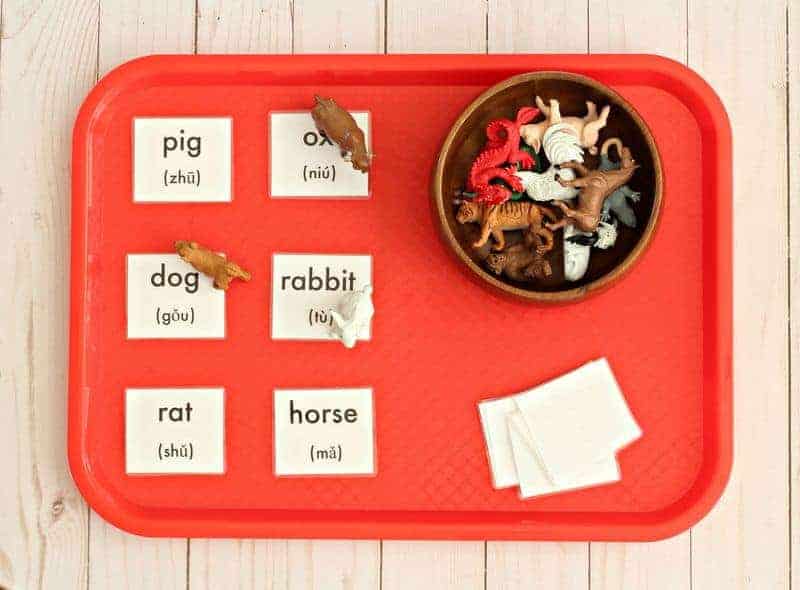 I hope that you and your child enjoyed this Chinese zodiac game!
Let me know if you have any questions in the comment section below — feel free to tell me what your Chinese zodiac animal is and if you agree/disagree with the characteristics of that animal!
If you liked this activity, you may also enjoy this reading game that also uses Toob animals!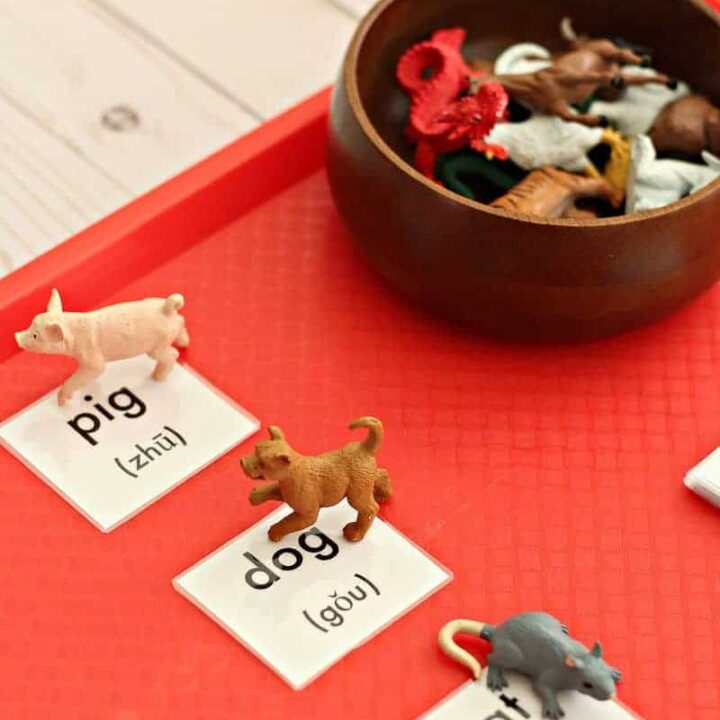 Learn the Animals of the Chinese Zodiac with this Fun Game!
Yield:
One Chinese zodiac animal matching game
Expand your child's horizons with this fun Chinese New Year craft! Your little one will love learning about all the animals in the Chinese zodiac, and you will love they are learning through creative play. Get your free printable Chinese zodiac animal guide, too.
Materials
Free Chinese Zodiac printable
Safari LTD Chinese Zodiac Toob
A small basket or bowl
A tray
Tools
Scissors
*Optional – Laminator and laminator pouches
Instructions
Prepare the Chinese zodiac cards
Gather all supplies.
Cut out your printable Chinese zodiac cards.
Laminate the cards (optional).
Cut out the laminated cards - round the edges so they are less sharp. (optional).

How to play this Chinese New Year zodiac animal matching game:
Put the zodiac animals in a bowl. Prepare a tray, if you have one.
Lay out 1 or more cards.
Have your child try and read the card then select the animal that matches that card. Instruct them to put the right animal on top of the word that matches it.
Make it harder - put all 12 cards out at once!
Recommended Products
As an Amazon Associate and member of other affiliate programs, I earn from qualifying purchases.
Pin this!