Looking for an affordable Christmas centerpiece to decorate your table? This stunning DIY Christmas centerpiece is easy to make and uses winter neutrals in white and gold to give you a simple farmhouse-style centerpiece with faux antlers! Find out how to make this easy DIY centerpiece pronto!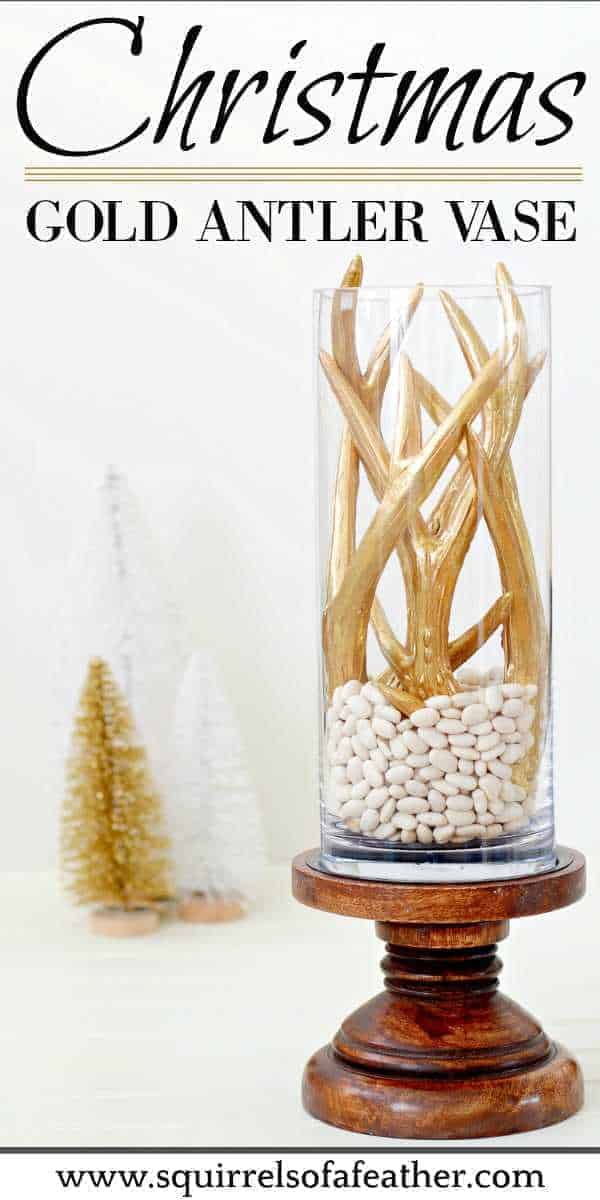 Easy DIY Christmas centerpiece with gold antlers
I was in Michael's when I saw them.
Halloween decor was still front and center, but I noticed a little corner of Michael's decked out with Christmas decor. Lights were twinkling and red and green bows beckoned.
I walked over to browse and that's when I saw them.
Gold. Faux. Antlers.
I have to say I have never considered decorating with antlers before, but something about these gold faux antlers just called to me. They sparkled like a thousand shining stars under the lights. I instantly thought of not less than three different ways I could use them for Christmas decor.
That's how I ended up taking home the gold faux antlers and making this easy DIY Christmas centerpiece! Now I want to show you how to make it yourself.
*No creatures, red-nosed or otherwise, were harmed in the making of this centerpiece.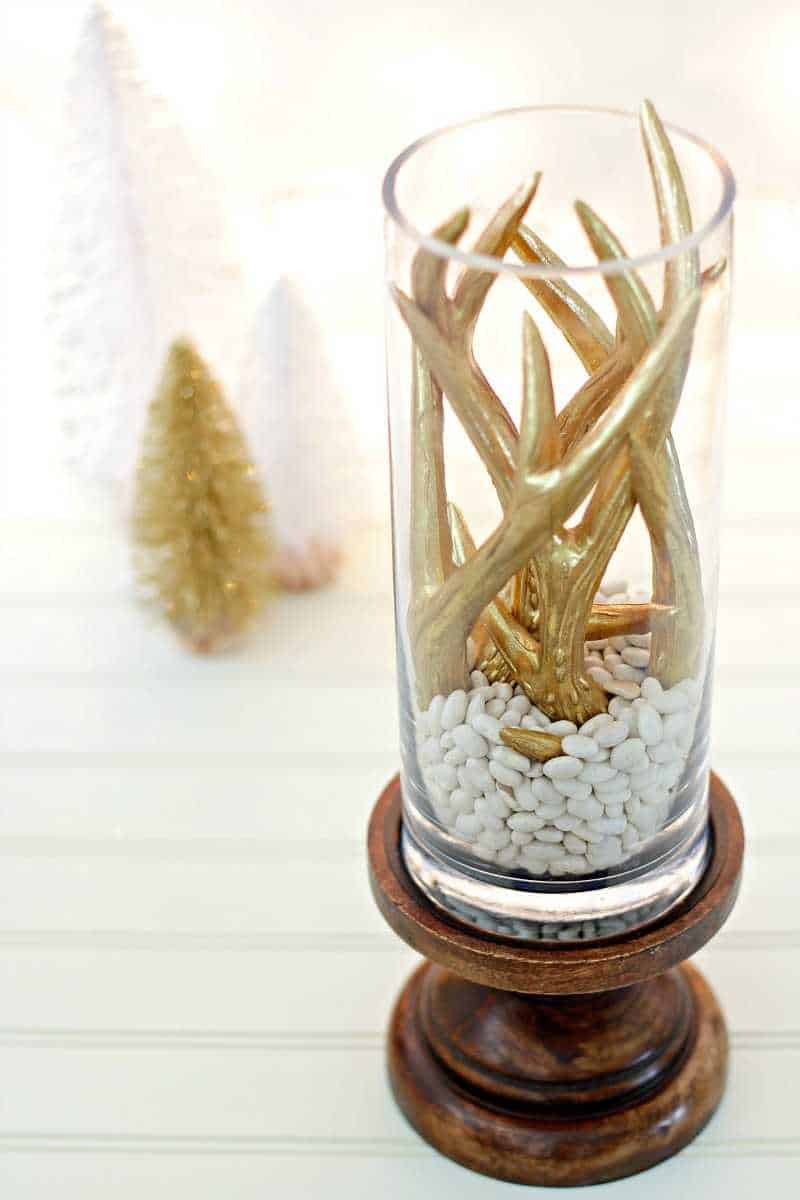 This post may contain affiliate links for your convenience. That means that if you make a purchase, I will receive a small commission at no extra cost to you. I only recommend products or services that I fully believe in and use myself. Read more here.
What you need for your DIY Christmas Centerpiece
Here are all the materials that you need for your DIY centerpiece. (Note that many were purchased from Michael's — make sure to look for a coupon before you go and save some money!)
You may use less or more antlers depending on if you choose a larger vase or not. I advise you to take your vase with you to the store to see if the antlers fit inside before purchase.
Glass cylinder vase (mine had these dimensions)
Rustic wooden candle holder (from Michael's – similar here)
4 gold faux antlers (Michael's)
White northern beans or other small, white bean (Aldi is a good place)
Pinecone or other small, round object
Pliers or wire cutters
Related posts:
How to make DIY Christmas Centerpiece: Steps 1-3
These instructions are meant to be read from top to bottom, left to right.
Assemble all of your items in one place. Remove tags (top).
Use the pliers or wire cutters to get a good grip on the stick-like ends of your antlers and pull the sticks out (bottom left).
Repeat until all the antlers you want to use have the sticks removed (bottom right).
Optional: this would be a good place to hot glue the vase to the candle holder. I forgot to do it and had to do it after inserting the vase fillings, which is not ideal. 😉 Place hot glue on the bottom of the glass cylinder and then press firmly onto the wood candle holder. Hold in place for several minutes until dry. You can also place a book on top and leave for a while to set the glue.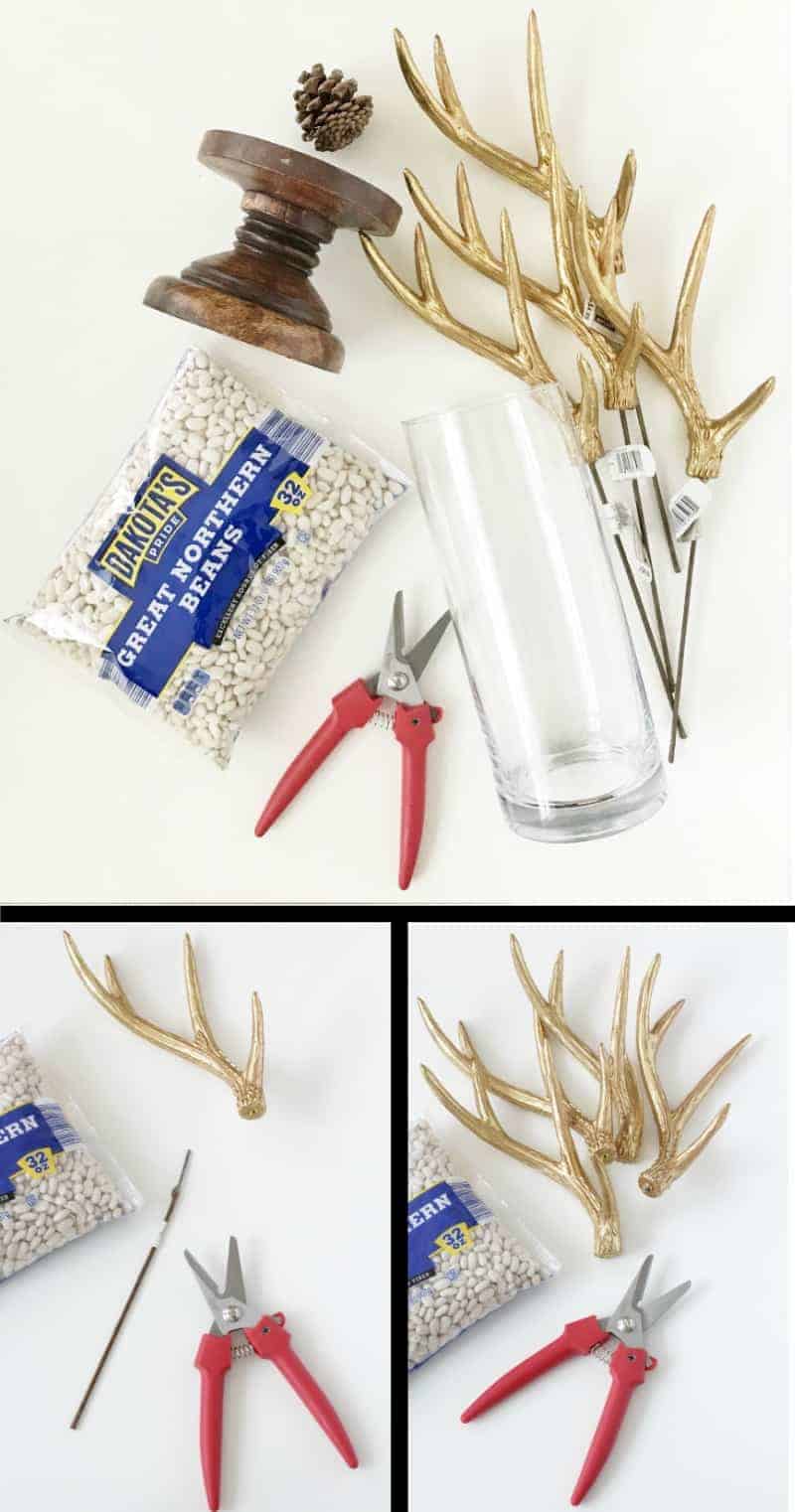 How to make DIY Christmas Centerpiece: Steps 4-7
Read instructions top to bottom and left to right.
Open the bag of small white beans and add a few to the bottom of the vase. Take the pinecone or other small round object and smoosh it down into the beans. You do not want it to be visible from the side! This is going to help keep the antlers in place and push them to the edges so that they look prettiest (top).
Take two of the antlers and push them down to the very bottom of the vase. I had mine arranged exactly mirroring each other (middle left).
Take the other antlers and gently push them down into the vase. You might have to wiggle and adjust a bit to get them to go down. Keep trying until you get the look that you want (middle right).
Once you get the antlers in the position that you like, pour the beans into the desired height. I made mine about 1/3 full. Shake the vase around gently and poke about to help the beans fall and fill in the bottom spaces (bottom; this is the point where I realized I forgot to hot glue and then did so!)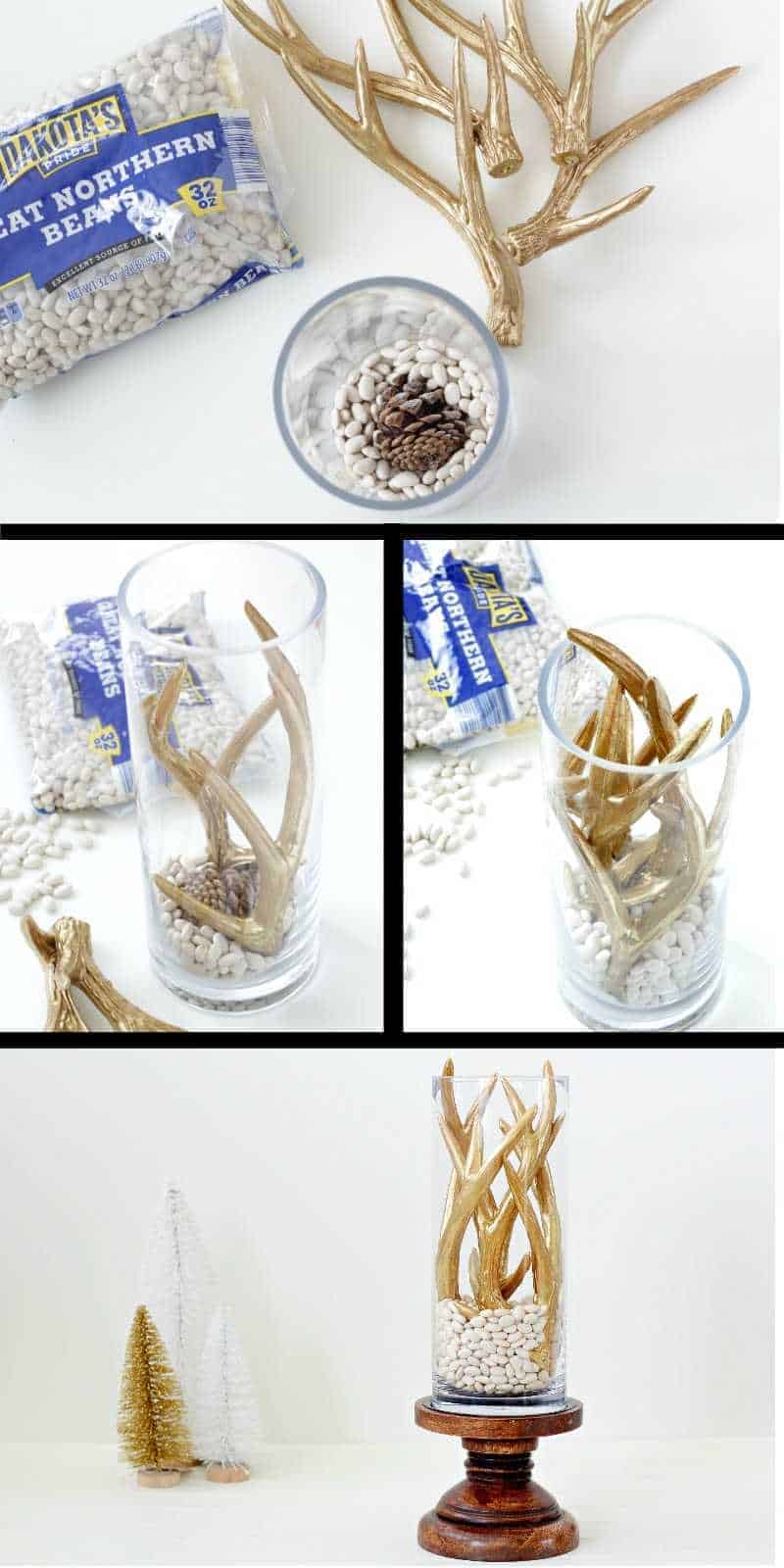 Admire your DIY Christmas centerpiece
Use your centerpiece to decorate your table, adorn your mantle, or place upon a shelf! Wherever you decide to use it, this holiday centerpiece is sure to draw sighs of adoration from admirers.
Want to see more Christmas decor with these gold antlers? Let me know in the comment section below!