Stay off Santa's naughty list this year and keep your holidays debt-free with these 33 tips that will help you have an epic Christmas on a budget. Yes, it is possible to have a budget Christmas that is all joy and no Scrooge — read on to find out how.
Budget Santa wants you to save — or else!
Christmas on a budget
Ah, Christmas. The most wonderful time of the year…or is it?
When you are strapped for cash, holiday spending can feel like a burden and suck the fun out of the holidays.
It's hard to give presents with joy if you feel like you are bleeding money.
Chin up!
Christmas on a budget doesn't have to feel like you are sacrificing any of your holiday spirit.
If you want to start saving money for Christmas and even make extra money for the holidays, read on to find out these smart money moves that can keep your wallet fat as Santa after cookie season.
#1. Plan ahead
Don't wait until the very last minute to start thinking about saving money on Christmas, shopping for Christmas gifts, or planning Christmas dinner.
When it comes to saving money, the early bird catches the worm!
If you start planning in advance (even June isn't too early, if your budget is very tight) you give yourself plenty of time to really implement your chosen money-saving strategies!
#2. Write a budget
Write down a budget and STICK to it!
Easier said than done, I know, but sometimes just the simple act of writing down how much money you plan to spend on Christmas can make the money seem more "real".
It's one thing to go into a store and slap down a credit card, but it's a different thing entirely to sit down and do the math translating how much everything is going to cost IRL (in real life).
Your budget should include categories like:
Food
Gifts
Gift wrapping
Decor
Travel
Postage and shipping
Entertainment
Clothing
These are only examples and you don't need to feel obligated to spend in each of the categories!
In fact, if you can cut one budget category out completely (like postage and shipping) there is the potential to save a lot of money.
#3. Write a gift list
Do you really need to buy a $25 gift card for every aunt, uncle, cousin, second cousin, third cousin twice-removed and his wife?
Probably not.
Make a list of everyone you do want to give a gift to and (sticking with the step above) write a budget for that gift.
Don't exceed the budget and if you are under budget, that's even better! Don't feel like you need to spend the same amount for everyone, either.
#4. Save money with Secret Santa
Save money among the adults by holding a Secret Santa or White Elephant exchange.
It makes giving gifts 10x more fun and saves everybody money since they aren't expected to buy gifts for everyone in the family.
#5. DIY Christmas gifts
If you are crafty or handy, creating DIY Christmas gifts can be a great way to save money on Christmas!
Handmade gifts are often more special than gifts bought at the store, anyway.
Great DIY gift ideas include sugar scrubs, DIY gift baskets, handmade crafts from children, hot chocolate in a jar.
There are so many possibilities!
#6. Execute a spending freeze
Spending freezes are the hot new thing in frugal living.
All you have to do is commit to not spending any money for a period of time, such as one week or a month. Then, you have to stick to not spending money in that timeframe!
If you have never done a spending freeze before, challenge yourself to hold a shorter spending freeze, like one week and see how it goes.
With a spending freeze, you have to plan in advance and make sure all bills are paid, do your grocery shopping in advance, etc.
Spending freezes don't have to be painful!
Instead, think of it as a game and try to brainstorm free ideas for entertainment and activities, like playing Frisbee in the park instead of going to the movies.
#7. Make like the Grinch
That is to say, the Grinch after his heart grew three sizes.
"And the Grinch, with his Grinch-feet ice cold in the snow,
stood puzzling and puzzling, how could it be so? It came without ribbons. It came without tags. It came without packages, boxes or bags. And he puzzled and puzzled 'till his puzzler was sore. Then the Grinch thought of something he hadn't before.

What if Christmas, he thought, doesn't come from a store. What if Christmas, perhaps, means a little bit more."

― Dr. Seuss, How the Grinch Stole Christmas!
Remember how the entire point of Christmas is coming together in celebration and joy and just being together with family for a magical holiday!
Presents should be optional. 🙂
#8. Shop the sales
If you are planning ahead for Christmas (as you should be) you can take your time and shop the sales.
Black Friday is a great time to get deep discounts on loads of awesome items — you don't even need to leave the comfort of your home anymore, as many brands now hold online sales.
Start thinking about the gifts that you want to give in advance and then track their prices at different stores and websites.
Once you spot a great deal, it's your time to pounce!
#9. Get PAID to do your Christmas shopping
Did you know you can actually get paid to buy your Christmas gifts online?
If you are going to be buying Christmas presents anyway, why not sign up for Ebates and get money back on your purchase?
Ebates Rakuten is a passive money-making secret that budgeting pros love — they literally give you money just for buying something you were going to buy anyway.
Ebates works with 2,500+ stores you love to offer cashback incentives when you sign up and purchase through their website.
Head over to Ebates and sign up today and get $10 back with this special code!
After you sign up, all you have to do is search for the stores you want to shop, make a purchase, and watch the money rack up in your account.
You will have instant access to money-back deals at places like Amazon, Walmart, Kohl's, Forever 21, Sephora, and much, much more!
#10. Save money on EVERYTHING with Amazon Prime
I'm not afraid to admit; I'm an Amazon addict.
When I have to wait more than two days to get packages, my fingers start to get itchy.
The two-day shipping upgrade that you get as an Amazon Prime member can quickly pay for itself.
Depending on where you live and the item that you order, you may even qualify for same-day delivery!
Let me tell you, that came in really handy when our thermometer broke and the local stores didn't have the one I wanted – I needed a new one ASAP!
Not only can you save money on shipping, but you can also save money on entertaining.
An Amazon Prime membership gives you exclusive access to all sorts for freebies, like free ebooks, free music streaming, free Prime video streaming, and even free grocery delivery!
You can read all of the benefits of Amazon Prime membership here.
If you are interested in an item, you can create shopping lists on Amazon and track the pricing. Sometimes you will sess huge price drops (I once watched a camera go from $1,600 to $999 overnight and then back again).
Want to test it out?
Get this code for a free 30-day trial of Amazon Prime and get access to free Two Day shipping, Prime Video streaming, Prime Music streaming, access to the Kindle Owners' Library and more!
#11. Decorate for a minimalist Christmas
Don't go into debt for Christmas decor.
Remember the lesson of the Grinch and you will realize sometimes all you need to evoke that special holiday feeling is a nice cup of hot cocoa and a roaring fire in the fireplace.
If you want some amazing ideas for decorating your home on a budget, check out my friend Renee's post over at The Fun Sized Life, where she gives you fifteen ways to decorate for the holidays — minimalist style!
#12. Make your own decor
If you want to decorate for the holiday, why not make your own decor? Creating your own DIY Christmas decor can be fun for the whole family!
Try making your Christmas ornaments from scratch or brainstorming ways to make stunning statement pieces from stuff you already own!
#13. Sell old stuff for extra cash
Don't think that saving money is the only way to stay ahead on your holiday budget; you can also try to make extra money!
One good way to do this is to sell old unwanted items.
If you have toys that your children have outgrown, Christmas is a great time to get some money back on those old toys, and spread the budget-holiday love while you are at it!
I was able to start making an extra $1,200/month as a stay-at-home mom with two small children with this method!
Places you can sell online include eBay, Facebook Marketplace, Craigslist, Poshmark, and many more!
#14. Get paid to take surveys
Instead of spending 10 minutes on Buzzfeed taking random quizzes, why not spend a few minutes every day answering some questions on sites like SurveyJunkie and get paid for your time?
This is an AWESOME free resource that you can use to make some quick extra cash.
Turn mindless scrolling into a fun money-making activity by signing up for Survey Junkie for free right now — you can start earning free gift cards and make extra cash in your spare time.
With an 8.7/10 star rating on TrustPilot, what do you have to lose?
#15. Start a side hustle
A side hustle is anything that you do to create extra income.
You could walk dogs around, mow the lawn for neighbors, drive for Uber or Lyft, or start a blog!
Explore what kind of side hustle fits into your schedule and highest the highest ROI (return on investment) for you.
#16. Cut your grocery bill

 
One of the biggest expenses in most households is also one of the easiest to cut.
Reducing your grocery bill is a great way to stash some extra cash for the holiday season.
Depending on how many people are in your family and how committed you are to saving money, you could shave 10-25% off your monthly grocery bill by making some changes.
#17. Cancel unused memberships
When was the last time you actually went to Planet Fitness to use that gym membership?
If you have a gym membership that you aren't using, cancel it. If you subscribe to Netflix but can never find anything to watch, cancel your membership.
Any membership that you pay for and don't take advantage of is money wasted, so double-check that you aren't paying for something you aren't even using!
#18. Stop eating out
If you aren't ready to commit to a full spending freeze, simply eating your meals at home can save you lots of money.
Instead of going out to lunch at work, make your meals at home and take them with you.
That PB&J sandwich might not taste as amazing as Chipotle, but it is much healthier and your wallet will be thanking you.
#18. Budget your meals
In addition to eating your meals at home, changing up the kinds of meals that you eat can save you money.
Foods like oatmeal, spaghetti, tacos, meatloaf, casseroles, and crockpot dinners are hearty, filling, and can save you tons on the day-to-day cost of food.
Dave Ramsey is famous for his red-beans-and-rice approach to money-saving dinners.
#19. Cut meat consumption in half
If you make no other changes to your grocery list or eating habits, simply reducing how much meat you eat can drastically reduce your grocery bill.
If you think that cutting meat means cutting flavor, I am here to tell you that isn't the case. You can find plenty of vegetarian meal ideas on Pinterest for inspiration!
#20. Cut energy costs
Cut energy costs as much as possible to reduce your monthly utility fees.
Doing the dishes in the dishwasher actually saves you more money than doing them by hand.
Unplug unused appliances and electronics to save on electricity.
Keep the thermostat lower in the winter and put on warmer clothing instead and save money on gas.
Spread out the amount of time between laundry loads.
#21. Reassess how much you pay on utilities
Internet and utility companies often find sneaky ways to charge you more money and you have to stay vigilant and be willing to comparison shop.
Our Internet company raised our monthly bill from $69 to $85 at our yearly contract mark. I called them right away and re-negotiated a lower rate.
If you have options and are not anchored to one company, you can negotiate better rates shopping around from place to place.
#22. Shop the dollar store and thrift stores
Instead of heading to the local mall or outlet stores to find gifts and decorations, head to the dollar store where you can find awesome holiday items for only $1!
Thrift stores are also great places to find amazing gifts and holiday decorations for amazing prices.
You could end up scoring an amazing deal on a vintage ceramic Christmas tree just like the one Grandma used to have, all for only $3!
#23. Avoid window shopping
Like I said above, go to the dollar store and skip expensive places like the mall and brand name stores.
If you can't walk through Target without buying all the things, make sure to avoid it! Know and acknowledge your shopping weaknesses and steer clear.
#24. Have a very merry potluck Christmas
Instead of putting the responsibility of cooking Christmas dinner on one person's shoulders, instead, hold a family potluck dinner where everyone brings one dish to the party.
Not only does this save money, but it also reduces stress levels since the host or hostess doesn't hold the burden of cooking everything themselves!
That means happier hosts and a more joyful Christmas!
#25. Save your warranties

 
Don't throw your gift warranties out with the wrapping!
Instead, start a file folder with all of your warranties and don't lose money if something malfunctions or breaks within the warranty period!
#26. Cut holiday travel costs
Travel expenses on airplane tickets, car maintenance, gas mileage, and hotel costs can add up quickly.
Try and plan ahead and find money-saving strategies to reduce travel-related costs as much as possible.
Maybe instead of flying out every year to the same place, you rotate travel so different people travel every year.
Or carpool with other family members and share the gas costs.
#27. Cut back on alcohol
I get it, it's fun to hang with your buddies and knock back a few beers.
However, reducing alcohol consumption before the holidays means more money in your pocket. It's an easy place to cut spending!
#28. Save and use coupons
I'm not a huge fan of couponing but when coupons literally fall into your lap USE THEM. Save the coupons and coupon books you get mailed and you can often get 25-50% off per coupon!
Start a folder with coupons to your families favorite stores and keep it around so that you can grab them when you are ready to start spending on the holidays.
#29. Save on gift wrapping
Instead of buying gift wrap from expensive boutique stores you can get it super cheap at the dollar store.
They always have a great selection and you shouldn't spend a lot of money on something that is literally going to get tossed in the trash. (Actually, you should try and recycle it, mmkay?)
Some understated brown wrapping with real pine needles snipped from your tree outside and tied with twine can make a big impact!
Be creative!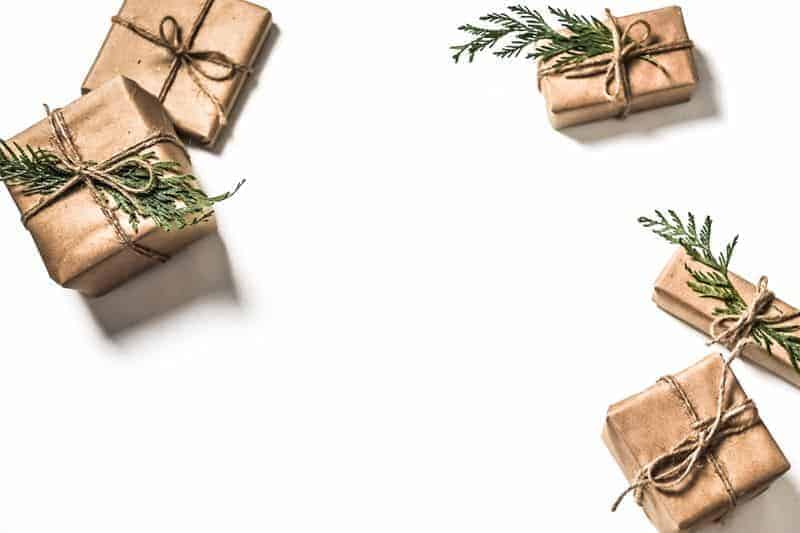 #30. The five toy rule
Kids do not want nor do they need many toys.
Studies actually show that children who have fewer toys are happier and engage in more creative play.
Set a goal for yourself that you will get AT MOST five toys per child; the fewer the better.
Also, it's a great idea to look for non-toy gifts instead of annoying electronics or video games; you will save money, space, time, and your family will be happier and better for it.
#31. Look for discount codes
If you are planning on making an online purchase (don't forget to go through Ebates) you should check and see if there are any current discount codes that you can apply to your purchase!
Just run a search at Retail Me Not for the brand or store you are looking for and see what comes up! Sometimes you can score big with big discounts or free shipping!
#32. Don't send Xmas cards
Call me a Scrooge but I think Christmas cards are a waste of time and money.
You have to buy the cards, postage for the cards, fill out all the different addresses — all for something that most people will toss in the trash.
Instead, send email greeting cards and save money and the environment at the same time!
#33. Cut up your credit cards
This is the last resort.
If all else fails and you don't trust yourself not to spend too much money, cut up all of your credit cards and buy things on a cash-only basis.
Doing this is going to make you pay attention to every penny. You will be even more motivated to stick to the budget and save every cent you can!
I hope that you enjoyed this list of ideas for having an awesome Christmas on a budget!
Let me know YOUR holiday money-saving tips in the comment section below.
Happy saving!