Once, there was a not-so-little-girl — and she loved organization. But, woe-is-she, how that girl also loved thrifting! What a tangled love triangle!
Enough with the fairy tale drama — today, I am going to share how I brought my love of organizing AND thrifting together in perfect harmony — with an upcycled spinning craft caddy to keep my kids' crafts organized!
DIY Kids' Craft Organization with a Spinning Craft Caddy
You guys know me as a KonMari addict…but did you also know that I am a certified trash whisperer? Some of my favorite places to find "hidden treasure" include our recycling center and along the side of the road on trash day.
But I didn't stumble upon this sweet spinning caddy on the side of the road. Instead, I found it on the stairway to Heaven.
That is to say, Goodwill (at least, that's how I feel about Goodwill).
Here is what my spinning caddy looked like before I whispered to her. Yikes! So much…red.
Let's just say that red paint does not take me to my happy place. Now galvanized metal, on the other hand…that is my JAM!
This post may contain affiliate links for your convenience. That means that if you make a purchase, I will receive a small commission at no extra cost to you. I only recommend products or services that I fully believe in and use myself. Read more here.
Spray paint for that galvanized industrial-farmhouse look
Galvanized spinning caddies similar to the one I found go for around $80-$90 on sites like Joss & Main and Houzz, although I did see a similar one on Amazon for about half the price.
Would you believe I got my beauty for $6!
All I had to do was find the right kind of paint to use.
I found that industrial-galvanized look I was going for in a can of Rust-Oleum Forged Hammered Antique Pewter spray paint. Even better, it's a two-in-one spray paint, meaning that it primes and paints all in one step!
It's a great spray paint to use on metal.
How to prepare metal for spray painting
Here are all the steps I used to prepare my painted metal for spray painting:
Use paper towels to remove any dust or debris
Spray with a water-vinegar solution (half-half)
Wipe down with a microfiber cloth
Allow to dry fully
Use 220 grit sandpaper to rough up all metal surfaces (beware dust)
Spray again with the water-vinegar solution and wipe fully clean
Allow to dry completely
Once the item to be painted is fully dry again, you are ready to start spraying!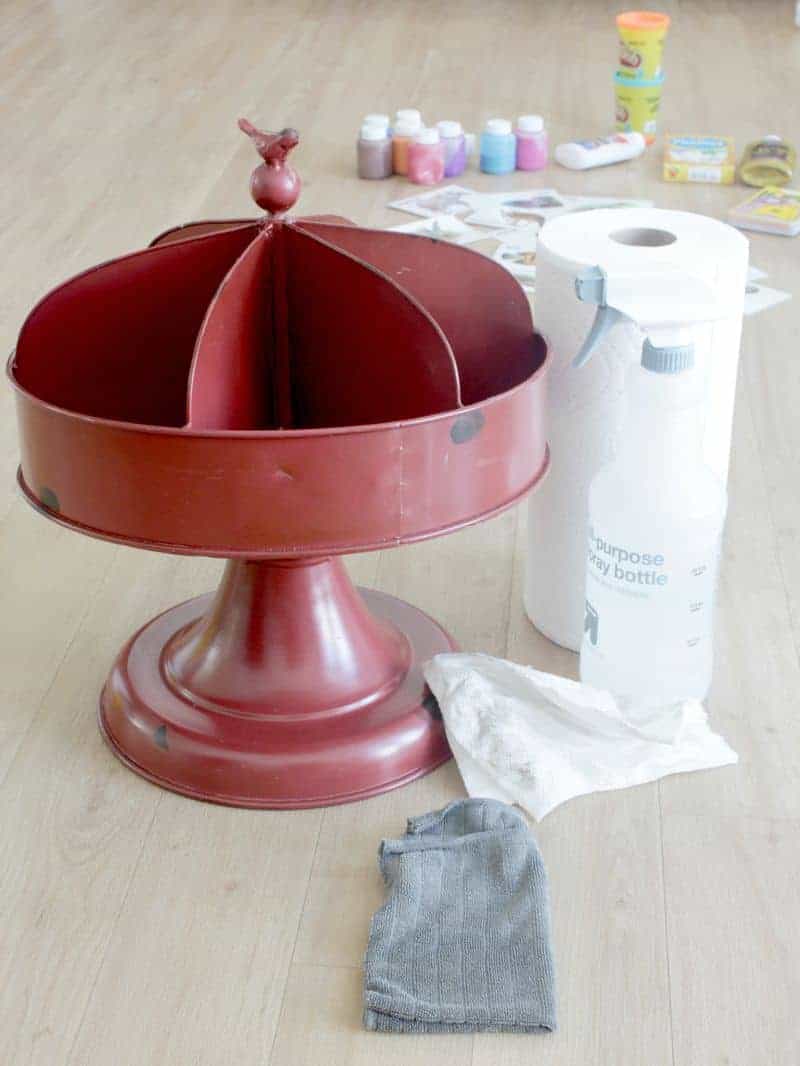 Spray painting a craft caddy
I don't exactly have the best location for spray painting.
We live in a townhome community and my house is literally sandwiched between two other people's houses…not to mention, the driveway and the garage don't belong to me!
Enter my HomeRight Spray Shelter tent, which I was lucky enough to be gifted with at the Haven blogging conference.
This nifty little spray tent pops up when you want to use it and then folds up into a tidy circle — with its own case AND EVERYTHING. Great for people like me who are short on space!
I also used a 6×9 foot canvas drop cloth to keep things contained even better…my smart friend, Julie at My Wee Abode advised me to put some of the cloth inside the tent to keep the tent spick and span. Thanks, Julie!
Once you have everything set in place, it's time to start spraying.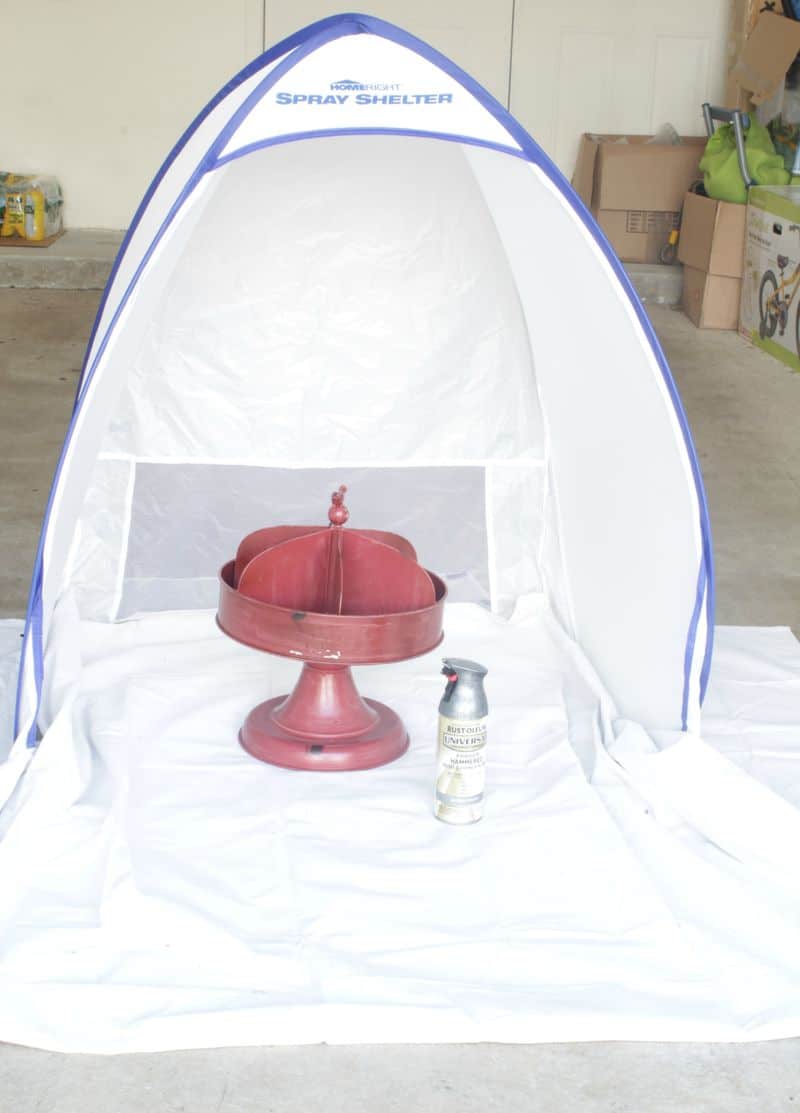 How to use spray paint
Going slowly and in sections, you spray the paint back and forth, from top to bottom, moving the can from side to side as you go down. Get as much as you can in one go, but don't over saturate.
Leave that bit to dry and then come back 30 minutes later to spray a different part.
Let that dry for 30 more minutes, and then continue to spray and allow to dry at 30-minute intervals until you have the item completely covered!
Here is a shot of my caddy in the process of being spray painted.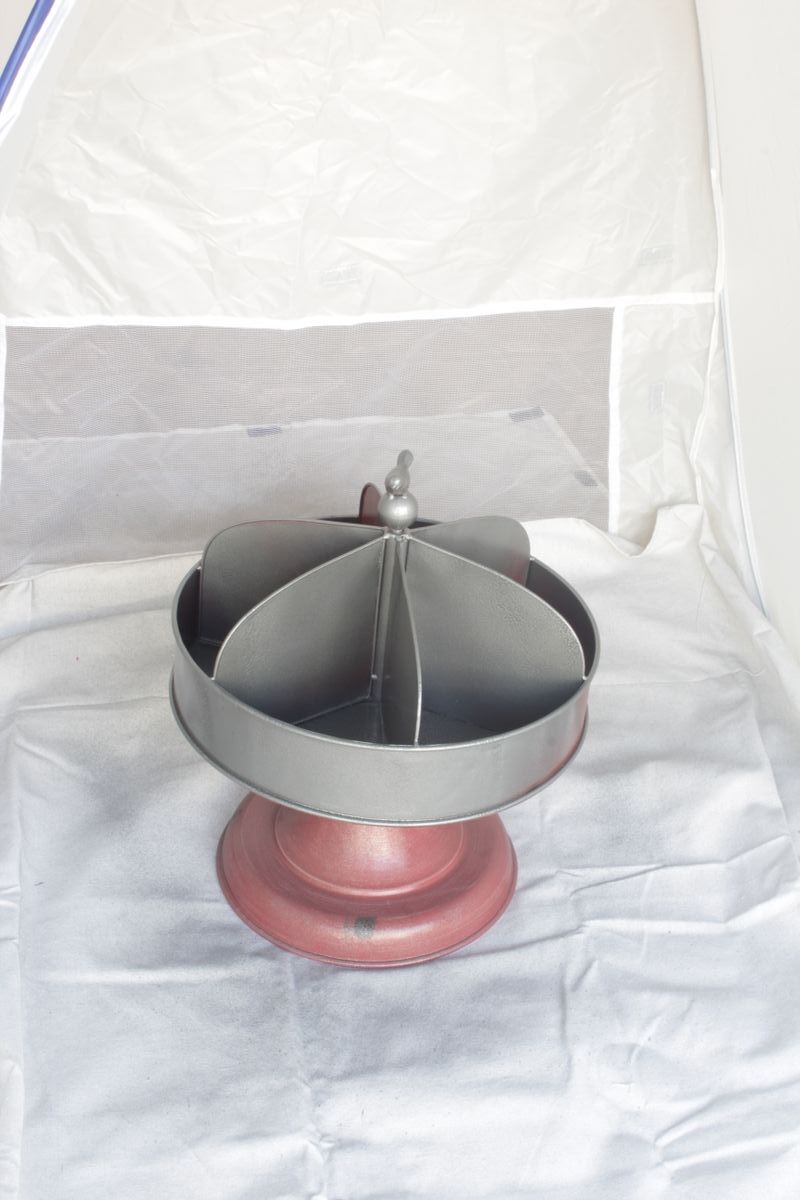 How to organize your craft caddy
1. Evaluate what you have
While the craft caddy was drying, I took everything I wanted to include in the craft caddy and placed it on the floor to evaluate it.
Items included in craft caddy:
Metal and glass containers
Vintage paintbrushes (also found at Goodwill)
Playdoh
Phonics, letter, and picture cards, including my DIY Montessori letter cards
Washable paints
Regular and gold Elmer's glue
Faux plants and vase (purchased from Target on clearance)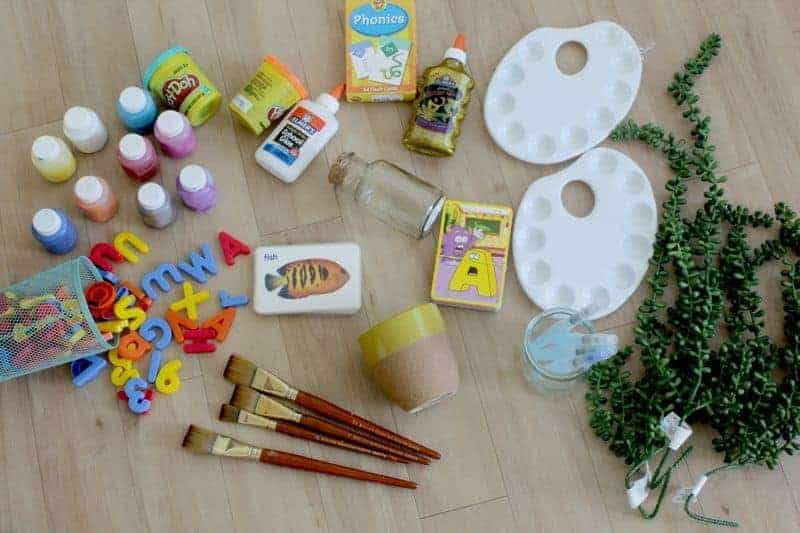 2. Place the items high to low
Once you get everything laid out, it's basically like a game of Tetris to get everything place nicely in the caddy.
Think high to low. Place taller items in the back, toward the center and smaller/shorter items towards the front.
Paintbrushes are very tall, so they went to the back, while other shorter items were placed in the front. I hung the faux plants over the side to add a pop of green and some visual appeal.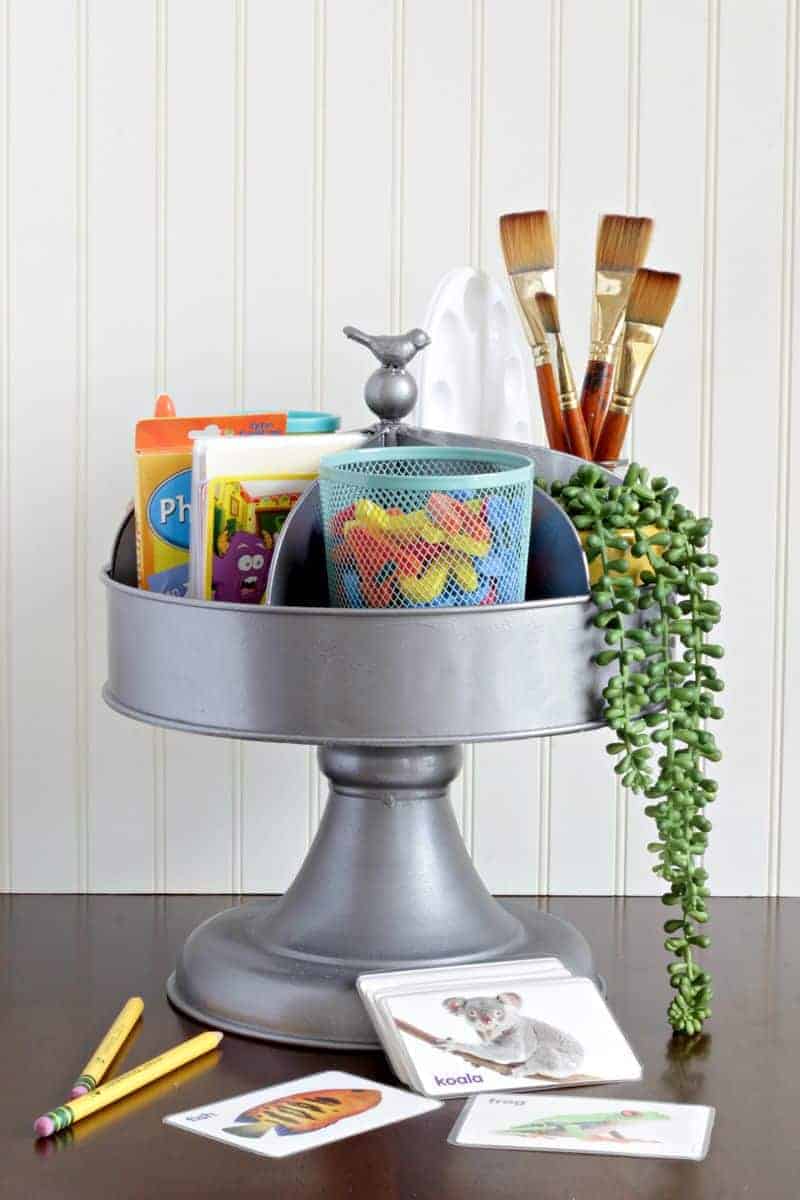 How do you organize your craft items?
What do you think of my craft caddy? Leave me a comment in the comment section below and let me know how you keep your crafty stuff organized…or not!
(Looking for other organizing DIYs? Check out how to keep your necklaces organized with a rustic upcycled sign and find out how to keep your family organized 24/7 with these inspired command centers!)
Pin this!