Well, I'm nothing if not honest with you guys. Last month I shared how my blog hit 140,000 pageviews and why I didn't feel all that great about it. Turns out I was right to be worried — read on to find out how and why my blog traffic went from 140k monthly pageviews to a paltry 24k monthly pageviews and get the scoop on my love-hate relationship with Pinterest.
Welcome to the Squirrels of a Feather November 2019 blog report!
Why share a blog report?
For years I have read inspirational income reports published by my favorite bloggers and I thought to myself, if only. These people are making tens of thousands of dollar each month, traveling the world while blogging, and generally living a life I could only dream of.
Then one day I saw a quote:
Everything you've ever wanted is on the other side of fear."

— George Addair
I started Squirrels of a Feather, not only as a creative outlet to share exciting ideas and projects but also as a way to make money. I am no stranger to side hustling, and I wanted to build a successful blog that could eventually deliver a full-time income.
I'm not there yet — in fact, I'm not even close! But I'm on my way! After all, blogging is a journey.
(Right now I am dreaming of the day when I can replace my husband's income and retire him. Then I can come home to HIM and ask him why the house isn't clean.
)
What happened in November
I hit 140k pageviews in October, with several Halloween posts going viral on Pinterest. In November I worked hard to push out posts focusing on winter, Christmas, and the holiday season in general.
Traffic report
There's no other way to say it; traffic sucked in November 2018. It sucked BIG TIME. I had high hopes for Christmas and started working on it hard in November, but unfortuantely I can't say that strategy paid off for me.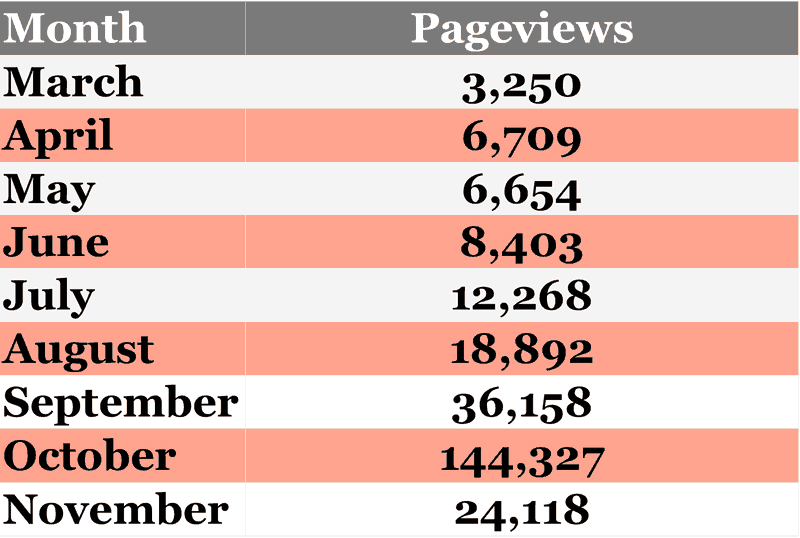 Why did my pageviews drop so much?
Although several posts went viral on Pinterest in October, that didn't' translate to better performance of my overall Pinterest account in November.
There was absolutely no carryover in terms of increase algorithmic achievement or spillover in improved Pinterest visibility (more on that below).
In Google Analytics, you can see that I had some carryover of viral Halloween-related traffic in the beginning of November, which gradually tapered off to low traffic levels that were worse than I'd seen in months!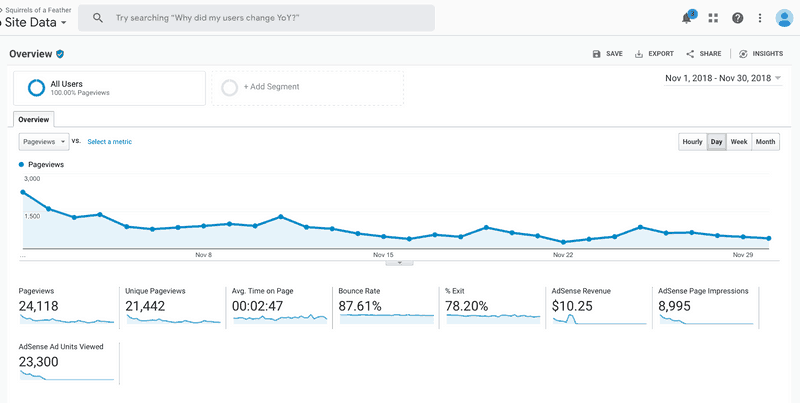 This post may contain affiliate links for your convenience. That means that if you make a purchase, I will receive a small commission at no extra cost to you. Read more here.
Income report
Despite the fact that my pageviews dropped so dramatically my blog still made decent (for me) money in November, largely because I was admitted to MediaVine and made far more ad income than I would have with Google Adsense.
Here are all the ways my blog made money this month:
Total Income – $411.25
Building a Framework had a great Black Friday sale in November and resulted in two sales for me! I continue to recommend BaF as hands-down the best resource for new bloggers.
(If you are a new blogger struggling to make money because you have no clue what you are doing, I highly recommend that you check out Abby Lawson's blogging resource, Building a Framework. It is considered one of the best guides on blogging available — and it's also the most affordable. Other blogging resources will set you back anywhere from $300 to $1,000 — BaF is an absolute STEAL at only $97!. Get it today and find out how to take your blog to the next level.) Building a Framework is unfortunately no longer available — this is the only other blogging course I would recommend.
Income analysis
Blog traffic decreased nearly fivefold compared to October 2018. However, although my traffic dropped drastically my income didn't actually differ greatly from my high traffic month of October.
Let's compare the numbers:
October traffic: 144,327 pageviews
October income: $667
November traffic: 24,118 pageviews
November income: $411
This can largely be attributed to my being accepted to the MediaVine ad network and the increase in ad income (although small compared to other bloggers) offset the decrease in Amazon affiliate sales and other revenue streams.
A note to other bloggers out there struggling to make money blogging; I SEE YOU! I feel your pain.
It isn't easy to make money blogging. There is no one-size-fits-all solution for making money blogging. The truth is, blogging isn't easy. I was making pennies or dollars a day for months. Blogging articles may make blogging seem easy as pie and can lead you to feel like you've done something wrong if you aren't making $6,000 in your third-month blogging. Those results are NOT TYPICAL; every day we struggle with algorithm changes, social media, quality content creation, getting seen on Pinterest, etc. Keep trying and keep believing in yourself!
Blogging wins and fails
Last month I made a goal for myself to expand affiliate income relationships, start reaching out for sponsored posts, and increasing ad revenue.
I also wanted to make a big push to increase organic search traffic because I was leery of having that much of my traffic due to one (unreliable) platform.
Turns out I was right to be worried about all that traffic coming from Pinterest (and rightly so — just look at those crappy numbers!) so I want to talk a little bit about Pinterest and the love-hate relationship I have with them — and what I am doing to improve my Pinterest game.
Affiliate marketing
Although I did expand my affiliate marketing relationships slightly I didn't see a big return from investing time into that. It's also worth noting that I took a good, hard look at my Google Analytics data, Pinterest data, and made the hard decision to niche down.
I fought and fought against that choice, but in the end personal finance and money-related topics just weren't driving me traffic like crafts, organization, and recipes, nor were they converting to affiliate sales.
Thus, I made the tough decision to niche down and focus on those areas. I have removed my frugal living, budgeting, and side hustles posts from my blog's home page (although they still exist here if you go looking for them) and also removed personal finance-related posts from my Pinterest account.
I kept blogging as a topic because honestly I love talking about blogging with you and my blogging friends and sharing what works and what doesn't. I always get great feedback on my blog reports and people know they can count on me for honest recommendations and tips, as well that I'm not afraid to share the good along with the bad.
(Bloggers don't often talk about the difficulty they experience behind the scene, so I want you to know if you are a new blogger and you feel like you are struggling that's totally normal and even bloggers who have been around for longer feel the same way at times! Keep on keepin' on, my friend.)
Sponsored posts
I am happy to say in this area I noted definite progress. I reached out to two different companies and my pitch for sponsored posts was accepted at both! I am looking forward to sharing those with you guys in the new year. 🙂
Don't think that you are too small to start reaching out to brands! At the time of this writing, I have less than 600 followers on Instagram, 200 on Twitter, 2600 on Pinterest, and 270 on Facebook (check out my media kit if you need some inspiration)! If you have more than 10,000 pageviews per month, know your readers, know what products they like, and can clearly explain and pitch that to brands you have a chance at landing sponsored posts! So go for it!
Ad revenue
Ad revenue has definitely increased compared to when I was with Google Adsense. Now I just need to focus on getting my traffic back up again so the money really starts rolling in. Or at least, bouncing in?
Pinterest
Pinterest, Pinterest, Pinterest. Did all that October traffic mean nothing to you? How could you just forget our time together?
Its crazy to me that a platform can send you 6-7k pageviews each day one month and 100-200 daily pageviews the next! Yikes.
The traffic drop was so bad I suspected another Pinterest shadowban; however, they got back to me quickly (one day compared to one month previously) and said I did not have a shadow ban on my account.
So yay, I guess?
I feel slightly better that I wasn't the only blogger being affected in November. Proving that misery loves company, several Facebook groups I belong to had entire threads devoted to discussing the drop in Pinterest traffic. Some bloggers were down 25-50% compared to their 2016 and 2017 traffic! Double yikes.
Let me be clear in saying that I don't think I nor any of these other bloggers did anything "wrong" which affected Pinterest traffic.
Here are some issues that most likely resulted in less traffic from Pinterest in November (myself, other bloggers, and maybe even you!):
Massive SPAM sweep by Pinterest that also took out credible bloggers in the crossfire
Devaluation of group boards; they are basically worthless in Pinterest's eyes now
Difficulty for new bloggers to tap into holiday traffic; expect improvement next year
Algorithm change in Pinterest Smart Feed
If you are feeling frustrated by lack of success on Pinterest, you are not alone! Sometimes I just want to shake Pinterest and scream, "What do you want from me???"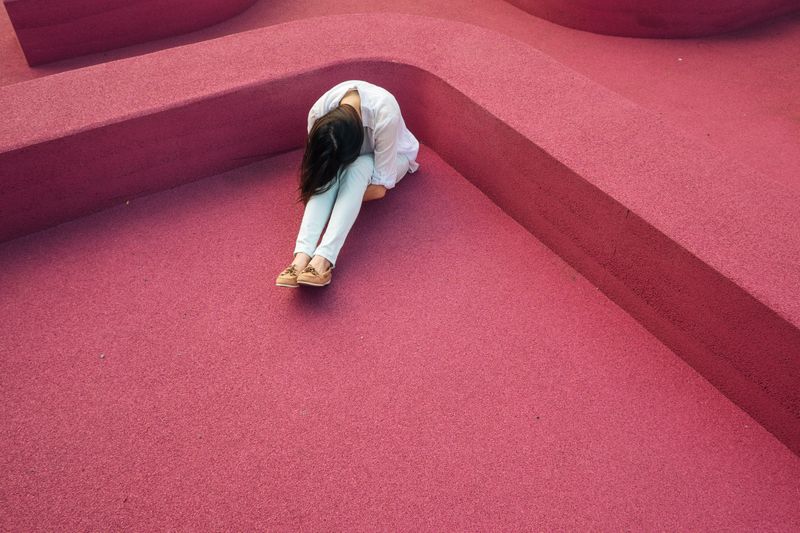 What am I doing to improve traffic and income?
My plan for December is as follows:
Blog post twice per week
Refocus on Instagram to increase followers and connect with readers and brands (not for traffic)
Continue current Pinterest strategy; increase the variety of pinnable images in post
Niche down (remove personal finance/money-related topics)
Change theme to improve user experience (update: this is my new theme)
Optimize for SEO
My SEO strategy includes two programs that help me optimize my blog to encourage organic traffic from both Google and Pinterest: those programs are Tailwind and Tasty Pins. (I can't stop raving about these tools because I love them so much!)
Tailwind
Tailwind is a scheduling app that allows you to schedule your pins to rotate out on Pinterest at different times throughout the day so that you don't have to constantly glued to your phone or desktop pinning mindlessly. You literally set it and forget it! (It also works for Instagram, but I have to admit I haven't used that function much yet myself!)
Besides suggesting the best times for you to pin by creating a Smart Schedule based on the times that your audience is engaged and pinning on Pinterest, it also gives you access to all sorts of analytical data, like which pins are the most popular, repin counts, how well your various boards are performing, etc.
You can also change up the description with strategic keywording and use hashtags, which assist in Pinterest search engine optimization.
Towards the end of November, I purchased a Tribe PowerUp which allows me to share more pins in Tailwind Tribes. I spent some time looking for and testing different Tribes in my niche and have finally found some great ones that are sending me traffic. I am going to continue working on sharing excellent content in these Tribes.
(Below is a screenshot of my follower growth and repins received from Tailwind. You can try Tailwind RIGHT NOW free for one month and get a $15 credit for Tailwind by using this link.)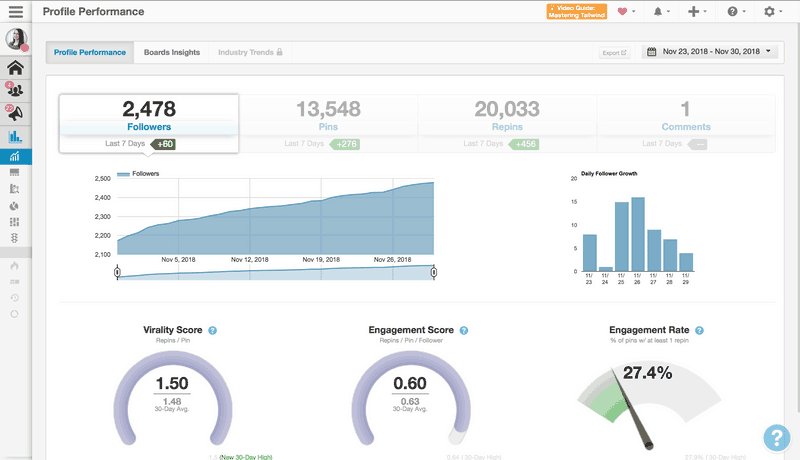 Tasty Pins
Tasty Pins is a nifty little program that helps you optimize for Google AND Pinterest simultaneously — it's my secret weapon for getting my blog in the top search results on Google and Pinterest time and time again!
With Tasty Pins you can also:
Hide Pinterest-specific images with a click of a button — no coding required!
Easily disable pinning on certain images
Automatically add a hover button to pinnable images
Funnel users to pin only the best images
(Get all of that plus lightning fast speeds, unlimited tech support, and a 15-day money-back guarantee right now!)
Here is a nice snapshot Tasty Pins in action on my WP image dashboard.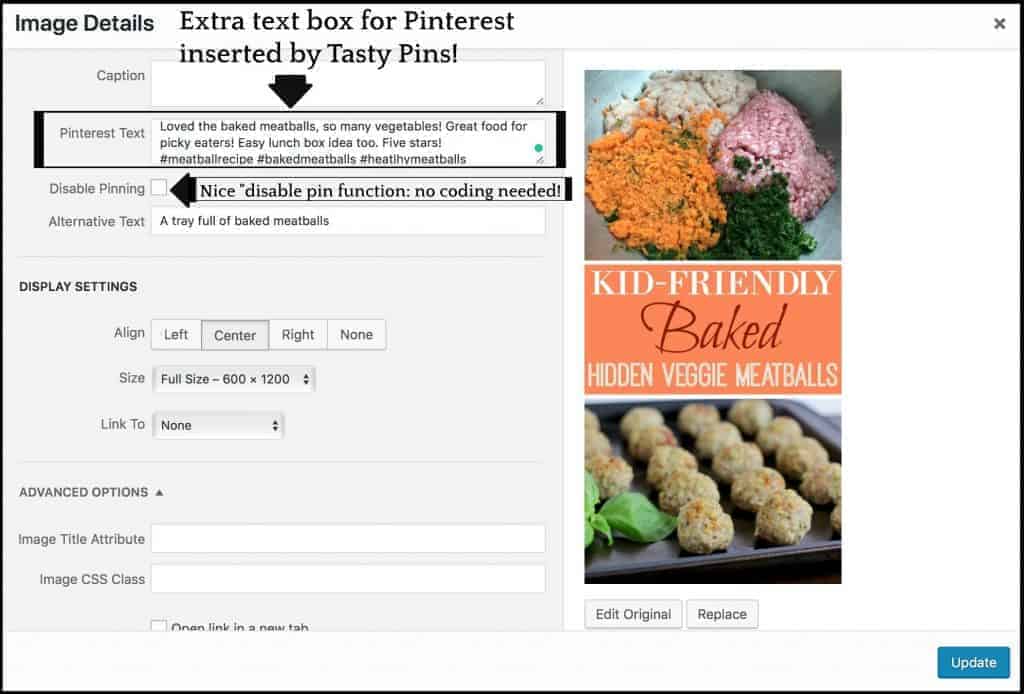 Drive more traffic to your blog for FREE!
While Tailwind and Tasty Pins are amazing tools they aren't the end-all-be-all way to drive massive organic traffic to your blog.
The real success is driving organic search traffic to your blog to have strong SEO.
In fact, I have a resource with tons of awesome tips and hacks that can help you drive more traffic to your blog.
Better yet, most of them are totally free!
If you want to find all the best tips and hacks that help me drive organic traffic to my blog you can now get my FREE Ultimate SEO Cheat Sheet.
The Ultimate SEO Cheat Sheet comes with a nine-page instruction manual that will teach you all the top secret SEO hacks that can help you get more pageviews from Google. When Pinterest failed me, I still had my organic search traffic to hold my blog up.
Stop putting all your eggs in the Pinterest basket and get your free Ultimate SEO Cheat Sheet today by signing up in the subscription box below.



I hope you found this blog report helpful in some way (and not just depressing). Instead of focusing on our problems, let's focus on solutions!
Any comments or questions, drop them below and I will get back to you. Feel free to just vent about #bloggerlife if you want! I'm all ears. 😉
Pin it for later!