You've never seen pumpkin spice latte like this before! Find out how to make an edible pumpkin spice latte dessert that will knock your cozy fall socks off! The is the best pumpkin spice latte recipe for people who like unique foods!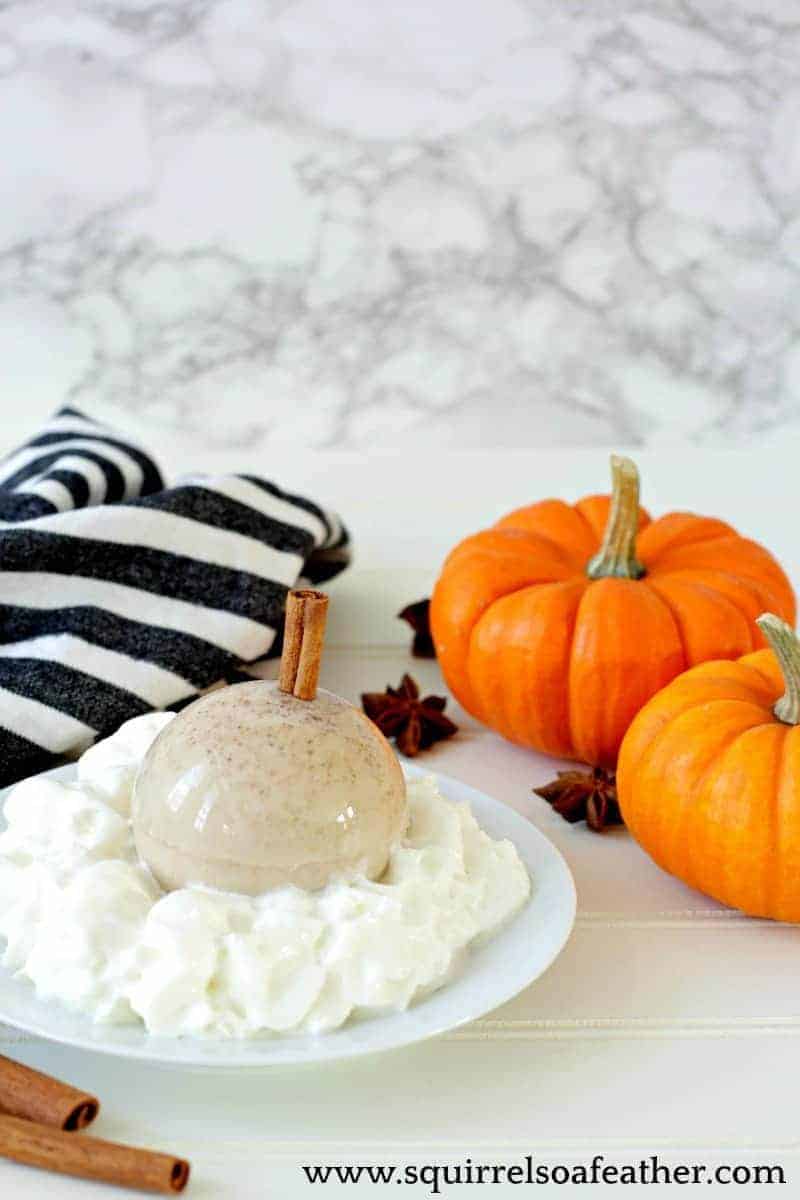 Pumpkin spice latte
Pumpkin spice? Pumpkin nice.
Pumpkin spice lattes (or PSLs as they have come to be called) are the most basic of fall must-haves. It isn't fall until you are sipping on a pumpkin spice latte, dressed in a cozy sweater, feeling the crisp autumn air.
But just when you didn't think PSLs could get any better — I invented edible pumpkin spice lattes!
That's right, a pumpkin spice latte recipe that you eat instead of drink! (Cue the oohs and aahs from the stands.)
I have been feeling so inspired to make more edible spheres since everyone went crazy for my Halloween Edible Cow Eyeball recipe. Honestly, who doesn't love food in spherical form? It's pretty much the coolest thing ever!
So I decided to give a new spin to the ever-popular pumpkin spice lattes and make them into edible spheres — panna cotta style!
This post may contain affiliate links for your convenience. That means that if you make a purchase, I will receive a small commission at no extra cost to you. Read more here.
What you need to make this pumpkin spice latte dessert
Here is everything you will need to make these edible pumpkin spice latte treats.
Pumpkin spice latte ingredients:
Pure pumpkin puree in a can (NOT pumpkin pie filling)
Cinnamon
Nutmeg
Ground ginger
Ground cloves
Agar agar (I prefer Telephone brand — do NOT buy Gold Coin brand)
Milk (or sub almond or soy milk)
White and brown sugar
Strong coffee (I used a strong cup of this Starbucks coffee)
Vanilla
Other tools:
A cookie sheet (to move molds easily)
This recipe makes six pumpkin spice latte treats, with just a little extra left over. Just put it in any cute little extra bowl for a tiny treat.
Modifications and notes
*This recipe has a very delicate flavor. I would suggest NOT using whipped cream as you see in the picture – the sugary whipped cream overpowered the delicate flavor of the pumpkin spice latte dessert. (It started melting on me, by the way — so not cute!)
*Make it vegan by switching milk for almond milk or coconut milk…taste test before you put into the molds and add sugar/spices accordingly as the flavor will be slightly different depending on what kid of liquid you use.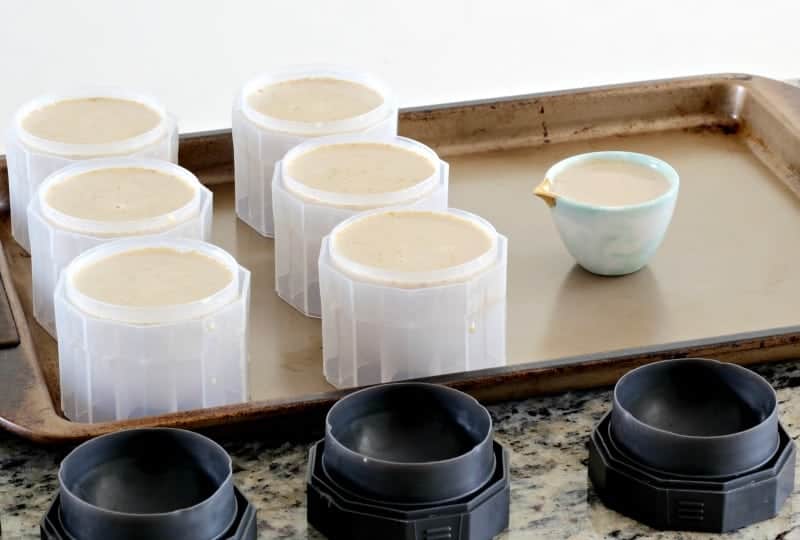 Making this edible pumpkin spice latte recipe
I recently visited my friend Andrea, from The Cottage Market and she made me her pumpkin spice latte recipe in person and I nearly expired from the sheer joy of it! It just so happens she is a vegan, so I loved the idea of creating this edible pumpkin spice latte she could actually enjoy!
The key ingredient to this recipe is the agar agar, which is basically the vegan version of Jell-O (if you didn't know, Jell-O is made from the skins and bones of animals — sorry if I just ruined your childhood).
This recipe uses a little less agar agar than my Halloween eyeball recipe to make a soft and more pudding-like pumpkin spice latte.
You have to be gentle when removing the PSL balls from their molds because they are soft and can easily be scraped or gouged. To remove the spheres from the mold, simply turn gently and allow them to fall out, holding your hand close — catch it as gently as you would a baby!
(If you want a firmer pumpkin spice latte dessert, simply add an extra teaspoon of agar agar to the recipe while you are cooking it and it will be more firm. Like a very stiff pudding.)
If you loved this pumpkin spice recipe, please leave a comment in the comment section below!
I live and breathe for your comments. <3
Looking for more cozy fall recipes? Make sure to check out these yummy roasted pumpkin seeds and delicious butternut squash kale swirl muffins!)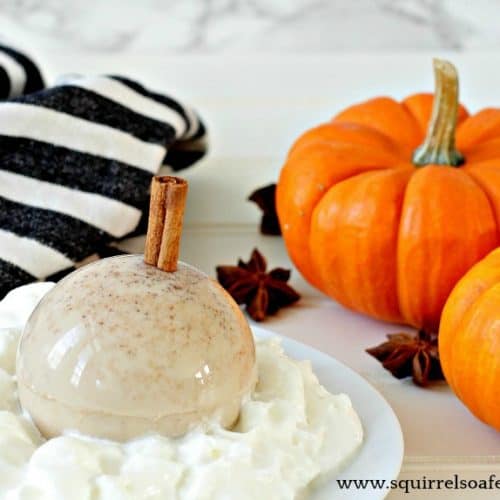 Pumpkin Spice Latte Dessert
Total Time:
4 hours
25 minutes
You've never seen pumpkin spice latte like this before! Find out how to make an edible pumpkin spice latte dessert that will knock your socks off!
Ingredients
1 tsp cinnamon
1/4 tsp ground nutmeg
1/4 tsp ground ginger
1/8 tsp ground cloves
2 1/2 cups whole milk
3 tbsp pure pumpkin puree
1 tbsp white sugar
2 tbsp brown sugar
1/2 cup strong coffee
1/2 tsp vanilla
2 tsp agar agar, Telephone brand
Instructions
Mix the first 4 pumpkin spice dry ingredients together and set aside.
Heat a small saucepan over medium heat and add the pumpkin puree and 3/4 teaspoon of the pumpkin spice (reserve the rest of the mix for decoration). Stir to combine the pumpkin and pumpkin spice mix.
Quickly add the milk and the white and brown sugars, stirring to combine. Bring the liquid to a gentle simmer (not a full rolling boil). Add the coffee and stir.
Maintaining the gentle simmer, add the agar agar mixture slowly, whisking until it is fully incorporated in the liquid. Remove immediately from heat and set aside to cool a bit.
Prepare your molds
Taking your clean sphere molds, open them and place them upon the cookie sheet. The cookie sheet will make it easier to move the spheres to and from the refrigerator.
Once the PSL liquid has cooled a little bit (it's ok even if steam is stil coming off) take a large spoon and use it to carefully fill the clear part of the sphere molds. Fill it nearly to the top, leaving only around 1/4 inch of space between the edge and the liquid.
Once the molds are filled, slowly replace the black lid on the molds. If you are lucky they will even whistle at you while you are putting them on -- that's the sound of the air rushing out the tiny hole on top!
Place in the fridge for 4 hours until fully cooled and set.
Removing and serving
To remove, carefully take the black top off of the mold. Then, gently turn the mold and let the sphere fall out carefully into the palm of your hands. SLOW AND CAREFUL, they can get scraped easily!
Serve immediately with a little bit of whipped cream and a sprinkle of the extra pumpkin spice mixture on top.
Nutrition Information:
Yield:

6
Serving Size:

1
Amount Per Serving:
Calories:

90
Total Fat:

3g
Saturated Fat:

2g
Trans Fat:

0g
Unsaturated Fat:

1g
Cholesterol:

10mg
Sodium:

46mg
Carbohydrates:

12g
Fiber:

0g
Sugar:

11g
Protein:

3g
Pin this recipe!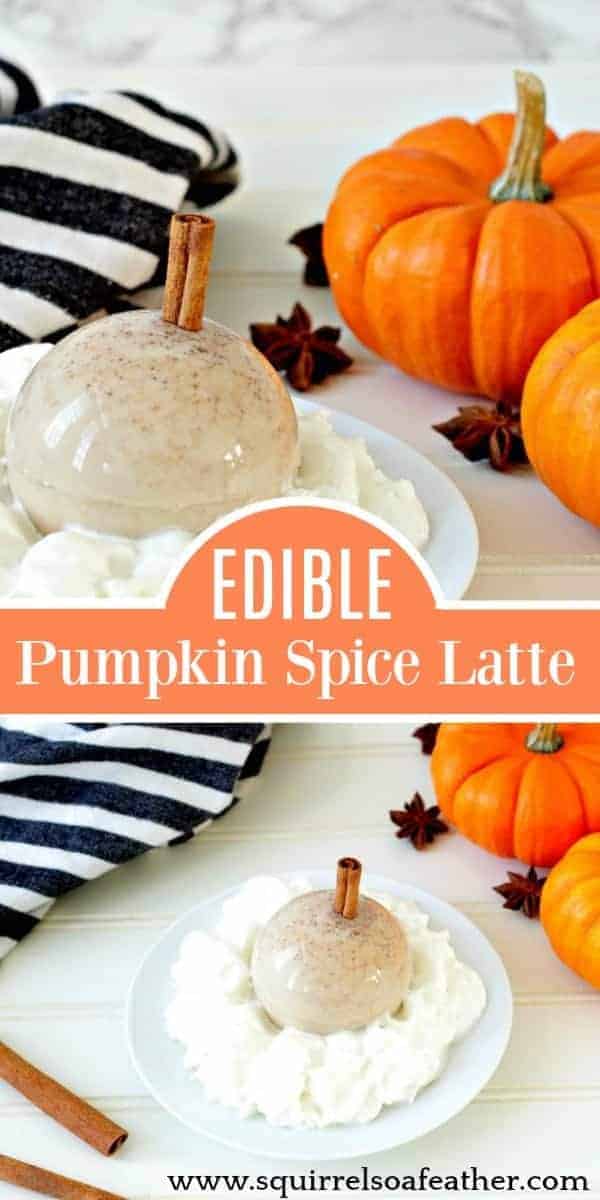 SaveSave