I have been looking forward to publishing this blog report for many reasons. October 2018 was simultaneously the most outstanding and distressing month this blog has ever experienced. Today I want to share all the strategies I used that helped my blog to hit 140,000 pageviews in its eighth month and perhaps pull the curtain back a smidge on the mysterious and mythical world of blogging — hopefully providing you with some helpful tips and strategies along the way.
(Stick around until the end — I've got a super secret freebie that will help YOU get more pageviews.)
Why share a blog report?
For years I have read inspirational income reports published by my favorite bloggers and I thought to myself, if only. These people are making tens of thousands of dollar each month, traveling the world while blogging, and generally living a life I could only dream of.
Then one day I saw a quote:
Everything you've ever wanted is on the other side of fear."

— George Addair
I started Squirrels of a Feather, not only as a creative outlet to share exciting ideas and projects but also as a way to make money. I am no stranger to side hustling, and I wanted to build a successful blog that could eventually deliver a full-time income.
I'm not there yet — in fact, I'm not even close! But I'm on my way! After all, blogging is a journey.
(Right now I am dreaming of the day when I can replace my husband's income and retire him. Then I can come home to HIM and ask him why the house isn't clean.
)
What happened in October
October is the perfect month for a moderately goofy weirdo like me; I had been psyching myself up for months about Halloween and brainstorming ideas for that spooky holiday.
Of course, not everything in October was about Halloween — it doesn't hurt to diversify.
You never want to put all your eggs into one basket; this rule applies to many areas, from blog topics to revenue streams to social media (more on that soon).
Besides Halloween ideas, in October I also tackled fall decor, fall recipes, wedding budgets, and a few early budget-friendly Christmas ideas.
(I want to know why more people didn't share my Butternut Squash and Kale Muffin recipe, honestly??? It's freaking amazing and delicious and healthy…what more do you want, people?)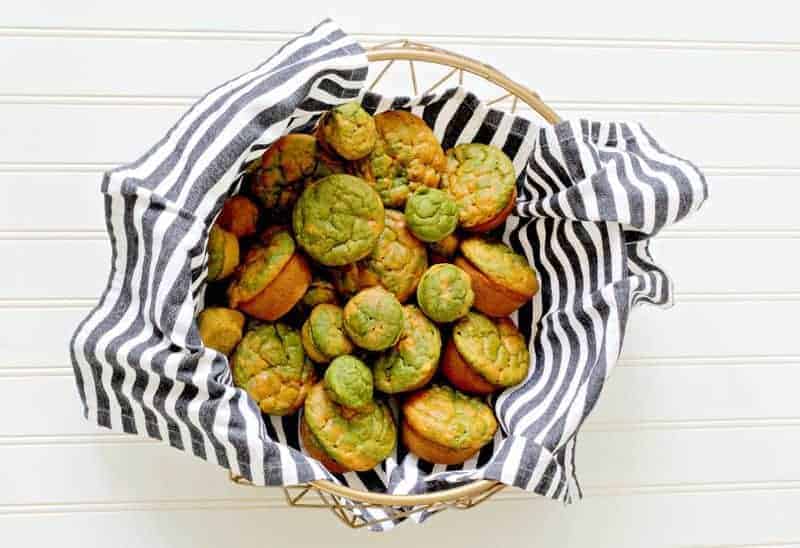 Traffic report
October was a stellar month for Squirrels of a Feather. My blog blasted past last month's pageviews — in fact, it very nearly quadrupled in traffic!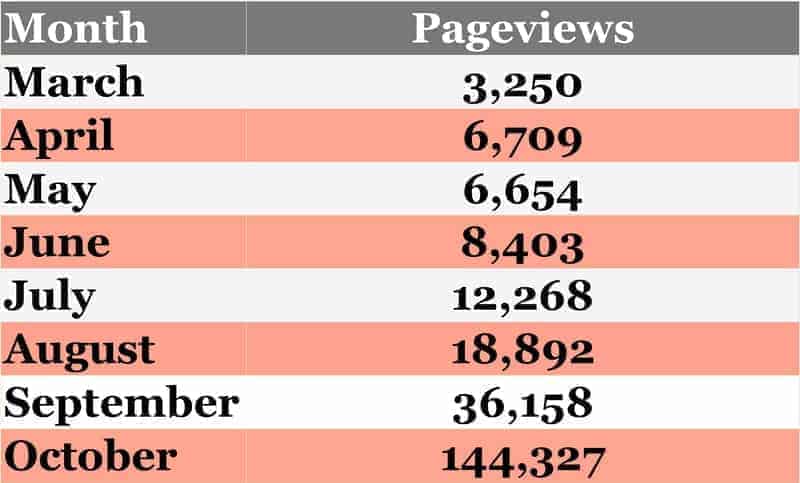 How was I able to accomplish this?
I would love to tell you that I did something different, that there was some curtain that I could pull back and reveal you THE WAY to getting 100k pageviews every month on your blog.
In fact, it was a combination of creativity, hard work, SEO hacking, Pinterest strategy, and a good dose of sheer luck/timing united beautifully to drive me insane traffic from Pinterest in October 2018.
Multiple Halloween-related posts went viral. At times I would get 6,000 pageviews a day and my highest ever daily pageview rate was 8,600!
Here are some posts you might find helpful: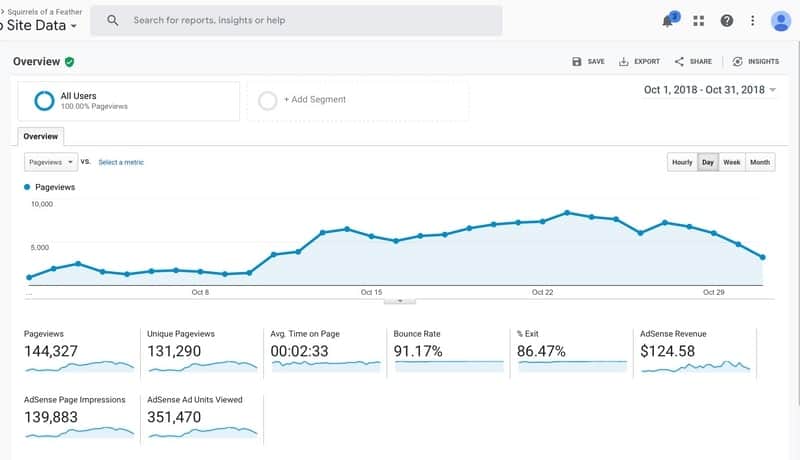 This post may contain affiliate links for your convenience. That means that if you make a purchase, I will receive a small commission at no extra cost to you. Read more here.
Income report
Here are all the ways my blog made money this month:
Total Income – $666.46 (yeesh, let's just make that a nice even $667 and call it a day, shall we?)
A large portion of income this month was made through the Amazon Affiliate program, which is one of the easiest and best programs to use as a new blogger.
(If you are a new blogger trying to make money, try signing up as an Amazon affiliate today! It's one of the easiest affiliate programs to get into and you only need to make three qualifying sales within six months. Even if you are removed from the program for not qualifying, you can reapply again.)
Income analysis
Blog income increased fivefold from October 2018 to September 2018, from $130.30 to $667 — neat! (I know, you might need to pick your jaw up off the floor at those numbers. Although it's not stellar income compared to many bloggers, I am honestly over the moon about it — although husband remains largely unimpressed. 😉 )
If you consider all the money that I made in my first six months blogging ($324) and then add the income from months seven ($130.30) and eight (this month – $667), that means that I have officially made my first $1,000 blogging! Even neater!
A note to other bloggers out there struggling to make money blogging; I SEE YOU! I feel your pain.
It isn't easy to make money blogging. There is no one-size-fits-all solution for making money blogging. The truth is, blogging isn't easy. I was making pennies or dollars a day for months. Blogging articles may make blogging seem easy as pie and can lead you to feel like you've done something wrong if you aren't making $6,000 in your third-month blogging. Those results are NOT TYPICAL; every day we struggle with algorithm changes, social media, quality content creation, getting seen on Pinterest, etc. Keep trying and keep believing in yourself!
Areas that need improvement
There's definitely room on the table for improvement in affiliate programs and sponsored posts.
Affiliate programs
I would like to expand my affiliate relationships further, but I have just been so busy with holiday posts that I haven't had enough time to explore. I am also very picky about the resources I recommend; I'm not going to promote an affiliate just to make money.
I did pick up Ebates as an affiliate and I love, love, love Ebates! I was always worried that cash back sites like this were a scam, but I was blown away with the service and cash back offers — so blown away I wrote a post all about it. (If you are a blogger in the personal finance or frugal living niche, I highly recommend you become an affiliate today (you can make $25 per referral, you don't even need to have a blog!.)
In the future, I would also like to be better about comparing expenses with income, because honestly, I haven't been good about tracking expenses. I have saved all receipts but still need to go back and plug them into a spreadsheet.
Sponsored posts
I made a goal to start working on sponsored posts a while ago. Well, life got in the way, as life has a tendency to do. Big Brother and Little Brother both experienced bouts of illness and then the holidays rush began. That will be a definite goal for 2019!
In truth, I have probably turned down about 20 sponsored posts at the time of this writing, either because I didn't think the opportunity was a good fit for my audience or because they didn't want to pay me enough (I don't work for free, people).
Ad revenue
Honestly, the ad revenue I got from 140k pageviews from Google Adsense was laughable. Happily, my advertising revenue should increase in the future since I was able to get approved for MediaVine in October! I am so excited to be part of the MediaVine family; they are honestly amazing and I have been dreaming about working with them since I went to the Haven blogging conference in Charleston.
(In case you are wondering, you need 25,000 sessions to qualify for MediaVine. From the time I submitted my application to the time ads actually went live on my blog, the process took about 4 weeks.)
The double-edged sword of Pinterest
Now, as a new blogger, you might be looking at my blog report, seeing my results and thinking, hey, that's awesome!
In fact, hitting 100k pageviews was a big long-term goal of mine, so you would think I would be happy, right? After all, I blew past 100k and hit 140k monthly pageviews
Wrong.
While those numbers made me happy, they were also anxiety-inducing. That's because 91% of my traffic in October came from social media, led largely by Pinterest.
Oh, Pinterest. How I love and want to slap thee!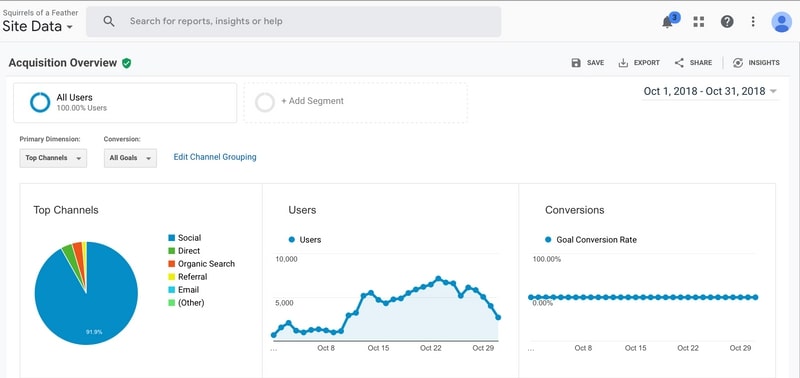 Pinterest traffic can lift you up big time, but it also isn't terribly reliable.
I have already been slapped with a Pinterest shadow ban once and felt the repeated sting of algorithm changes. That's why seeing 90% of my traffic didn't make me feel good. It didn't make me feel safe.
It made me feel like a polar bear standing on a melting ice block in the middle of the ocean.
Whenever I write a post, of course I want it to do well on Pinterest — but I also write it in a way that helps me get that sweet, sweet Google organic traffic.
Here is a snapshot of the past three days for my blog traffic in November; you can see that I am getting much more search traffic and also referral traffic.
* Update: I was right to be worried about that Pinterest traffic! My traffic dropped in November and December due to an algorithm change — here's how I recovered, increased organic search traffic, and hit nearly $2,000/month!

How do I get that much organic traffic as a new blog with low domain authority?
My SEO strategy includes two programs that help me optimize my blog to encourage organic traffic from both Google and Pinterest: those programs are Tailwind and Tasty Pins. (I can't stop raving about these tools because I love them so much!)
Tailwind
Tailwind is a scheduling app that allows you to schedule your pins to rotate out on Pinterest at different times throughout the day so that you don't have to constantly glued to your phone or desktop pinning mindlessly. You literally set it and forget it! (It also works for Instagram, but I have to admit I haven't used that function much yet myself!)
Besides suggesting the best times for you to pin by creating a Smart Schedule based on the times that your audience is engaged and pinning on Pinterest, it also gives you access to all sorts of analytical data, like which pins are the most popular, repin counts, how well your various boards are performing, etc.
Below you can see a little sneak peek of my Tailwind dashboard showing my follower count, which increased dramatically in October. (Make sure to follow me on Pinterest if you haven't already!)
(You can try Tailwind RIGHT NOW free for one month and get a $15 credit for Tailwind by using this link.)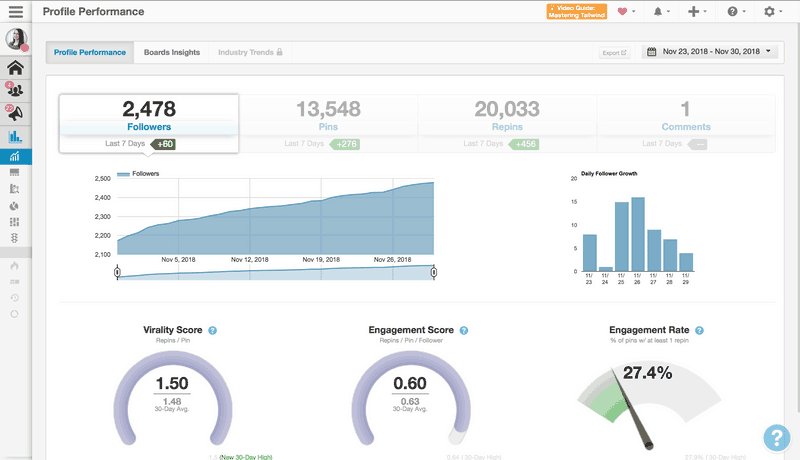 Now, Tailwind is great for Pinterest but it is no help when it comes to optimizing for Google and organic search traffic. That's where Tasty Pins comes in.
Tasty Pins
Tasty Pins is a nifty little program that helps you optimize for Google AND Pinterest simultaneously — it's my secret weapon for getting my blog in the top search results on Google and Pinterest time and time again!
With Tasty Pins you can also:
Hide Pinterest-specific images with a click of a button — no coding required!
Easily disable pinning on certain images
Automatically add a hover button to pinnable images
Funnel users to pin only the best images
(Get all of that plus lightning fast speeds, unlimited tech support, and a 15-day money-back guarantee right now!)
Here is a nice snapshot Tasty Pins in action on my WP image dashboard
I hope this blog report helps you in some way. Any questions? Leave me a comment in the comment section below!
Pin this for later!