Why isn't my blog making money? What am I doing wrong? Can you really make money blogging? If you find yourself asking these questions, you are not alone. After seeing 25%, 50%, and even 400% month-over-month growth and hitting 140k pageviews as a new blogger, my confidence was shaken to its core after traffic absolutely tanked in my ninth month blogging.
If you are puzzled as to why you aren't making money blogging and are looking for some no B.S. tips, read on to find out how I recovered after a total blogging meltdown and doubled my income as a blogger with under 1 year of experience.
Can you really make money blogging?
For years I have read inspirational income reports published by my favorite bloggers and I thought to myself, if only. These people make tens of thousands of dollars each month, travel the world while blogging, and generally live a life I could only dream of.
Then one day I saw a quote:
Everything you've ever wanted is on the other side of fear."

— George Addair
I started my blog, not only as a creative outlet to share exciting ideas and projects but also as a way to make money. I am no stranger to side hustling, and I wanted to build a successful blog that could eventually deliver a full-time income.
I'm not there yet — in fact, I'm not even close! But I'm on my way! After all, blogging is a journey.
(Right now I am dreaming of the day when I can replace my husband's income and retire him. Then I can come home to HIM and ask him why the house isn't clean.
)
Dirty little blogging lies
You've read them, I've read them, we've all read them! Let's just quickly dispell some dirty little blogging lies that get perpetuated over and over.
You will make $x,000/month within 6 months – The exception, not the rule. Blogging is not a get-rich-quick scheme; building a successful blog often means investing time, sweat, money, and sometimes tears (okay, maybe lots of tears) and being satisfied with making peanuts — at least for a while. Blogs that succeed and make money very quickly often either a) started at a time when the rules were different (read, algorithms) or b) are run by someone who has prior blogging knowledge to leverage for fast growth.
Anyone can blog – Sure anyone can start a blog, but not everyone can make money blogging. If you are starting a blog with no prior experience you are will to need invest time and money in endeavors such as photography and photo editing, learning WordPress and HTML, managing social media and scheduling tools, studying search engine optimization — it also helps if you are a decent writer!
Start a blog for only $3.95 – This is going to get you a bare minimum hosting package but then what? If you are a home decor or DIY blogger you still need a camera to take pictures and photo editing software, right? Food bloggers need to spend money on ingredients. Even personal finance bloggers may find they need to pay for stock photo access when they run out of free images. Those examples are only the tip of the iceberg! If you really want to succeed in blogging instead of spending x years blogging without making money, it also helps to invest in great blogging resources (newsflash: none of these things are cheap.)
I started my blog blithely buying into these blogging myths and quickly realized that I wasn't going to be making $6,000 in three months *cue the Debbie Downer music*.
However, if you have the drive, determination, and willingness to put yourself out there, take the hits, and roll with the punches, I believe you can make it!
Now let's take a look at how I recovered from a total blogging meltdown to go on to double my income as a new blogger — in my January 2019 blog income report!
How not to make money blogging
I was pretty spoiled for a long time; I came to expect 25-50% monthly traffic growth. In October of 2018 (my 8th-month blogging), my blog grew over 400% compared to the previous month and I received 140,000+ pageviews.
I was elated, but also extremely wary since most of that traffic was seasonal and coming from Pinterest.
Turns out I was right to be wary; in November traffic nosedived and I went from 140,000 pageviews down to 24,000 pageviews — but the drop didn't stop there!
Have you ever read the Twilight novels? Do you remember how Edward left Bella in New Moon and she was all mopey and depressed and then right in the middle several chapters were overdramatically written as:
Nothing much happened.
Well, for me November and December were a lot like New Moon, only IRL and a lot more depressing.
Halfway through December, I realized I wasn't even going to be getting anywhere close to growth; in fact, my numbers were sliding backward…and it scared the poop out of me.
If you look at my blog's monthly pageviews from its inception you can see that in December traffic decreased until it was commensurate with around what I was getting in my fifth and sixth months of blogging.
So what to do? What can you do when you experience a dramatic drop in traffic — or even if you aren't getting blog traffic in the first place?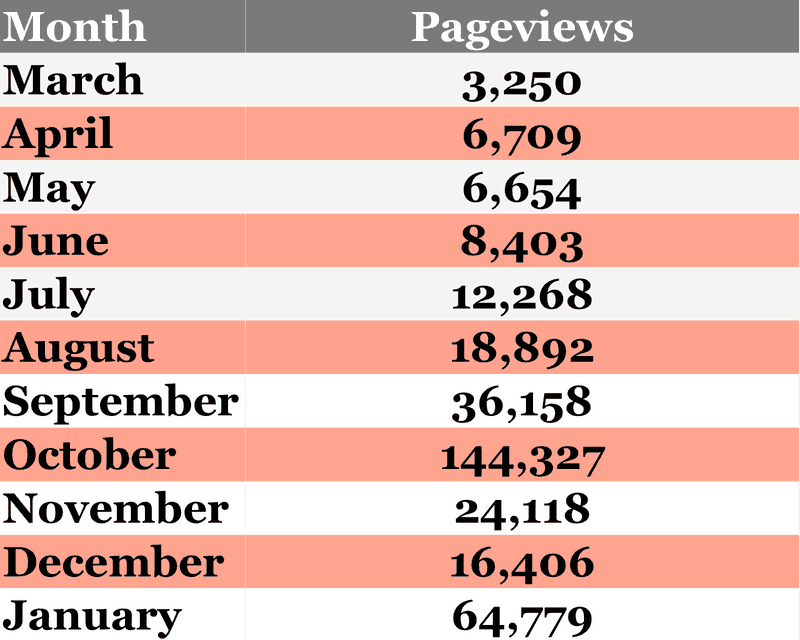 This post may contain affiliate links for your convenience. That means that if you make a purchase, I will receive a small commission at no extra cost to you. Read more here.
How to recover when your blog traffic dips
After spending some time in panic mode, then a few more days hosting a pity party for one, I decided to dig down deep into my soul — that is to say, dig deep into Google Analytics.
Because what is the soul of your blog if it isn't your audience and what they are interested in reading? If a blog post falls in a forest and no one is there to hear it, will it make a sound?
(Sorry, waxing a bit philosophical here.)
The point is that when something is going wrong the correct response is to take a look at what does work and build upon that. Most bloggers hit a wall at the cusp of success; repeated failures make them want to quit.
(Word on the street is it's right around one year of blogging — so I was right on target!)
But instead of quitting, I decided to shake things up a bit. After some research into what kinds of posts were driving traffic to my blog I decided to:
Give my readers more of what they wanted
Give my blog a facelift
Focus more on SEO and less on Pinterest
Blog for your readers
Your readers are everything. Unless you are blogging for a hobby, you should be blogging for them and (not yourself). If you want to make money blogging, you need to blog for your people.
But how do you know what your readers care about? How do you know what the people come to your blog like?
Google Analytics, my friend!
For a long time, I ignored what Google Analytics and all the blogging gurus were telling me: to niche down. I stubbornly thought that I could replicate the success of blogs like Chasing Foxes and blog about everything my little heart desired.
In fact, I initially started this blog with the idea that it would be a frugal lifestyle blog. Guess what?
No one cared about how we save half our income, wanted to read about wedding budgeting, or check out my frugal living posts!
I realized this when I dug deep into Google Analytics and made the decision to cut those topics from my blog — I decided to niche down.
However, I did find that my readers LOVE my side hustle ideas (let's face it, decluttering and selling on eBay and making $15,000 ain't no small thing) so I decided to give them more of that!
(You can find out what the top topics driving traffic are for YOUR blog by setting your Google Analytics dates for one year and checking the top 10, 25, even 50 posts that are drawing the most traffic; look for topic patterns. Make sure to set up Google Search Console as well.)
Give your blog a facelift
When I made the decision to niche down, that meant I wanted a more beautiful and focused blog theme that supported my focus on creative homemaking.
While I loved my first theme, Delightful Pro, I decided I wanted something a little more modern and creative.
(I also learned over the course of my first year blogging that having multiple eye-catching signup banners is important for converting readers into email subscribers (you can see one of those banners in orange at the very top, which reads, "Do you want access to free resources?" with an accompanying red button.)
That's why I decided to go with the Restored 316 theme, Captivating.
All in all, it took me only four hours to switch my blog fully from Delightful Pro to Captivating thanks to the excellent tutorials and tech support from Restored 316 and my sparkling new blog design was ready to go!
I switched my blog's theme on December 28th, 2018 and you can see in the image below my email subscriber growth soared immediately after, more than doubling from December to January!
Sometimes a simple change can make a big impact.
(If you are looking for a blog theme, you really should consider Restored 316. Not only do they have stunning feminine blog themes perfect for female bloggers, but their service is top-notch and the R316 community of fellow bloggers is amazingly supportive and helpful. I consider myself an R316 user for LIFE. Find out more about why R316 themes are the best, period.)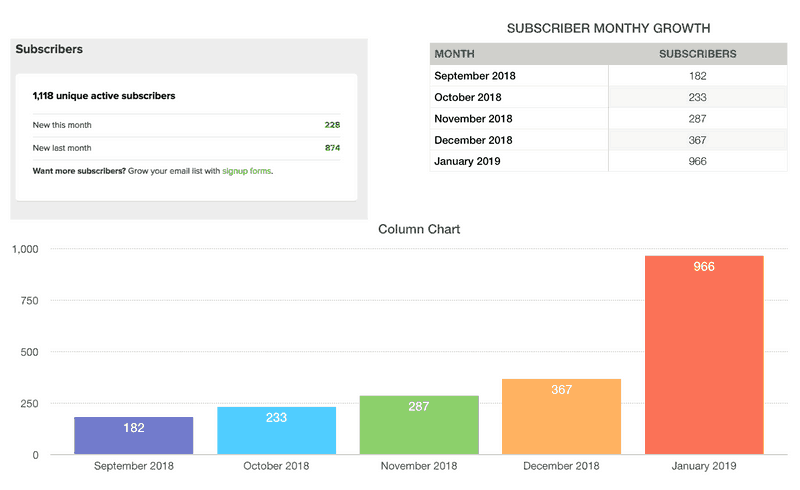 Maybe you aren't at a point where you want to or are able to change up your blog's theme. However, it pays to take a look around and check the following:
Is my blog easy to navigate and read?
Are there multiple places readers can sign up for my emails?
Are social media buttons easy to find? Do they all work?
Do I have enough images in my posts? Are they long enough? Are they Google front-page quality?
How to get more traffic to your blog
While Pinterest is great for getting traffic to your blog quickly, in the long run, you will find (as I did) that it is not as reliable as good ole SEO work — that is, search engine optimization.
Pinterest algorithm changes hit me hard in November and December and that's when I knew it was going to be important to get more readers direct from search engines like Google and Bing.
Since I knew December was going to be a bust anyway, I decided to invest in some highly recommended resources that I knew could help me focus on getting more organic traffic and then I spent some time updating old posts with the information that I found.
Here is what I did:
Purchased the ONLY blogging course I believe in enough to recommend
Experimented with SEMRush's free trial and decided to become a member
Below you can how my blog moved from the "valley of depression" in November and December 2018 to experiencing a traffic surge in January 2019.
While I am not nearly at my peak traffic month of October 2018 I am feeling much better as I believe this growth is sustainable.
I continued to study and implement the strategies I found in January and am still working through the course.
(Update on 05/2019: After implementing the strategies I learned in my new blogging course I have hit 100,000 pageviews per month AND my short-term goal of making $2,000/month blogging. You can read the entire report here.)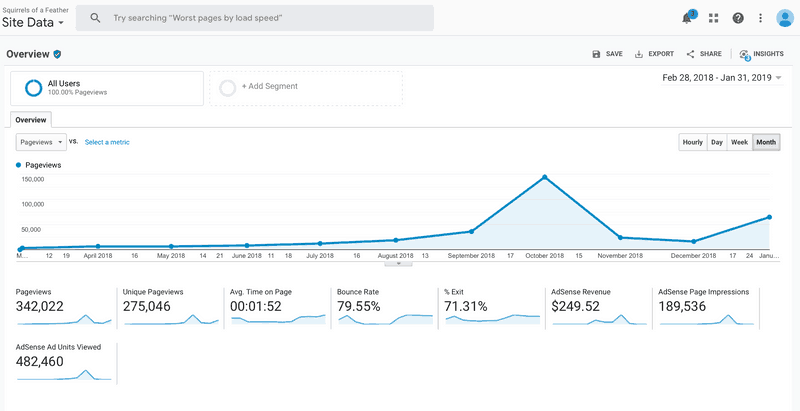 Results of focusing on SEO for blog traffic
Here are the results I saw after focusing on SEO for traffic. I would say they speak for themselves — the amount of organically obtained users increased 500%!
(You may also notice that while I focused on SEO as a byproduct of what I learned and implemented with my new blogging course my overall social traffic also increased, primarily from what I learned about Pinterest in that same course.)
November 2018:
Pageviews: 24,118
Organic search percentage: 16.8%
Organic search users: 2,891
Social search percentage: 73.8%
Social users: 12,697
January 2019 (after 2 months of work):
Pageviews: 64,779
Organic search percentage: 37.7%
Organic search users: 15,202
Social percentage: 54.7%
Social users: 22,048
So far I am extremely happy with the results that I have seen implementing the SEO techniques and other information from my blogging course.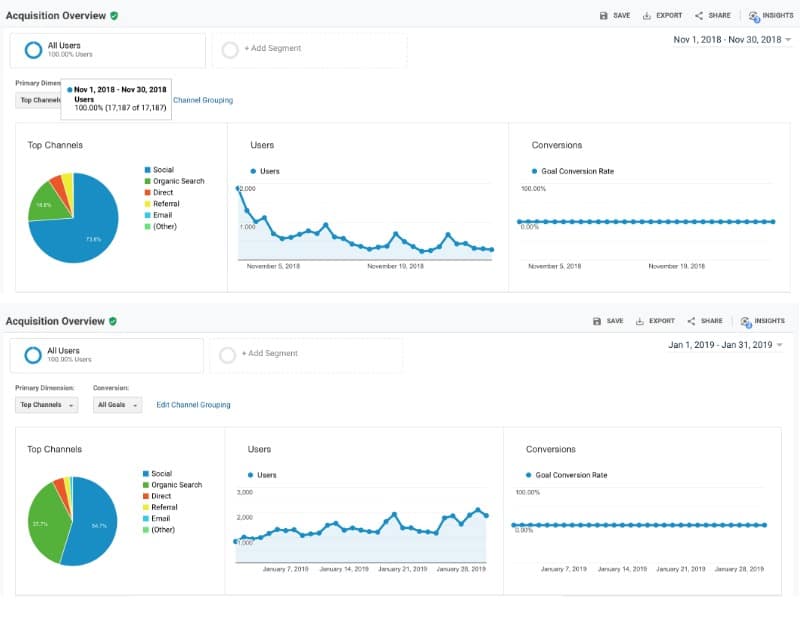 January 2019 blog income report
So how much did all this organic traffic earn me?
Unfortunately, a big drop in ad revenue RPM (that's how much you earn for every 1,000 ad impressions) from December to January meant that I was earning about half as much for every 1,000 views.
However, because my traffic increased dramatically I still earned more overall compared to December and was happy to see the rates slowly creep up throughout the month of January.
Here are all the ways my blog made money in January 2019:
Total Income – $974.07
Do you believe people when they say they're making tons of money blogging but show you no proof? Yeah, me neither. So here are the receipts. 😉
MediVine Income:
Money made from MediaVine ads.

Amazon Income:
Money made from Amazon affiliate marketing.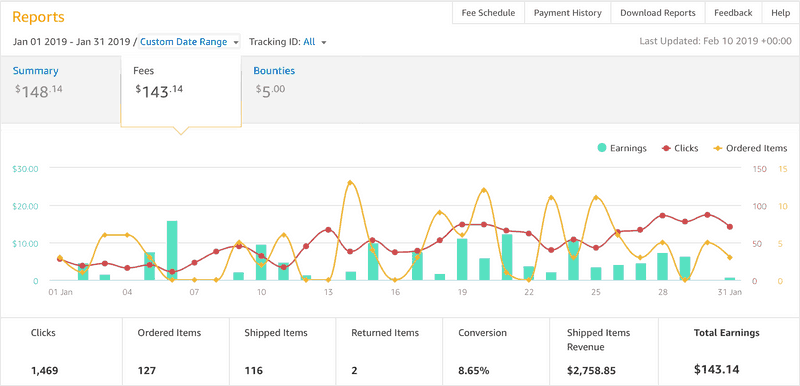 Blogging income breakdown
I blog about blogging every once in a while because I enjoy it and I want to help other new bloggers who are struggling to get their voice out there and make money blogging and who feel FRUSTRATED and lost at times, just like I do.
While I do make some money by referring people to blogging resources I use and love, the majority of my money comes from ads and affiliate marketing related to my creative homemaking niche. (I will also be sharing some sponsored posts soon, but have been turning down the majority of offers — I am super picky about who/what I recommend on my blog.)
If you look at the above income report you will see that of the nearly $1,000 I made in January only $94.75 of that was from recommending blogging resources!
I want you to know that even if you don't blog about blogging it is possible to make money!
I mostly write about recipes, organization, and crafts/DIY and still manage to make money blogging about those topics.
I also want to be an honest voice for the little-guy bloggers out there who feel the daily growing pains of blogging and who are constantly being bombarded with "buy this" and "do that" from all sides and don't necessarily know who they can turn to with trust and who is just trying to make a buck off of them.
To you bloggers I would say, find your tribe. Surround yourself with people you can trust and who want to see you succeed. Who will say to you honestly "this course is a piece of sh*t" and "girl, you gotta buy this".
When it comes to blogging it pays to invest in education, but only if you know the right resources.
Pin this post!